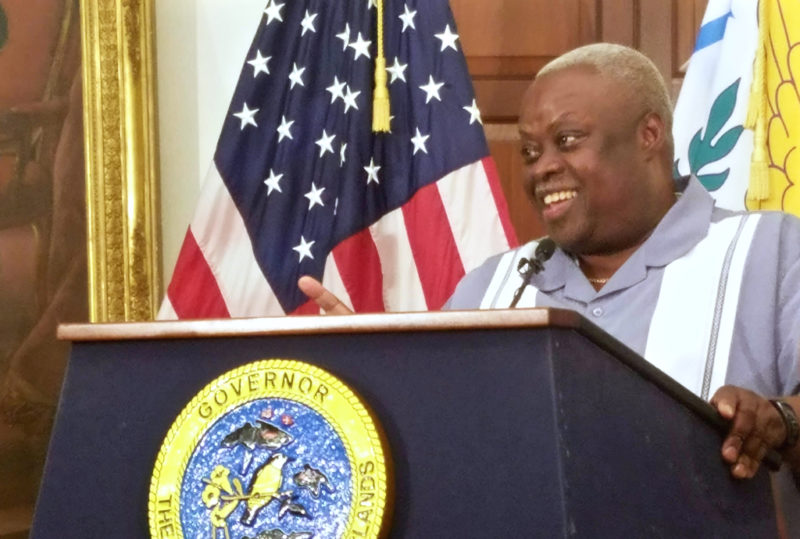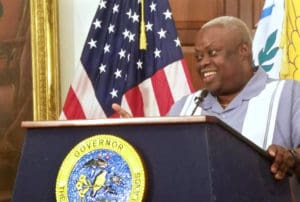 Both of the territory's hospitals – Schneider Regional Medical Center on St. Thomas and Juan F. Luis Memorial on St. Croix – will be closed due to hurricane damage, and modular hospital systems will have to be set up to serve patients, Gov. Kenneth Mapp announced Monday evening.
Speaking at his regular news briefing to update the territory on hurricane recovery, Mapp said he met with the heads of both hospitals over the weekend to discuss the conditions of the buildings that were battered by hurricanes Irma and Maria.
"We cannot in good conscience safely provide good medical service for patients" in the damaged buildings, Mapp said.
Medical evacuations will continue for patients in need for long-term hospital care. The modular units will be set up and open for business by Dec. 10, Mapp said.
The change to a modular system will also mean that there will be a reduction in the hospital workforce.
Also announced at Monday's Government House news conference:
– The curfew has been shortened, beginning now at 11 p.m. and ending at 5 a.m. until Nov. 2., after which time the permanent curfew will be re-evaluated.
– Stateside linemen are working alongside local workers and WAPA employees to restore power to the territory. There are 300 off-island contract workers, 55 local hires and 55 WAPA employees working on the lines. One week from today, an additional 210 off-island contractors will arrive in the territory. So far, linemen have restored 32 percent of the power to St. Thomas, 15 percent of the power to St. Croix and by Wednesday, Cruz Bay on St. John should have power, accounting for 25 percent of the power for that island.
– Commissioner of the Department of Human Services Felecia Blyden said she hopes those who need to apply for the D-SNAP (Disaster-Supplemental Nutrition Assistance Program) will be able to start the application process this week. D-SNAP is a federal program authorized by Food and Nutrition Services and there are major guidelines that have to be followed for the territory to be approved. One of the guidelines is to make sure that the program can facilitate the needs of the people who would qualify for the program. In addition, Blyden said, "Now we have electronic payment. Therefore, connectivity is important."
Stores accepting the program will have to have special software and connectivity in order to accept payments.
– Federal Coordinating Officer of FEMA Region II Bill Vogel reminded residents of the territory to apply to FEMA by sending a resume to fema-workforce-caribbean@fema.dhs.gov by Tuesday. Interviews will be conducted Wednesday to Friday. Vogel reported that 52 percent of cellular towers have been restored in the territory and that more are being powered by FEMA in order to increase communications.
"We will be here until we are no longer needed," Vogel said.