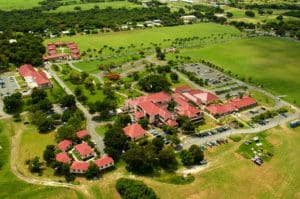 Classes at the University of the Virgin Islands (UVI) will resume on Monday, Oct. 9, on both campuses. UVI President David Hall announced at Governor Mapp's Oct. 4th press conference that UVI will offer every class that was originally available when the Fall 2017 semester started. Classes will be offered in a variety of formats, including online, on weekends and other means to ensure that the semester is saved.
"We will offer every class so that students will get what they were promised," said President Hall. "We are committed to saving this semester, and we are committed to UVI rising and being even stronger."
The university has asked its faculty to be very flexible – not to lower standards but to be very creative with students to help them achieve their goals. To allow students to make up any classes missed, professors have been asked to record classes. Additionally, the university will open more computer labs so that students will be able to do their work on campus. Ten to 15 minutes will be added to every class, and the semester will end on Dec. 22. Exams will be held during the first week of January 2018. UVI's goal is to give students as much time as possible to complete this semester.
The new class schedule can be found on the UVI website: www.uvi.edu
On-Campus Housing
The university has suffered some damages because of Hurricanes Irma and Maria to residence halls on both campuses. West Residence Hall was damaged in Hurricane Irma; therefore, 104 rooms are no longer available. Housing at other resident halls on the St. Thomas Campus are now full; however, the university does have housing available for students on the Albert A. Sheen Campus on St. Croix. Interested students should call the office of Residence Life and Student Housing at 692-4194 or 244-9364. To accommodate students, single rooms have been converted for double occupancy and doubles have been converted to triples. Repairs to all residence halls will be made by Nov. 1.
For more information or to ask questions, students can call campus hotlines that have been set up in the Centers for Student Success on both campuses by calling 693-1583 on St. Thomas or 692-4140 on St. Croix.
Students with academic questions are encouraged to email at academics@uvi.edu. If students choose to withdraw, they will be permitted to do so. Students who are considering withdrawing or have questions must first contact Wendy Fedler, Center for Student Success, via email at academics@uvi.edu.