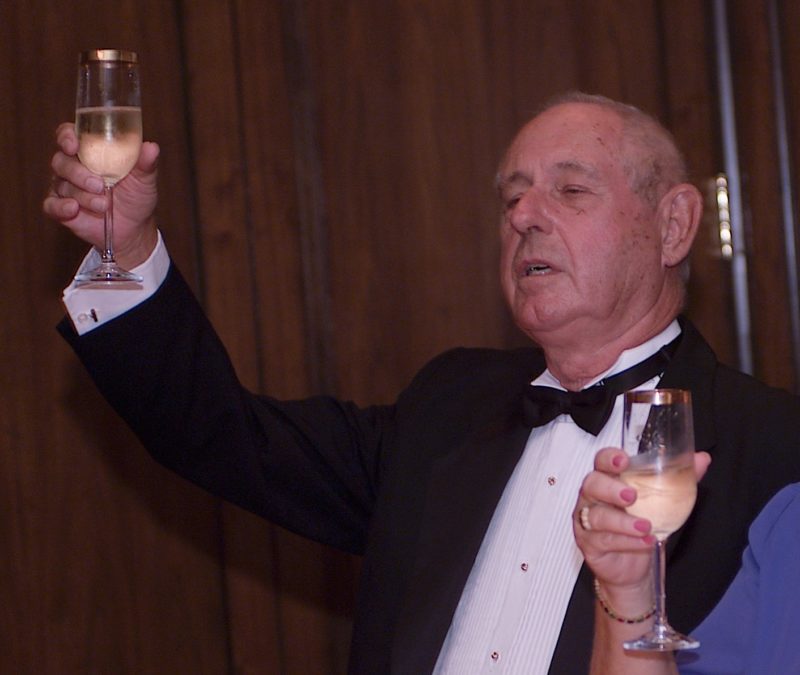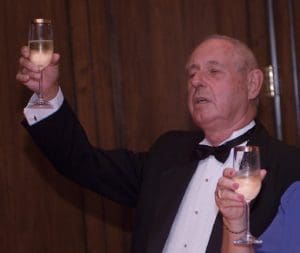 Alvin F. Rymsha, USN WWII Pearl Harbor, born Oct. 29, 1926 – died Sept. 1, 2017
Few among us can say they sailed around the world, guided only by stars and gumption. This was the defining accomplishment of Alvin Francis Rymsha, who captained his 52' Ferro-cement ketch Zenzele from Cape Town, South Africa, to Massachusetts in 1979. This adventure took him and his crew six months through a myriad of island ports, across the Equator, back to his home in Boston and ultimately to his adopted home of St. Croix in the U.S. Virgin Islands, where he and his wife Anne (Schwer) retired in 1988. When they moved, he had sold his trusty vessel for it being impractical for the Watertown Yacht Club for its size and heft, only to reconnect with its buyer as a fellow member of the St. Croix Yacht Club after they moved.
Many of Al's training and professional experiences pointed him in the daring direction of this pre-GPS transoceanic voyage, made complete and chaotic by having the family's two cats aboard. He enjoyed an idyllic upbringing in Woodbridge, N.J., where he was his high school class Air Raid Warden and Courier, both duties of high safety responsibility for wartime. The class thespian built amplifiers, his knowledge of sound and lighting making him a popular disc jockey and theater technician. Named 'Class Optimist,' the Class of 1943 graduate of Woodbridge H.S. was a commuter student at Pratt Institute of Brooklyn before his enlistment in U.S. Navy as a Seaman First Class in 1944, from which he was shipped to Pearl Harbor. He rose to the rank of Petty Officer Second Class and applied his naval training toward his eventual career as an electronics technician with expertise in sonar and radio.
After ten years working in technical writing and radar product sales in N.Y. an N.J., he permanently moved his young family to Needham, Mass., where he lived until resettling in Christiansted, right where Columbus first arrived to America. From here Al began what would be a 40-year career at Raytheon as both an air traffic control systems engineer and a project manager with secret security credentials for the Patriot Missile air defense system, still considered the world's most sophisticated platform of radar defense technology. This included four years leading the installation of a new air traffic control system at the international airport in Johannesburg, South Africa.
Al and his wife Anne chose St. Croix for their post-retirement years, during which he threw himself into involvement and leadership positions for the Judith's Fancy Homeowners Association, the St. Croix Yacht Club, a local writers' group, the world-class St. Croix IRONMAN Triathlon, District 33 of the US Power Squadron, and the St. Croix Amateur Radio Club. When they were not adventuring from a luxury cruise ship for Anne being a cruise specialist travel agent, or making his annual 'tomato and corn' summer pilgrimage to Massachusetts, Al developed his hobbies with his signature precision and 'all-in' passion.
His days in the Navy inspired his love of recreational boating. As captain of boats Ghost, Whistler and Zenzele, he had ample skills to teach celestial navigational and safety classes for the U.S. Power Squadron, rising to the top officer rank of national rear commander. He was a certified ham radio instructor, sharing a skill that proved essential on Sept. 17, 1989, when the eye of Hurricane Hugo's 200 mph winds careened onto St. Croix, ripping the roof off his home while he, Anne and their cats huddled in a bathroom with only rum, flashlights and candles. From Hurricane Marilyn forward, he taught ham radio emergency communications to students from throughout the U.S. Virgin Islands. Sadly, Hugo destroyed his former Zenzele, which is now part of the coral reef off the St. Croix Yacht Club dock.
Al was an off-stage fixture of The Needham Community Theater, perched on overhead scaffolding from which he operated the light boards he'd designed. He owned a tricked-out dark room in the era of pre-digital photography, among his memorable subjects: racer Mario Andretti, siren actress Jayne Mansfield, Ginger Rogers and pro boxer Sugar Ray Robinson.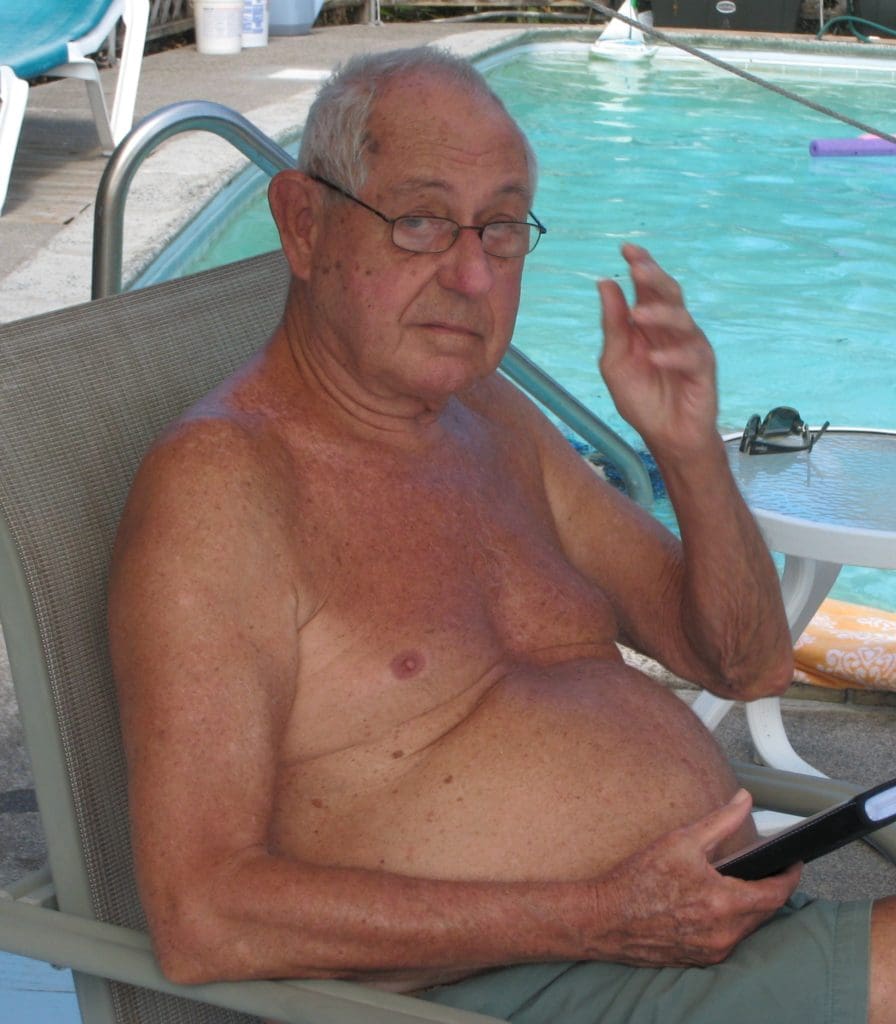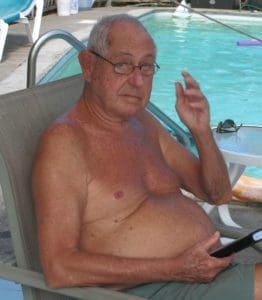 He was a voracious reader of historical nonfiction that informed his post-retirement published next-gen Sherlock Holmes mysteries ('Brennan' series) and children's short stories, like "Jerry and the Hermit." His encyclopedic mind made him in-demand for competitive team trivia, his acuity kept agile as a devotee of nightly 'Jeopardy' viewing and New York Times crosswords that he always completed in ink by the pool. He would verbally spar to win any debate that came his way; what he sometimes lacked in decorum he balanced by being factually correct. Al was never without an opinion, always expressively conveyed, which ultimately led to the prohibition of politics for social conversation. He was also an adept DIY fix-it guy who never read directions but could handle plumbing and electrical repairs with impressive success, although he could be heavy-handed with Gorilla Glue.
Al's family includes his wife Anne (Schwer-Barnes), previously of Springfield, Ohio, and Needham Mass.; daughters: Loring Barnes Edmonds and her husband Michael of Millis, Mass., Meredith Barnes-Cook and her husband Earl of North Andover, Mass.; son, Jack Rymsha of Lynn, Mass; nephew, Richard Ebersole; and great-niece, Kirstin Ebersole of N.J. He leaves his two grandchildren: Melissa Connors and Zachary Cook, both of Massachusetts; and two great-grandsons: Jameson and Rowan Connors, to whom he bequeathed his treasured navigational sextant that guided his epic sailing adventure.
He is predeceased by his parents: Mary 'Mae' Bartenhagen and Alvin John Rymsha of Woodbridge N.J.; his sister, Eleanor Ebersole of Fanwood, N.J.; and his son, Master Sgt. Bruce Rymsha, USMC (ret.) – his loss the heartbreak of his life.
While he envisioned a shoreline funeral in the Viking tradition complete with pyre and flaming arrows, his family will bring him back to the Caribbean Sea at a future date, as the ocean was always his first love. In lieu of flowers, memorials to a favorite Animal Shelter would honor Al's commitment to rehoming cats in need. When you raise your next glass, look toward the ocean and invoke his famous toast: "Glod bless us, everyone."