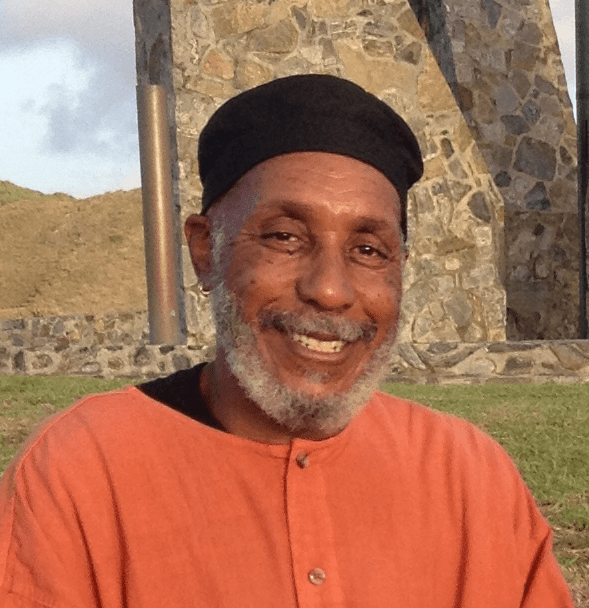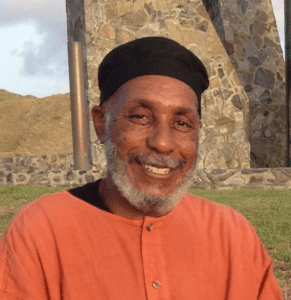 Stephen Berry Quincey, age 67, made his transition on Thursday, July 6, at Gov. Juan F. Luis Hospital on St. Croix, U.S. Virgin Islands. Stephen — known as "Steve," "Baba Q," "Papa Q," "Quincey," or simply "Q," — from his birth in Pasadena, Calif., on Feb. 24, 1950, to his passing on Thursday, nourished everyone around him with love, music and his passion for family and community, embodying the mantra "We, Ours and Us," as opposed to "I, Me and Mine." He was born to the union of Robert Lee "Buddy" William and the former Carrolle Adena Turner. His mother later married Robert Edward Quincey who became Steve's adopted father. Steve was the eldest of two sons.
Steve graduated from the Bishop Alemany Catholic High School in San Fernando, Calif., in 1968, where he was a star football athlete, playing wide receiver and half back, becoming a pro hopeful. However, Steve's passion was to contribute to the design of living spaces and communities, so he entered the Cal-State system studying architecture from 1968-1971, later changing his major to Urban and Regional Planning, graduating with a bachelor's degree from California State Polytechnic University, Pomona's College of Environmental Design (Cal-Poly) in 1979.
In 1978, Steve began working for Dukes, Dukes & Associates (later Four Seasons Management), specializing in the development of affordable housing rental and ownership communities in Southern California until his retirement in February 2016; in-between that time, he served a six-year stint at the County of San Bernardino Department of Economic and Community Development. He later co-founded Common Space International, a global consulting group for community development, which survives to this day.
In 1980, Steve married the former Inus Marie Sims of Atlanta, Ga.; they have two children. In May 2014, he married Joy Elliott of Frederiksted, St. Croix. In March 2016, he relocated to the beautiful St. Croix and fell in love with the ocean breezes and island way of living close to the earth, nature and the people, intending to open a health retreat bed-n-breakfast on the west end of the island.
In his community, Steve was an avid journalist writing many culturally-focused articles in various papers, an amateur cyclist, participating in many classics, an effective massage therapist, and an accomplished musician, flautist and percussionist. He co-founded and/or participated in several community, cultural and musical groups including the FATHERS, the Mzee Honoring Ceremony, Musical Libations Band, Ay Ay Rhythm Ensemble, Salayel Community Land Trust and more, all with a focus of cultural appreciation for the indigenous roots of humankind.
In addition to his accomplishments, Quincey's goals around family and spirituality were to have peace in the home between the members of his family, both immediate and extended as well as to know that his children and grandchildren would be safe in the knowledge of themselves and the world, and that they would be without need. He was dedicated to living according to the principles that have been practiced by earth-based cultures since the beginning of time and to encourage respect for all life on the planet and respect for one's self.
Steve was preceded in death by his mother, Carolle Adena Quincey; and his fathers: Robert Lee William and Robert Edward Quincey.
Steve is survived by his wife, Joy Elliott; his first wife, Inus Marie Quincey; their son, Steve Jr. and his wife Staci; their daughter, Nia Quincey; step-daughter, Laenicia Schmidt; brother, Eric Michael Quincey; five grandchildren: Sydni Quincey, Jania Grant, Sierra Quincey, Jacquell Grant Jr. and Jahdae Grant; in-laws: William and Drucilla Elliott; many sisters- and brothers-in-laws, nephews, nieces, cousins, aunts, uncles and friends.
The Quincey and Elliott families extend their gratitude to all the staff at the Juan F. Luis Hospital on St. Croix, specifically those who cared for him in his last moments, for their attentiveness and loving care.
A sunset memorial, celebration, appreciation and gratitude service will be held at 5 p.m., Saturday, July 15, at the Frederiksted Pier Clock Tower. All are invited.
In lieu of flowers, memorials may be made in his name to Joy Elliott at P.O. Box 5182 Kingshill, St. Croix, Virgin Islands, 00851.
The Stephen Berry Quincey Memorial Fund will be established to raise awareness and funding for heart disease and to support preventative and diagnostic efforts for heart health care in the Virgin Islands.