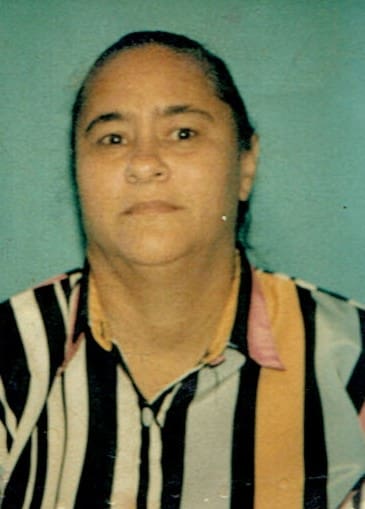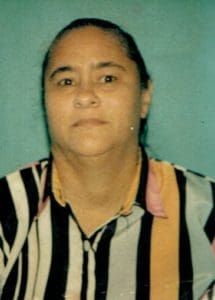 Juanita Davis died on June 27.
She is survived by her spouse, Ernesto Davis; daughter, Maricela Davis; stepdaughter, Ana Davis; son, Ernesto Davis Jr.; son-in-law, Wilfredo Melendez; grandchildren: Migdalia L. Melendez and Wilmarys Melendez; step-grandchildren: Jevron Labeau and Jamar Labeau; brothers: Jobo Coto Jr., Antonio Coto, Pedro Coto and Jose Coto; sister, Anita Coto; aunts: Lionor Gonzalez and Iris Beceril; nieces: Luz Maria Coto, Maribel Ayala and Sandra E. Coto; and nephews: Gilberto Coto, Jose A. Coto, Miguel A. Coto, Wilfredo Coto and Neftalie De Leon.
She is also survived by cousins: Ofelia Carrasquillo, Luzy Carrasquillo, Maria Coto Saldaña, Olga Coto, Isabel Albino, Andrea Vega, Maurico Coto, Victor Coto, Jose M. Coto, Andrea Rivera, Nereida Nieves, Neida Lewis, Samuel Coto Jr., Miguel Coto, Esmeralda Coto, Prisila Diaz, Samuel Coto Jr., Nancy Perez, Mickey Figueroa Jr., Graciela Garcia and Victoria Coto; special friend, Lillian Belardo; as well as other relatives and friends too numerous to mention.
There will be a viewing from 3-5 p.m. on Wednesday, July 5, at Divine Funeral Services Chapel. A second viewing will be held at 9 a.m. and a funeral service at 10 a.m. on Thursday, July 6, at Iglesia De Dios Pentecostal M.I. Siloé, No. 3 Yellow Cedar. Interment follows at the Kingshill Cemetery.