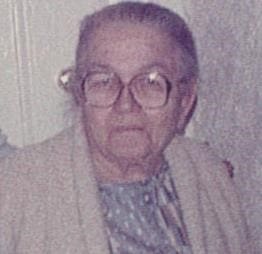 Marcelina G. Rivera, also known as "Celita," of St. George's Hill died on Friday, June 2. She was 105 years old.
She is preceded in death by her daughters: Carlota Rivera-Ramirez and Sylvia Rivera; sons: Vincent Rivera and Gabriel Rivera Sr.; brothers: Monserrate Garcia and Luis Garcia; nephews: Tito Garcia and Luis Garcia; and grandsons: Gabriel Rivera Jr., Reinaldo "Papo" Rivera, Nelson Rivera and Orlando Alamo.
She is survived by her daughters: Rosemarie Rivera, Luz Rivera, Sarita Rivera and Aida Rivera; sons: Thommy Rivera, Angel Rivera, Johnny Rivera, Ulises Rivera, Dimas Rivera, Javier Rivera and Carlos Rivera; and grandchildren: Thommy, Hilga, Lizandro, Wanda, Gisella, Carlita, Nancy, Elizabeth, Erica, Diana, Celia, Lysette, Priscilla, Jeannette, Alice, Ursula, Jeany, Ulises Jr., Timothy, Frankie, Rodney, Elvis and Betty.
She is also survived by more grandchildren: Yolanda and Sandra Rivera, Gabriel Jr., Eduardo, Israel, Zoraida, Nilda, Dimas Jr., Sonia, Cedric and Miriam Rivera, Rene Ramirez, Paulino Borgan, Luis Jr., Irvin, Eddy and Veronica Ruiz, Lionel Edo, Hector, Tito and Eddy Saldana, Daisy, Alyida and Louise Ramirez, Sarita Burgos, Doris Casey and Rey Carmona, Daisy Bermudez, Janet, Sandy, Tony and Rosemarie Nieves, Raul, Joe and Hector Alamo, Carlita and Yahira Pena, Mikey Ruiz and Zenia Warren; and sister, Carmen Parrilla.
Other survivors include nieces: Hilda Parilla, Lydia Garcia, Lydia Garcia-Camacho, Lucy Garcia and Teotista Roldan; nephews: Ralphy Garcia, George "Papo" and Maximo Garcia; daughter-in-law, Carmen L. Rivera; sons-in-law: Gerson Rodriguez, Ignacio Nieves and Vicente Lugo; special friend, Ibia Ivy Rivera; special thanks to Dr. Lakhram MD and Liza R. Ryan; as well as other relatives and friends too numerous to mention.
There will be a viewing at 9:30 a.m. followed by a funeral service at 10:30 a.m. on Friday, June 16, at St. Patrick's Catholic Church. Interment will follow at Frederiksted Cemetery.