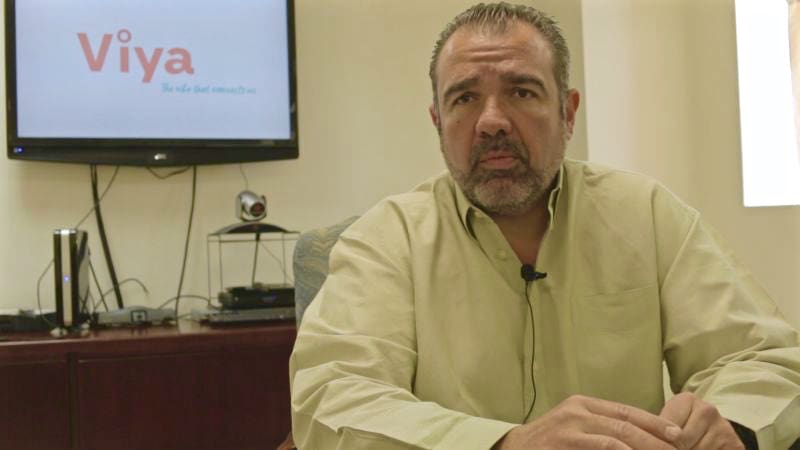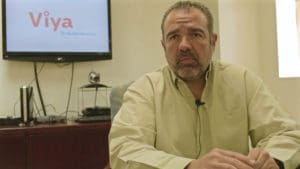 When Alvaro Pilar came to the territory in the 1990's to start Centennial Communications, the telecom industry looked vastly different than it did today.
"When we were here then, data wasn't that important," said Pilar, now head of the recently merged Innovative and Choice Communications. "The important thing was voice and everyone had a flip phone. Back then, the thinner the phone, the more expensive it was, but everything has changed so much and so fast. It wasn't even until 2003 or 2004 that we started doing text messages, but now the technology is completely different."
In an interview with the Source, Pilar said Viya, the new brand that represents the two combined companies, is keeping up with changes in the industry that will result in faster internet speeds, more cable channels and a new focus on customer service that is solutions oriented. To make it all happen, the company is also pushing to replace a lot of the newer equipment that was introduced by Innovative over the past few years so that local residents can have more reliable service, he added.
Customer Service
Pilar's top priority is improved customer service and he said that means more than "just staying calm" behind the counter.
"We have to train ourselves to know what good customer service is," he said. "Staying calm is just one piece. But the customer, nowadays, is looking for a solution, and a quick solution at that, to their problems. That's why every single solution or improvement you make within the company has to be based around the customer."
Pilar said that in the days of Centennial, there was a lot less competition, with Innovative – specifically, the V.I. Telephone Co. – being the heavy hitter in town. Now, there's competition "in every single corner," so there is a need for Viya to stay on top in all areas, starting with good customer service, he said.
Viya recently unveiled a revamped "customer experience center" in Estate Tutu on St. Thomas that is completely customer oriented, starting with a greeter at the door that directs residents to different stations. The colors of the building have changed to Viya's bright orange and blue, which the company's marketing team has said is more welcoming and friendly, and there is more training on the back-end to make sure that the company's staff can go into a home, fix a problem and leave with everyone feeling satisfied, Pilar said.
"I want our customers to feel that this is their company," he said.
Technology
Over the past few weeks, Pilar has spoken in public meetings about the development of a new network, which he said customers are already beginning to experience, particularly in the area of internet speed.
"This network is going to be the best in the Virgin Islands," he said. "We are going to have double the cell sites and a lot more coverage than the competition, which results in very, very high speeds, like over 100 megs (megabytes per second.)"
Pilar added that Viya has had to improve the high fiber coaxial cable (HFC) network previously deployed by Innovative, which he said was deployed in a rush. Most recently, the company has focused on segmenting the network's nodes and training employees on how to solve issues on the network, such as reducing noise that could be caused by something as simple as not properly disconnecting a cable box.
"It's an ongoing process," Pilar said. "And we still have work to do. St. Croix is a lot more advanced, but St. Thomas has been a little more complicated because some of the nodes were a little more overcrowded. We needed new equipment, then we had work to do on each node. It's a non-stop job."
Pilar said that part of the problem has been the Innovative's old EVO boxes, which he said were bought refurbished and needed to replaced with "brand new equipment."
"We have plans to replace over 9,500 boxes, which would also have new batteries that could make them work," he said. Pilar said that the notion that the boxes would stay on when the power is out – supposedly powered by the batteries – doesn't exist anymore, so Viya is faced with coming up with a solution.
"Because of the power issues we have, everyone expects us to mitigate this issue," he said. "And we are looking at longer lasting batteries, but it's still going to be an issue if we have power out more than eight hours."
Keeping it Local
Along with the name change, which was developed within the territory, Pilar said that the company has involved its customers in most of the decision making, starting with things like bringing fiber into customers' homes and shuffling the cable line up.
"People have said that they have to jump around from the double digits all the way to the 200's or beyond if they want to see sports or news, or go back to kids' shows," he said. "Everyone's been asking us to change the line-up, so that's definitely one of the things that we're going to be doing soon." In addition, the company is going to add more channels, taking away those that are barely watched, and put on more Caribbean content.
"We're also looking at having more of our cable product be web-based in the cloud," Pilar said. "Say you're at home and want to record a program, but you don't want to watch that recording right away, you actually watch it at the beach. We're looking at doing that, which is something we think can improve our customers' lifestyles."
As the company returns to more local customer service, Pilar said that while there are still some services that can exist outside the territory, most of what's being done within the home will be done by local technicians.
"Everything with wireline service is here," he said. "Other things, which can be done on an economic scale with wireless, have to do with problems that aren't necessarily associated with your location. They can be done by anybody, they just have to know about your phone or billing system. But those things in the home, on the pole, all that is here."