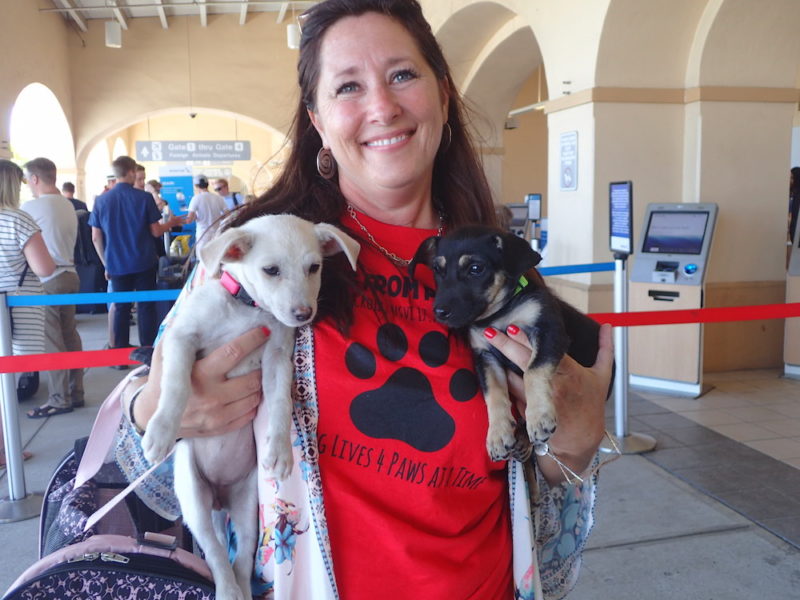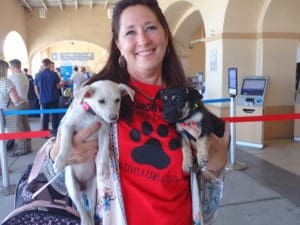 Several of St. Croix's animal welfare organizations consolidated efforts last fall and have dramatically increased the number of stray pets placed in permanent homes on the mainland.
"It's up 125 percent. It's been awesome," said Donna Cascarelli, who ran the first stateside placement organization, Pets from Paradise, for eight years.
The coordination of rescue efforts culminated with creating Paws.VI/Paws from Paradise under the guidance of Athena Perlmutter and Edmund Davies. Davies had been trying to build an animal sanctuary, but title problems and funding for the property hampered his work. Perlmutter, who runs a software company with her husband, recognized the duplicate efforts by local organizations to find homes for the stray dogs and cats on the island. The two joined efforts and drew in the other organizations to streamline getting animals to stateside permanent homes.
"All the passion is there, but not the organizational skills to create consistency and sustainability," said Perlmutter, who successfully manages her company's employees in Vietnam and offices in Las Vegas, Nevada, from her home on St. Croix.
Last June, Healing Paws, formed in 2013, merged with Paws From Paradise/Paws.VI and created a 501c (3) organization with a nine-member board of directors. Then, an agreement was signed with the St. Croix Animal Welfare Center, the Sunshine Foundation, Real Cruzan Cats, Cruzan Cowgirls horse rescue and Pawsitive Vibes. The organizations agreed to coordinate marketing and send only healthy, socialized animals to stateside homes. Most animals come from the AWC and every fifth homeless pet is sent from one of the other rescue groups.
Since Paws went into action, the five-person staff and cadre of volunteers have been coordinating flights and animals from a centralized location. They also store airline kennels at their facility, some donated and some purchased by donors.  Kennels are around $200 and frequently are returned to St. Croix by the airlines, Paradise Freight and VI Cargo, free of charge.
The number of pets transported to the 55 partner shelters since last fall has averaged over 40 every month, according to Perlmutter. In March, 33 dogs and seven cats were flown to 16 rescue organizations. Facilities willing to find homes for Crucian animals are located in 48 states.
According to Permutter, the pets are placed in permanent homes within two or three weeks.
Paws uses its website, www.healingpaws.vi and Facebook to enlist travelers to escort a pet. They encourage fostering the pet before the flight and the travelers frequently donate the $100-$200 ticket price for the animal.
Getting a cat or dog ready to fly involves sending photos and information to the receiving shelter, paperwork for the airlines and immunizations and health certificates from a local veterinarian. On travel day, Paws volunteers deliver the animals and their kennels– frequently four a day – to the airport, and walk them until boarding time.
Currently, American Airlines, Jet Blue and Delta transport animals from the region to the mainland, contingent on the outside temperature. Tickets are $100 to $200 depending on whether the animal travels inside the plane or in the cargo section.
Funding for Paws VI comes from community donations. In January, several thousand dollars were raised at an event in a private home, and last week, Gregory Worrell, Jr. "Mr. Lucky" showed up at the airport with $872 for the organization. Dressed as a leprechaun, he raised money selling Jello shots at the St. Patrick's Day parade. Worrell has been involved with the animal rescue community and has raised cash at the parade for the last three years.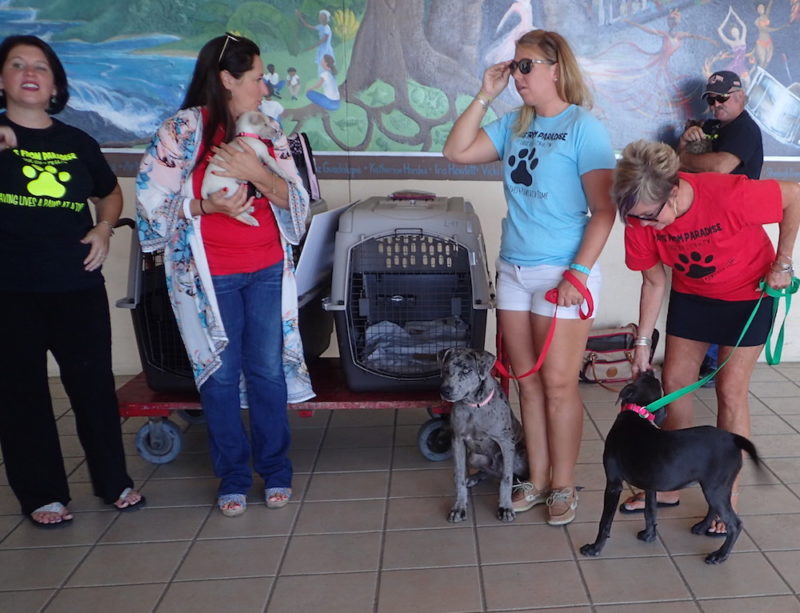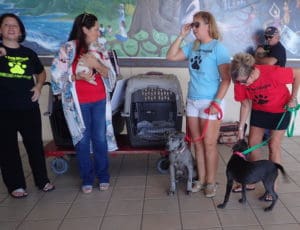 Valerie Geer was traveling to Richmond, Virginia, last week to visit family and deliver a pack of canine kids.  She showed up at the airport several hours ahead of the flight with two large airline kennels, a carry-on kennel and four dogs. MuMu and Pearl, retriever mixes were traveling in the cargo section, and tiny Rayne and Luna flew in carry-on luggage.
Geer tries to travel once a month to deliver animals to new homes. She has established a relationship and a reputation for delivering healthy, friendly pets to Cleveland and Dayton, Ohio, Buffalo, New York and especially the Gloucester Matthews Animal Shelter.
Perlmutter said that, while the system is working well, they don't want to transport hundreds of animals off the island. Instead, the goal is to fix the problem of overpopulation with education and animal control. Hopefully, residents, especially new arrivals, will support the organization's efforts.
"The next issue is getting people to know they need to do this. It's cheaper to do animal control than fly them," she said.