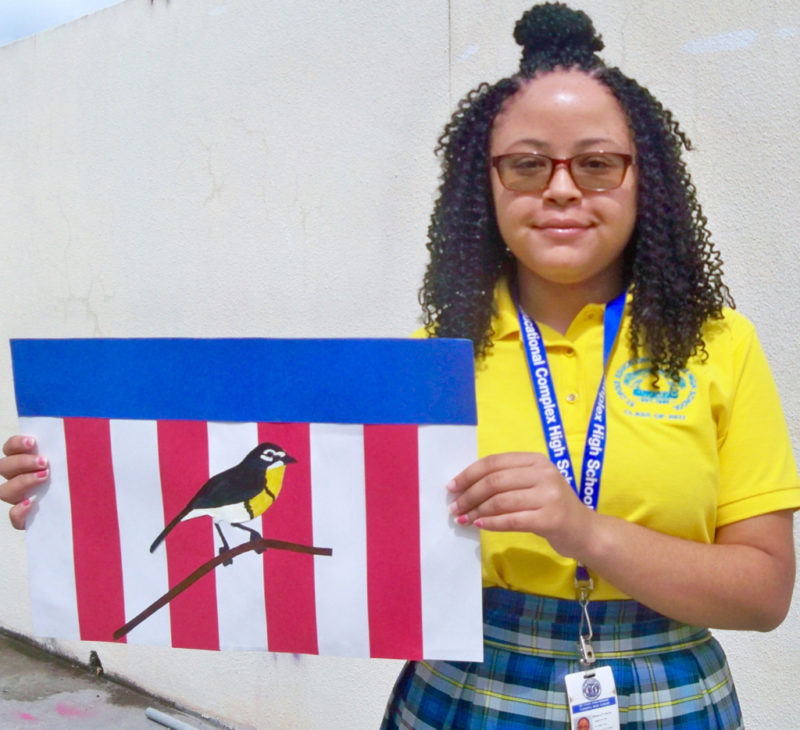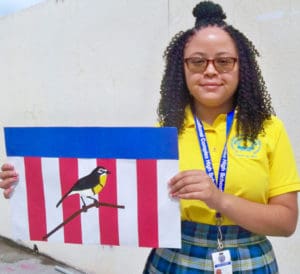 In celebration of the U.S. Virgin Islands centennial, advanced art students in public and private schools were challenged to design flags for a centennial exhibit at the Caribbean Museum Center for the Arts in Frederiksted.
Visitors at the "Invisible Heritage: Transfer 2017" exhibition that opened Friday at the museum will vote on the flags in the student's Make Your Mark installation. Cash prizes will be awarded to the top three vote getters.
Students in Danica David's advanced art class at St. Croix Educational Complex were busy Thursday putting the finishing touches on flags they designed depicting their ideas of what the Virgin Islands' flag symbolizes.
In preparation for the challenge students learned in art class that a flag's purpose is to represent a place, be recognizable from a distance, and be reproduced in quantity and many different sizes. The students were challenged to come up with designs that were a unifying symbol and something that represents identity and values.
The state bird, the little black and yellow bananaquit, was in a number of David's student's artwork done with construction paper, colored pencils, markers and acrylics.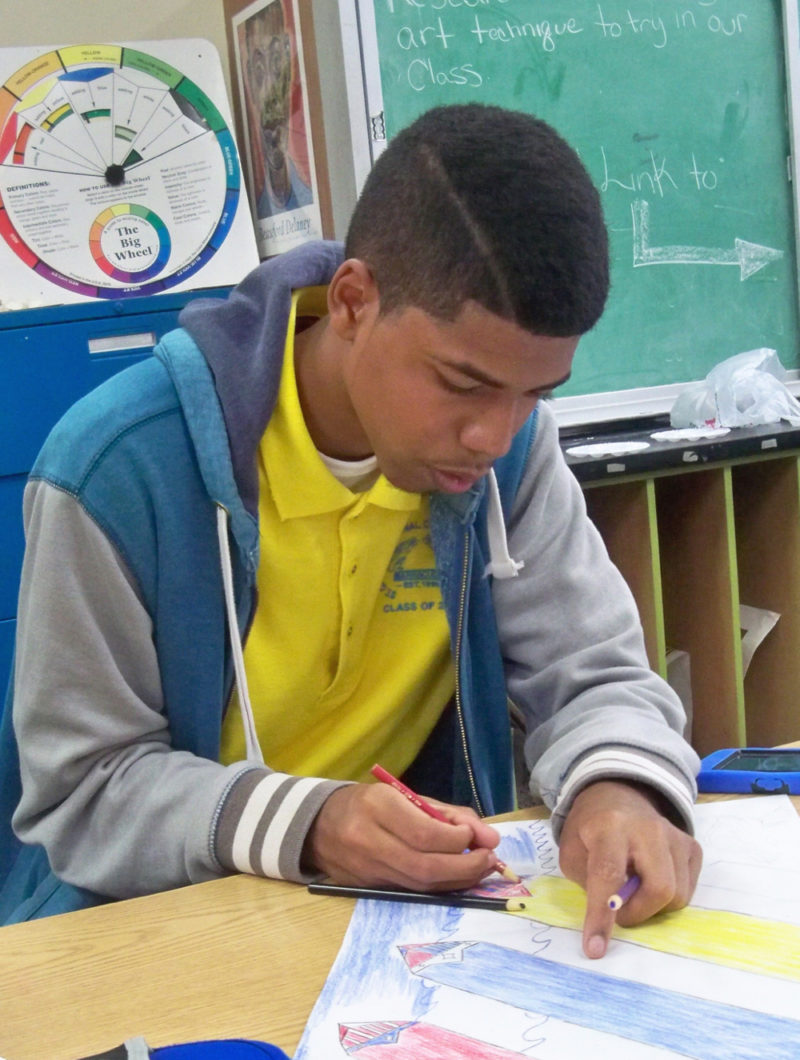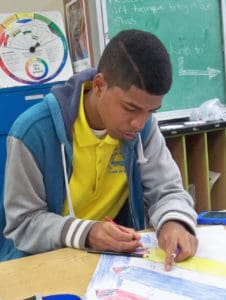 Moises Carmona, a senior, said his bird was in flight, showing freedom that has taken place over the past 100 years and the freedom that still exists in the Virgin Islands. He drew shields in different colors to represent each island. A blue background represents the Caribbean Sea. He explained the sea has a great impact on life in the Virgin Islands in tourism, the environment and fishing.
Bianca Alexis, also a senior, painted a bananaquit centered in her flag with a background of red and white vertical stripes and a horizontal blue stripe across the top. She said the bird also symbolized freedom to her.
"Now we have much more freedom than 100 years ago," Alexis said. "People didn't have many rights back then. Under the U.S. flag and rule things are better. Now we have jobs, education and freedom of speech."
Rickel Dupigny, a junior, had a compass centered and encircled with red stripes and white stars on blue. On the compass were green arrows representing the islands. She said she came up with the design to promote the islands that she thinks aren't as well known as they should be.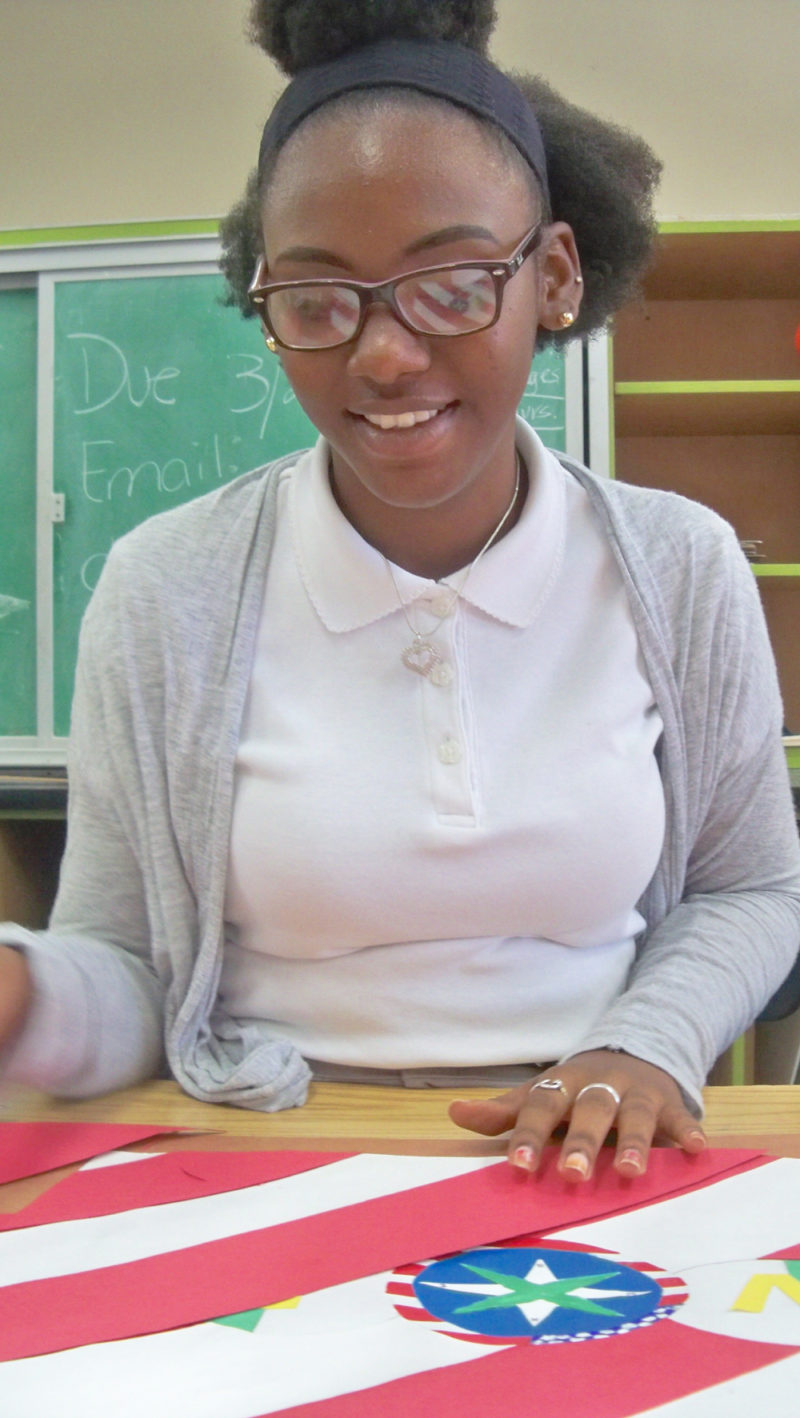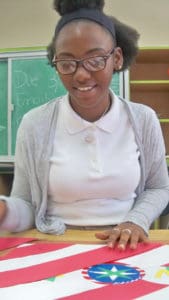 "We have the best location for people to work, play, live and visit," Dupigny said.
Zaquira Carti, a senior, had a a background of red stripes with a hibiscus, frangipani and Ginger Thomas in a circle centered on her flag with the flowers representing each island. She said the flowers symbolize the beauty of the islands and the environment.
Students from St. Croix Central High School, Good Hope Country Day School, and the University of the Virgin Islands participated in the Make Your Mark installation. Monica Marin and Niarus Walker coordinated the Make Your Mark Education Outreach Program. The project is funded by the Centennial 2017 Transfer Commission.
According to Marin, several schools will tour the show and students still will have the opportunity to make a flag for this living installation. There is a table with art materials has been set up as part of the community/student engagement. A reception to honor all the art students who participated will be held, at which the winners will be announced.
"Invisible Heritage: Transfer 2017" is a visual arts exhibition featuring recent work by Virgin Islands artists who are actively engaged in a conversation about the islands' colonial history, including the last 100 years as a U.S. colony as well as the legacy of previous century. The artists art on display include La Vaughn Belle, David Berg, Gerville Larsen and Niarus Walker, Janet Cook-Rutnik Jon Euwema Edgar Endress and Lori Lee and Ellington Robinson. The exhibit curated by Marin will be open through May.
According to Ronnie Lockhart, local historian and business man on St. Thomas, his grandfather Percival Sparks was asked by Naval Governor Sumner Kitelle to design the first U.S. Virgin Islands flag. Lockhart said Kitelle was impressed with Sparks' artwork when he saw him doodling. Kitelle told Sparks his idea as to what he thought the flag should show. Lockhart's grandmother, Grace Joseph Sparks, and her sister Blanche Joseph Sasso needlepointed the first official flag.