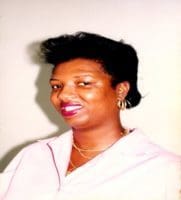 Virginia Louise Schuster-Figuero of Estate Whim died on Feb. 14 at her residence. She was 60 years old.
She is predeceased by great-grandchild, Craig Alonzo Jr.

She is survived by her father, Henry Schuster: ex-husband, Moises Figueroa Sr.; daughters: Anita Roberts, Melina Figueroa and Kenya John; sons: Moises Figueroa Jr., Orlando Figueroa Sr. and Jumanne John; adopted son, Malik Stridiron; and grandchildren: Sheniqua Belardo, Camoya Hedrington, Moises III, Hassani, Shadeyah, Moiesha and Joshua Figueroa, Shanika, Orlando Jr., Rolando, Reginald, Ahmad, Prisila, Yarelis, Amira, Siobhan, Allana, Ayana and Alexa Figueroa, Khoyiesha and Meeca Brutus, Josenia Rivera, NeKenya and Kemaya John, and Makaylie John.
She is also survived by great-grandchildren: Shamual and Shanoy Reviere; sisters: LaVerne Gerard-Mike, Gloria Gerard, Kathleen Dowling and Adelle Allen; brothers: David Edwards and Aaron Allen; daughters-in-law: Cherie Gordon, Siobhan Henderson and Mahalia Montoute; sons-in-law: Okemo Felix and Javier Crispin; sisters-in-law: Candice Allen and Sophia Sewer; brothers-in-law: Herman Mike Sr. and Vincent James; aunts: Vivian Charles, Doreen Pemberton and Ethany Samuel; uncle, Sylvan Charles; nieces: Adriana Edwards, Ophia and Crystal Sewer; and nephews: Herman Jr. and Omar Mike, Kareef Henry, Shamari Haynes, Jevon Marcus, Elroy Jr. and Isaiah Sewer.
Other survivors include special cousins: Ingrid Bough, Patricia Graham, Vidamae Charles, Earl Charles and Rose Marie Schuster-Gonzalez; special family and friends: Etienne Samuel, Vivian Williams, Yves Beaubrun, Vianna and Leaonard Hamilton, Laura Rambajan, Raquel Olivio, Ruth Dunlop, Prudence Tuitt, Ronald Pogson, Jerry O'Reilly, Charlene Henderson, Aloysius "AJ" Jones, Lynette Johannes, Helenita Scottland, Abdul Ali, Amos John, Annette Hendricks, Roger Roberts, Khoy Brutus, Jose Rivera, Jeffrey Nisbett, Avril Daniel, Derick "Crusher" Mottley, Wenola Wade and Denise Anduze; as well as many other relatives too numerous to mention.
The viewing will take place at 9:30 a.m. and the funeral service at 10:30 a.m. on Monday, Feb. 27, at St. Patrick's Catholic Church. Interment will be at Frederiksted Cemetery