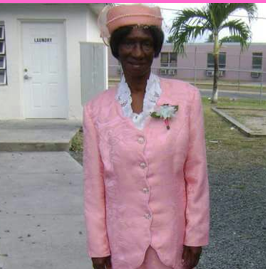 Eva Adeilia Rebecca White, also known as "Madge" or "Granny," of Estate Breezewood died on Dec. 17.
She is survived by her sons: Phillip Hunter, Adolphus White and Troy Brewley; sisters: Jenny and Bernice White and Ann "Florence" Allen (deceased); brothers: Alwyn "Peter" White, James "Moses" and Joel (deceased); daughter-in-law, Patricia Hunter; adopted daughter, Cynthia C. James; grandchildren: Trevorn, Troy Jr., Ameera and Hasima Brewley, Vernon, Adella, Brendon and Maryse White, Nakima and Na'Shaun Hunter; great-grandchild, Jayden Trevorn Brewley; and adopted grandchildren: Angie, Kadeem, Raheem, Jamal, Ishmael, Elishah, Isaiah and Annaliisee, and the neighborhood children of Breezewood and Estate Concordia.
She is also survived by nieces: Tanisha, Anesta, Jennifer, Geraldine ("Cecelia," "Margaret)," Jessica, Victoria, Aandra, Auillia, Stacia, Nadine, Eunice and Vanessa; nephews: Thomas, Winston, Donald, Kelvin, Stanley, Alfred, Kalem, Brandon, Gabriel, Dante, Patrick, Joe, Leon, Winston and Colin; and friends: Pastor B.G. Strange, Pastor Williams and family, Rebecca Cornelius, Ramona Symister and family, Deacon Leroy and family, Minister Marilyn Lindo, Mother Hinkson and family, Paradise Evangelist Pentecostal Church family, Pastor Scotland and family, Joan Poponne, Heather and Jazmine Carty, as well as other friends too numerous to mention.
Other survivors include special friends: Pastor Aubrey Adams and the Breath of Life Ministry in New York, the Flemming family, Pastor/Evangelist Elizabeth Gertrude Allen, Mabel Fagan, Lucille Joseph, Glansel Smitten, Etty and Joseph; cousins: Jim and family, Rosemary and family, Madge and family, Agnes, Isabel "Bel," John Fredericks, Joe, Madge, Helena, Dona, Noel, Clinton, Conrad, Alfred "Teacher Fred," Edith Lee, Fergus family, Iona, Clemence, George, John, Mary, Judith, Sam, Lou and Ruth, Agnes Bartley Lee, Doreen White and the entire White family, and other cousins too numerous to mention.
A viewing will take place at 10 a.m. and a funeral service at 11 a.m. on Monday, Jan. 16, at Evangelistic Pentecostal Church, Estate Paradise. Interment will follow at Kingshill Cemetery.