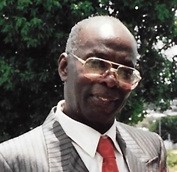 Fitzgerald Smith died on Dec. 22.
He is survived by his daughters: Sherill Smith, Marcia Smith and Shermin Prentice; son, Anselm Smith; daughter-in-law, Heather Smith; son-in-law, Philip Harris; brother, Albert Leung; sister, Patsy Smith; seven grandchildren; five great-grandchildren; brothers-in-law: Samuel George (N.Y.), David George(Texas) and Rodney George(Texas); and nieces: Gail Leung, Paula Leung-Kressley, Lana Leung-Victor, Faye Leung, Ria Leung-Jones and Janelle Benjamin.
He is also survived by nephews: Brian Leung, Curtis and Chris Benjamin; special friends: cousin Rueben, the Leacock family, the Peterson family, the Edwards family, Sis. Farrell, Veronica Williams and family, Hilda Elva, the Crosby family, the Nelson family, Bro. Heyliger and the Altona Baptist Church; as well as other relatives and friends too numerous to mention.
A viewing will be held from 1-3 p.m. on Sunday, Jan. 8, 2017, at Divine Funeral Services Chapel.
A second viewing will be held at 9 a.m. and a funeral service at 10 a.m. on Monday, Jan. 9, at Altona Baptist Church, Estate St. John. Interment will follow at Kingshill Cemetery.