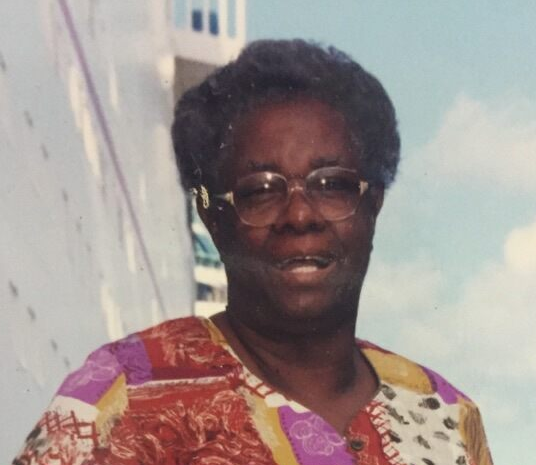 Margaret Elizabeth Samuel-McIntosh, also known by "Ms. Maggie," "Ms. Mac" or "the original Benye Lady," died on Sept. 1. She was 77 years old.
She was preceded in death by her mother, Albertha Samuel; father, Richard Samuel Sr.; daughter, Karima McIntosh; brothers: Theophil Lang, David Samuel and Oneale Samuel; aunts: Ruth Jackson, Beatrice Jordan, Veronica Alick, Elvina Samuel Thomas and Helena Samuel; uncles: James Desant and David Samuel Jr.; nephew, Melvin Marshall; brother-in-law, Rupert McIntosh; and sister-in-law, Jeanette Martin Samuel.
She is survived by her spouse, Bruce McIntosh Sr.; daughters: Sandra Browne and Tracy McIntosh; son, Bruce ("Butchie" or "Bird") McIntosh Jr.; grandchildren: Nicole Browne, Briana Browne, Karimah Chinnery, Sheneque McIntosh, Makeda McIntosh, Kimyra McIntosh, Josiah McIntosh, David McIntosh, Tarima McIntosh and Kennyetta McIntosh; great-grandchildren: Kyleia Cabret, Lunden Chase, Milania Browne, Anthony Plater, Mila Browne, Matthew Plater, Michael Plater and Alexander Plater; and sisters: Maria Samuel, Vivian Lang and Joan Henley (Leroy); and brothers: Leroy Samuel Sr., Ira Samuel, Richard Samuel Jr. (Geraldine), Rubio Samuel (Leona), Ernest Bess Samuel (Karen) and Clemence Samuel (Amarillis).
She is also survived by nieces: Marilyn Marshall, Estia Francis, Magdeline Francis-Benjamin, Denise Francis-Parris, Mae A. Francis, Lonnie Francis, Rev. Debra M. Samuel, Joan "Sherry" Samuel, Rochelle Samuel, Glenis Delemos, Donah Samuel, Renee Samuel, Natasha Fenton, Nicole Samuel-Holmes, O'Real Samuel, C-Niqua Samuel, Eve Samuel, Sasha Fu Samuel, Shante Samuel, Sharon Belle-Joseph, Kizzy Bess and Zara Bess; and nephews: Michael Marshall, Tony Francis, Delano Francis Sr., Terrance Francis, Leroy Henley Jr., Leroy "Buggy" Samuel Jr., David Karim Samuel, Richard Samuel III, Richard Anthony Samuel, Corey Samuel, O'Neale Samuel, Clemence Omari Samuel, Lamel Samuel, Ernest Bess Jr., Reynaldo Bess, Bryan Bess and Carlos Jacobs.
Other survivors include godchildren: Rebecca Dowling, Lezlie Phillips, Corrine Jackson, Janet Brow, Amberky Lynch and Karen Jarvis; special friends: Claudette Schrader, Donah Brow, Mable Brady, Paula Osario, Maggie Hobson, Henrietta Cornelius and Eleanor Mason; the entire Mon Bijou Community, Dr. Khan/Dialysis Staff, WAPA staff and Midland Moravian members; other relatives: the Samuel, McIntosh, Francis, Lang, Henley, Bess, Jackson, Schrader, Brady, Johannes, Simmonds, Armstrong, Felix and Gibbs families; and a host of friends too numerous to mention.
There will be a viewing held at 9 a.m. followed by a funeral service at 10 a.m. on Thursday, Sept. 22, at Friedensfeld Midland Moravian Church. Interment will be at Friedensfeld Midland Moravian Cemetery.
All arrangements are by James Memorial Funeral Home Inc.