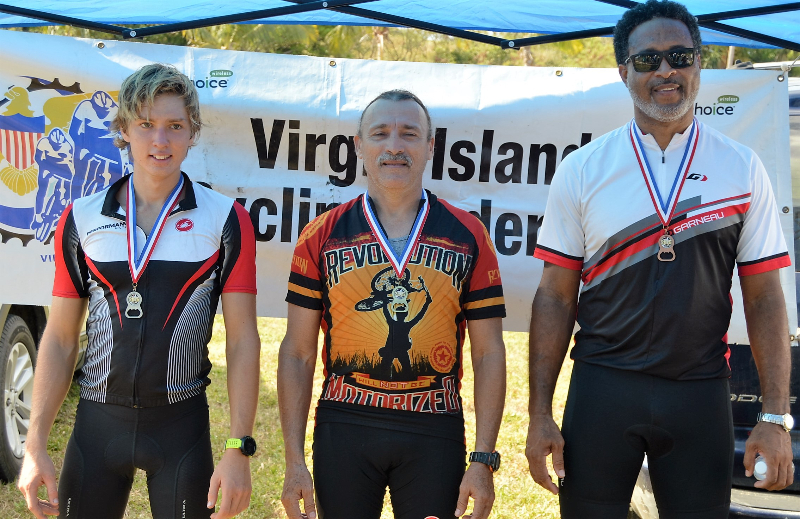 Although the weather was nearly perfect on Sunday morning, the road surface was somewhat of a challenge for several cyclists. Six competitors caught flats in the Gladfelter Challenge Road Race, which took place at Rust Up Twist on St. Croix's North Shore Road.
The largest group of Elite riders that the VI Cycling Federation has seen in many years began their 40-mile race by heading west first to the foot of the Beast. On their way back passed the start/finish line, the Elite group had broken into a smaller group, containing Mark Defour, Stephen Swanton, Troy Holloway and John Harper. After Harper suffered a flat on the second lap, the top three riders stayed together until Defour and Swanton then bridged a 30-second gap on Holloway. Defour and Swanton finished the 4-lap race, just like last year, in first and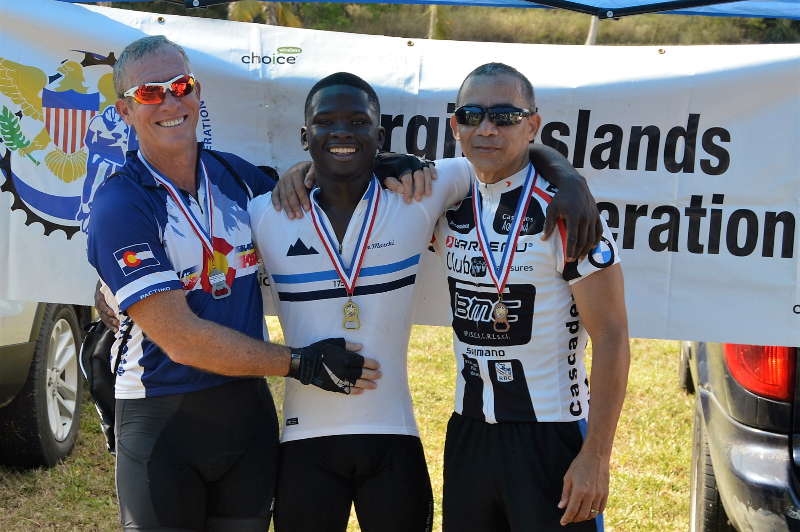 second place with one second apart. Holloway was third.
The largest group in the race took to the line two minutes behind the Elite riders. The Expert group completed three laps (30 miles), led by the trio of Bevern Sage Jr., Scott Fricks and Miguel Cruz. Jerry Remie hung with the leaders until he caught a flat on lap 2. Sage, Fricks and Cruz finished over 7 minutes, respectively, ahead of the second trio of Mark Kennedy, Roger Hatfield and Esther Ellis.
The small Sport category stayed in close range to each other for the first lap of their 20-mile race. José Prado and 15-year-old Jack Ramsdell worked together to bridge a 4-minute gap on third place rider, Angel Ventura. After a sprint finish to the line, the three riders finished the race in that order with one second separating Prado and Ramsdell.
The final group on the line was the Masters category. Hubert Abraham finished the 10-mile race just one second ahead of Willard John in a time of 37:51. Newcomer Paul Gumbs was third.
The next bike race will be a Two-Person Time Trial at 7 a.m. on Sunday, April 24. Call 332-6282 for more information.