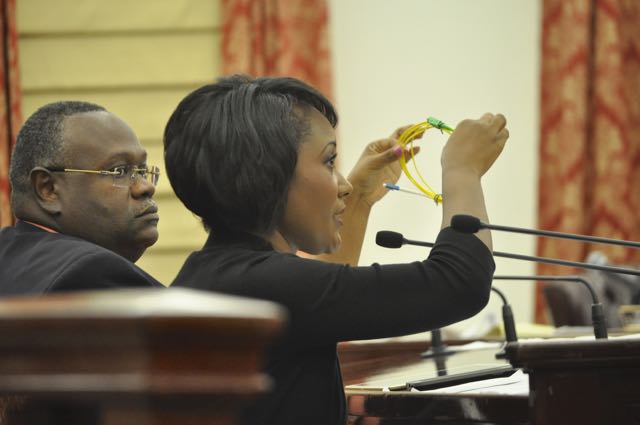 Access to high-speed fiber-optic broadband Internet isn't coming quickly enough to the homes of Virgin Islanders, thanks in part to constraints placed on the way the V.I. Next Generation Network does business, the public corporation's president, Tonjia Coverdale, said Wednesday.
At a hearing before the 31st Legislature's Committee of Economic Development, Agriculture & Planning, Coverdale expressed frustration that viNGN is not authorized to sell high-speed Internet access directly to the territory's residences and businesses.
"It's difficult to have such a powerful, powerful network and yet we're having difficulty getting to the people," said Coverdale.
VINGN was established in 2010 primarily with federal grant money awarded as part of a national initiative called the Broadband Technology Opportunities Program. The corporation was designed to be a wholesaler, authorized only to sell network access to local Internet service providers, who then in turn would invest in fiber-optic infrastructure and offer access to their customers.
But local ISPs have not moved quickly and assertively enough to bring broadband service to residential and commercial customers, said Coverdale. It is government agencies and offices who have thus far benefited most from the territory's new fiber-optic network.
"Our ability to meet our mission statement at the moment is wholly dependent on our partner Internet service providers and, as a professor, I would probably give that a 'C'," said Coverdale. "We have not really gotten the response and the interest from partner ISPs beyond what we've already built."
Coverdale said that the viNGN is a now a revenue-generating business that no longer receives federal grants, and so the Legislature should consider allowing the corporation to compete with local ISPs rather than waiting for them to act as middle-men.
"We'd like to see more investment by the ISPs in the people. Put your money down, build some fiber and get the people connected. If we could do it, we would. I honestly hope you can write a bill so we can, and we can go around it," she told the Legislature.
The suggestion met with controversy.
Sen. Kurt Vialet was particularly adamant that allowing the viNGN, a subsidiary of the V.I. Public Finance Authority, to enter the Internet services retail market would have a disastrous effect on smaller private ISPs.
"Colleagues, we cannot allow private established businesses in the Virgin Islands that have been here for years, some of them 15 to 20 years, to fall by the wayside. We can't. And the possibility is already here," Vialet said.
Testimony from Michael Carty, president of local ISP Smartnet and Alliance Data Services, confirmed that some small businesses in his industry are already feeling the negative effects of government policy changes in the wake of the territory's broadband conversion.
On Dec. 18, 2015, Gov. Kenneth Mapp signed a master service agreement with viNGN that allows the government's Bureau of Information Technology to become the sole Internet service provider for other government agencies. Currently those agencies purchase Internet services from various private ISPs; due to the change in policy they will soon all purchase access to viNGN through BIT, which will reduce the agencies' costs.
Rueben Molloy, director of BIT, said the change came as a directive from the governor and he was not involved in the decision.
Coverdale likewise said she had no input. She described viNGN as a "bystander" in the ensuing controversy between the government and private ISPs.
Sen. Clifford Graham said, "I am not in agreement with BIT being the sole ISP [for the government]. Taxes helps to fund the government. By sideswiping the private sector the economy will be greatly impacted. Gross receipt taxes, employment taxes, corporate taxes will decrease as a result of removing private companies that operate as ISPs."
Also present at Wednesday's hearing were Sens. Myron D. Jackson, Kenneth Gittens, Justin Harrigan Sr., Nereida Rivera O'Reilly, Terrence "Positive" Nelson, Novelle E. Francis Jr., Tregenza A. Roach and Janette Millin Young, chairwoman of the Committee of Economic Development, Agriculture & Planning.