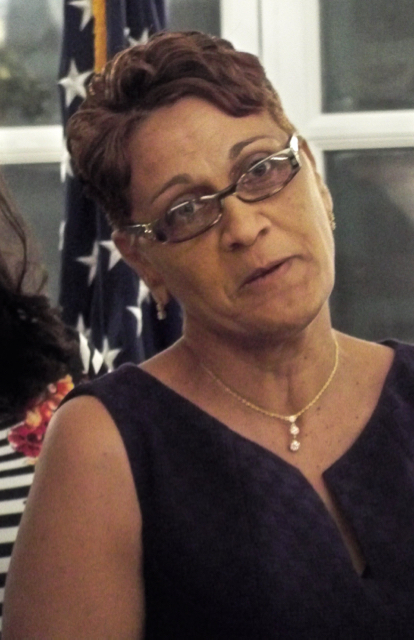 Monique Motta, whose teaching career in special education spans 27 years, was selected as the St. Croix District Teacher for 2014- 2015.
More than 150 people attended the ceremony honoring and commending teachers Saturday evening at Government House. Teachers from each of St. Croix's 17 public schools were honored as teachers of the year.
Motta was selected by a panel of five – Maria Encarnacion, Saul Santiago, E. Xiomara Herman, Juanita Boneque, and Jeselle Cruse Peters.
The panel narrowed the field to six district finalists: Nicole Girard, Chaselle McConnell, Steve Bullock, Wendy Wynter, Maurecia Llanos and Motta.
Saturday's gathering was held to celebrate excellence, said Insular Superintendent Colleen Mae Williams.
"Each of you deserves recognition for the excellence you've brought to the classrooms. Imagine the power teachers have to affect so many lives," Williams said. "These teachers have the power to make someones' dreams fly."
Motta said her career in special education began on a personal basis.
"If it wasn't for my daughter with special needs, who is now deceased, I wouldn't be here," Motta said.
After seeking specialized education services for her daughter she saw the need for special services. She became a social worker in the Department of Education, assisting children with special needs and their families. Motta recognized a need for caring and compassionate teachers, so she became a special education teacher. Motta chairs the Modified Instruction Department at John H. Woodson Junior High School.
She congratulated the other teachers and thanked the administrators, her colleagues and her family for support.
Motta graduated from St. Croix Central High School in 1979. She earned her bachelor's degree in social work from Morgan State University.
The ballroom in Government House, an elegant venue, set a special tone. The polished hard wood floors gleamed in the glow from bright lights in crystal sconces reflecting off gold gilt framed mirrors. Large cut flower arrangements were placed on mahogany tables near the entrances, filling the venue with beautiful floral scents. The women in the crowd looked elegant in silks, satins and lace.
The St. Croix Educational Complex Jazz Ensemble performed a selection of classic cool jazz. Food management students from St. Croix Career and Technical Education Center "Good to Chew" catering prepared and served hors d'oeuvre and drinks.