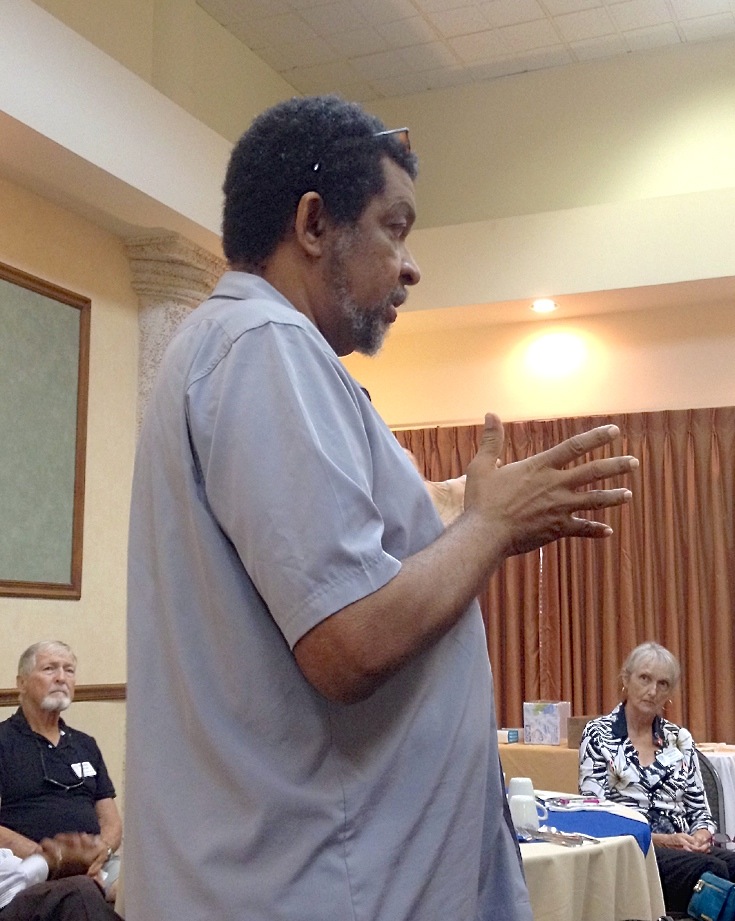 Cofounder of Cutting Edge Entertainment David Edgecombe teased members of St. Thomas Rotary Sunrise with a cliffhanger synopsis of the upcoming movie "Timeless" on Tuesday at the group's weekly breakfast meeting at the Windward Passage Hotel. Edgecombe asked the Rotary Club to make a donation to help writer/director Edward LaBorde Jr. finish the film by March.
"Timeless" is the first movie ever conceived of, directed and produced in the Virgin Islands, said Edgecombe. Production began in 2012.
He and LaBorde founded Cutting Edge entertainment four years prior with the goal of creating a thriving film industry in the Virgin Islands.
Edgecombe, who is the film's executive producer, said he and LaBorde hope to finish the film by March so that it can be entered in the Black American Film Festival in New York this June. LaBorde has screened films at the festival in the past.
Edgecombe said that LaBorde is wrapping up the film's final scenes on St. Croix and that shooting is 85 percent complete. Approximately $5,000 is still needed to complete the film. Edgecombe said a bulk of that money will be used to pay the necessary fees to shoot on location at Estate Whim Museum and settings within the National Park on St. Croix.
"I can't begin to tell you how helpful the entire community has been in enabling us to get here," said Edgecombe. "We started this project without one single penny."
Many of the actors and filmmakers involved in the project have been working on a defferred payment contract, Edgecombe said. What has fueled the making of the film has been a passionate belief in the project.
Cutting Edge Entertainment describes "Timeless" as "a love story that transcends time, from 19th Century Ghana to the modern day Caribbean." The film aims to highlight history and promote the culture of the Virgin Islands.