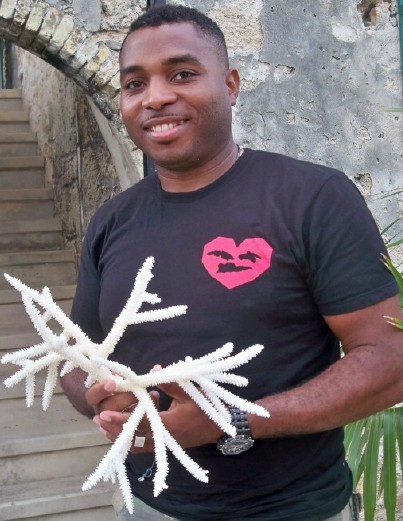 The outlook for threatened staghorn and elkhorn coral in the waters off the U.S. Virgin Islands is brighter thanks to a coral restoration and reef resilience program developed and managed by Kemit-Amon Lewis of the Nature Conservancy on St. Croix.
St. Croix-born Lewis, 30 years-old, has been working at what he says is the perfect job the last three years, growing coral in underwater nurseries and replanting them in coral colonies to revive bleached and dying reefs.
"The coolest thing is to see how the coral is trying to make a recovery," Lewis said. "One hundred percent of the coral planted since last February have caught."
According to the Nature Conservancy, at one time staghorn and elkhorn corals were the most abundant coral in the region. In the 1970s they began to decline and they are both now listed as a threatened species under the federal Endangered and Threatened Species Act.
All the territory's corals suffered bleaching in an epic 2005 event when the ocean water got warmer than normal.
American Recovery and Reinvestment Act stimulus funds from the National Oceanic and Atmospheric Administration went towards developing the coral reef restoration project in the U.S.Virgin Islands.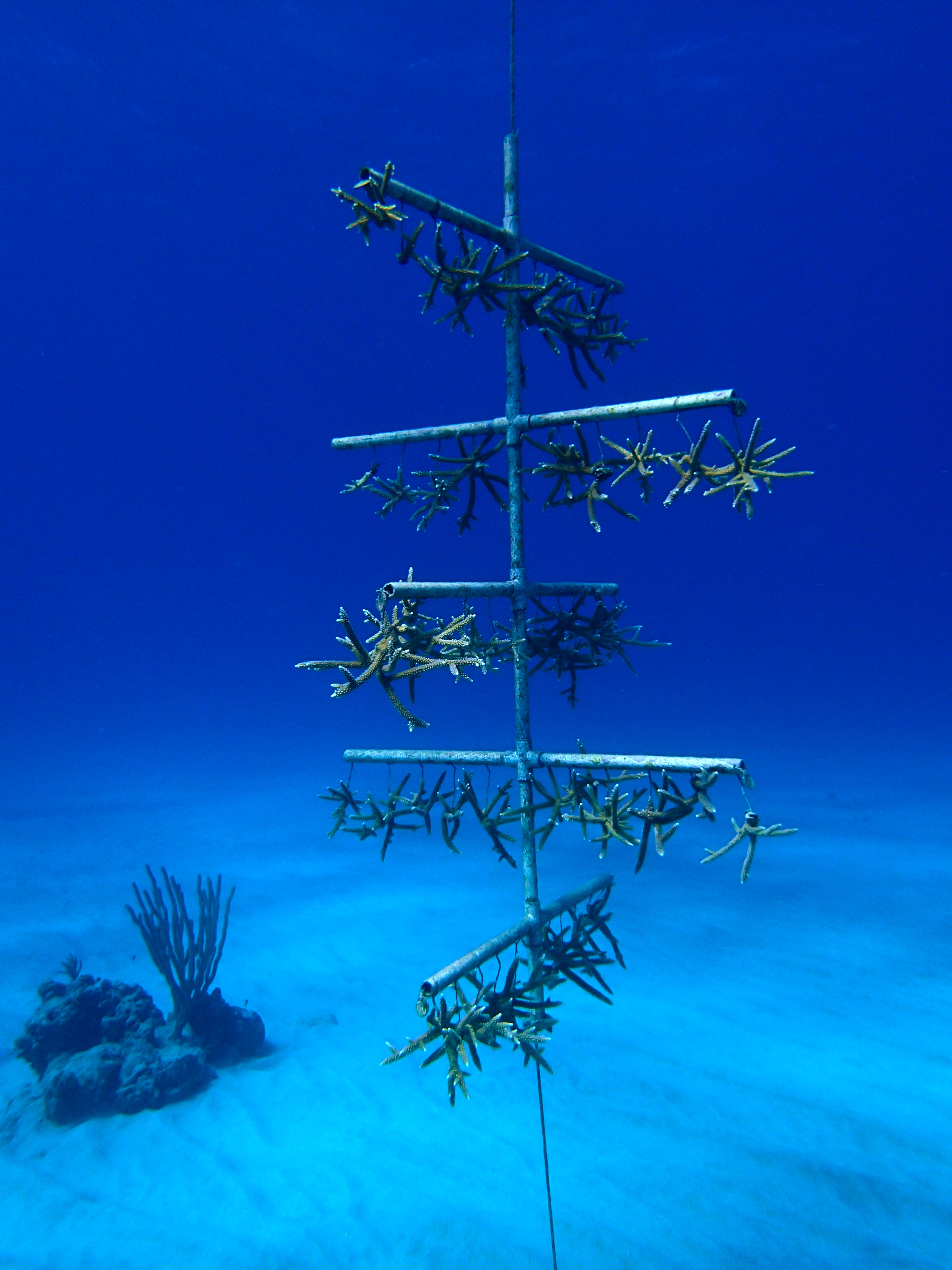 Lewis researched and worked with the Planning and Natural Resources Department to determine the best locations for the nurseries. They looked for areas where the growing conditions would be perfect, with no impact from things such as runoff and predators. One nursery was set in Teague Bay. The one in Cane Bay snorkelers and divers can actually view. St. Thomas has three nurseries.
"We picked resilient, healthy sites for the nurseries," Lewis said.
Lewis said they reclaim coral by salvaging fragments broken naturally.
"We only work with fragments of opportunity," Lewis said. "It feels good taking rescued coral, giving it another chance and getting 10 coral colonies. We collect 300 fragments and it turns into 3,000."
The little-finger-sized fragments are attached with All Fix brand epoxy to concrete pedestals anchored firmly in the sea floor. The researchers have also come up with tree-like apparatus to hang fragments. Underwater it looks a little like a coral Christmas tree.
The controlled environment is free from predators and inspected regularly. The coral is then transplanted to damaged reef where it is observed and divers periodically clean algae off.
"NOAA says the average growth of the staghorn in a year is 10 centimeters," Lewis added flashing a big grin, "We've had maximum growth at an amazing 80 centimeters. The coral is growing faster in five months than it does normally in a year."
He said he was in the water almost everyday when the program began in 2009. Now he is doing reports and fundraising. When he does get in the water now, he says it is really pretty amazing and cool to see how the coral has taken off.
"We had no idea the coral would do this well," Lewis said.
He is working on grants and getting private donations to keep the program going as long as he can.
"It's pretty exciting and humbling that people are hearing about our work and like it enough to give support," Lewis says. "And it's exciting that we are now using this USVI model to expand our work throughout the Caribbean."
The reef-resilience part of the program reduces the human impact and builds immune systems of the coral to withstand climate change. He says they are starting a reef responsibility campaign, starting with restaurants making responsible choices about the seafood they serve.
He is going to start a citizens bleach watch training program for snorkelers to collect data and give alerts about bleaching and outbreaks of disease.
Lewis's father, Moses Lewis, had him in the water and swimming before age four. Moses Lewis, an avid swimmer, made sure they were at Dorsch Beach from nine to five and were equipped for underwater exploration.
St. Croix Central High School science teachers Dan O'Dell and Lee Morris had a big influence on him in his love of marine life and conservation, Lewis added. He was in scuba and the marine biology clubs at Central. He says he knew at a young age he would study marine biology. He has his bachelor's and master's degrees in marine science from Savannah State University. His field research was done at Sandy Point National Wildlife Refuge. At Sandy Point he did research on juvenile and male leatherback turtles.
After getting his master's he worked at the University of the Virgin Islands St. Thomas campus in marine biology and he worked for Coastal Zone Management before Nature Conservancy. He still teaches part-time at UVI. And in his spare time, which he said he doesn't have much of, he teaches at Caribbean Dance School, does underwater photography, dives for pleasure, reads, hikes, and plays tennis.
He says in 2009 he represented the Virgin Islands in the Davis Cup.
Lewis said he hopes to continue this work in the USVI and throughout the Caribbean for years to come. He anticipates true success will be realized in a few years when the outplant sites mature, sexually reproduce, and begin to help populate other nearby reefs. Lewsi wants to continue working to conserve and help boost populations of endangered or threatened species for as long as he works in marine science, which he anticipates will be forever.