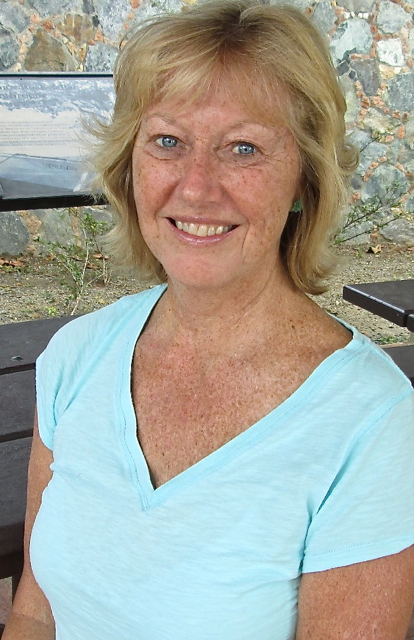 With a long and successful career in the artisan cheese industry behind her, St. John resident Kathy Guidi is ready to dish up new endeavors but at the moment, she's unclear what direction they will take.
"It's a big transition from owning a business to thinking outside the box," she said.
Since she arrived on St. John in November 2010, the 64-year-old Guidi's done a few cheese tastings for friends. Now she has ventured into doing fundraisers for non-profits such as Gifft Hill School and the Friends of Elaine I. Sprauve Library.
The cheese selection on St. John is good, Guidi said, with Starfish Gourmet having the best selection. However, she often treks over to Gourmet Gallery on St. Thomas for an even bigger selection.
Guidi wouldn't be without a wedge of Spanish Manchego and a container of a good sheep milk's feta in her refrigerator.
"And parmesan reggiano. Not anything pre-grated," she said of the ever-popular Italian cheese used to top spaghetti and so much more.
When shopping for artisan cheese, don't buy too much, Guidi advised. Plan to use it within one or two weeks. While you can care for "supermarket" cheese any way you like, when it comes to artisan cheeses, she said wrapping it in parchment paper extends its life by giving it air.
"Cheese is a living thing. You don't want to smother it and kill it," she said.
A Milwaukee native, Guidi got her first taste of the cheese industry after graduating from Mundelein College in Chicago, now part of Loyola University, with a bachelor's degree in food and nutrition. She landed a job as a trainee with the Jewel chain of food stores, ending her career there as a deli buyer. It was a time when European cheeses were just starting to be mass marketed in the United States, and Guidi's job was to get the word out about such cheeses.
After a few years at Jewel, she opened her own consulting company to bring artisan cheese producers together with sellers. That led to a three-year contract with Canada Packers in Toronto, so she moved north and settled in.
After 26 years in the business, years which included a book on Canadian cheese called "Canadian Cheese: A Pocket Guide" and the establishment of cheese school that offered 75 hours of instruction on the art of cheese, Guidi moved to St. John.
She got her first taste of the island when she attended the wedding of her son, David Guidi, and Denise Walker, who along with Guidi, now own Cruz Bay Boutique Hotel.
"I had been thinking about a place to retire," she said.
While she's slowed down a tad since her days in Toronto, retirement may be a misnomer. She still consults, jetting off to places like France to help with a cheese school. She works some at the hotel, and she's busy organizing a few cheese-tasting events. And she's involved with Gifft Hill School's agriculture program.
She has plenty of time for fun, and enjoys all the island's outdoor pursuits such as snorkeling and hiking. Guidi said she's happy to do potluck dinners with friends, and is so impressed with how helpful everyone is on St. John.
"Everybody is friendly and people are interested in each other," she said.
And she said cheese is a good way to connect with people.
"Everyone has a cheese experience and you can talk to anybody about cheese," she said.