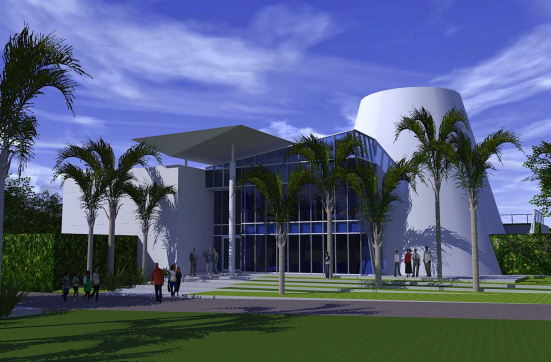 The nearly $14 million RTPark 64 West Center building project at the University of the Virgin Islands was reported Friday as on schedule for early 2013 occupancy, despite a $2.5 million funding gap.
Once completed, the building will house the science and math faculty of UVI and the RTPark staff. Additionally, it will have conference rooms and executive suites available for use by some of its company tenants, if they so desire.
And among the other positives announced at its board of directors meeting, UVI Research and Technology Park officials said that gap may not be there for long if Banco Popular comes to the rescue.
"They're very interested in being able to try and provide us with the funding that's needed," said Denise Kurg, director of facilities and operations. "It (UVI RTPark's application) looks good and is under review and we're optimistic. They also realize we have an expedited schedule and are going to try and get it through as fast as possible to the next level of approval."
Kurg also mentioned that she had been in a discussion with Sen. Shawn-Michael Malone and that he might have the Senate try to assist the project.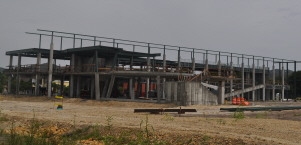 "He (Malone) was very optimistic about it because we were not going for a grant but were looking for loan funding," Kurg said. "He didn't think that would be an issue; that it might be something the PFA (Public Finance Authority) could handle. I mean, this is a senator discussing how he might handle it. I don't know how he will handle it."
Asked if Gov. John deJongh, Jr. was aware of the funding gap and that the Senate was considering taking up the issue, Kurg replied, "We have not informed him but that doesn't mean he's not informed … We have not contacted him."
Kurg added that the governor knew in the past of the project funding gap.
In addition, Kurg said, company tenants number 15 (Genius Cove) and 16 (ITIM) have been added to the RTPark roster and additional information about them should be added to the corporate Web site – www.uvirtpark.com – in the coming days.
"Despite it being hurricane season we've achieved quite a lot in the last 30 days," she said. Just under $6.5 million had been expended so far from the nearly $14 million budget.
Of the financial commitments to the building project thus far, $5.5 million came from the U.S. Department of Commerce, $3.5 million from the VI PFA and $2 million from UVI. RTPark Executive Director David Zumwalt said the financing for the funding gap would need to be in place by March as the project nears completion.
"We're working in the private sector and the banking and traditional finance community to see what kind of terms we can get on a $2.5 million package," Zumwalt said. "Ideally it would be permanent financing."
Tenants are essentially businesses that partner with UVI and the RTPark and receive tax benefits for doing so. Of the 16 current tenants, Broadband VI and Choice Communications are two of the more well known names. The intent of the strategic partner and tenant program, according to the RTPark Web site, is to foster a "dynamic and growing technology sector in the VI economy."
"They're all knowledge-based companies," said RTPark Senior Executive Assistant Melissa Miller of its tenants. "We hope they stimulate the economy and bring us better technology. We are really looking to be the technology hub for the Caribbean."
The building will also be what officials think is the first LEED building on St. Croix. Standing for Leadership in Energy and Environmental Design, having LEED certification means the building was designed and built using strategies aimed at achieving high performance in key areas of human and environmental health. These include sustainable site development, water savings, energy efficiency, materials selection and indoor environmental quality.