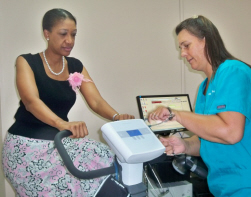 Dr. Lyn A. Campbell says all emergency rooms are overwhelmed and the wait time for treatment can average around four hours. On St. Croix, where the wait time can be a bit longer, an urgent care center could be the answer.
"Urgent care center visits are often much quicker, generally around an hour," Campbell says. "With an urgent care center you get in and out quick. We see urgent care as partners with the ER to meet the patients' needs."
In keeping with emergency medical care as his initial means of serving the community, Campbell has added the Acute Alternative Urgent Care Center and Emergency Air Ambulance Service to his existing practice, Acute Alternative Medical Group. Campbell said with limited availability of primary care, overcrowded emergency rooms and rising health care costs, urgent care is an essential care option for all communities.
Campbell knows the emergency room well. He is the former director of the Department of Emergency Medicine at Gov. Juan F. Luis Hospital. He also helped develop and run the Fast Track program as the first director of Ambulatory Care Services.
"When facing a condition that threatens life or limb, a large hospital emergency room is the right place to go," Campbell says. "However, for most other injuries and illnesses that require urgent attention, Acute Alternative Urgent Care can provide quick, convenient access to a physician who is supported by digital x-rays and lab equipment, without the emergency room cost and hassle."
Urgent care centers provide walk-in, extended-hour medical care for minor to moderate illness and injury that needs treatment immediately, but does not belong in an ER. Urgent care centers provide treatment for conditions such as cuts and lacerations, sprains/strains, colds, fever, seasonal and H1N1 influenza, insect bites, ear infections, rashes, back aches, vomiting and diarrhea, stomach aches, simple fractures, and many other illnesses that are not life or limb threatening.
Darlene Baptiste, executive director of the group and a past V.I. health commissioner, added that they also provide emergency air transport with Air Med Caribbean, also based on St. Croix.
They also have Acute Alternative VIP Services providing 24/7 phone consultations with one of the groups' practitioners. "We provide a full concierge service as needed and priority services for all Acute Alternative programs," Baptiste says. She added they welcome people to come and take a tour of the center. "We love what we do here."
Campbell was born in Chicago in 1963. He completed his undergraduate education at Dillard University in New Orleans in 1985 and received his medical education at Howard University College of Medicine in Washington, DC in 1989.
After completing his internship and specialty training in emergency medicine at Howard University Hospital, Campbell practiced medicine in several top hospitals in the Washington, D.C., area. He moved to St. Croix in 2000 to work at JFL. In 2006, he started his private practice, Acute Alternative Medical Group. Acute Alternative Medical Group functions as a traditional medical practice that also offers scientifically researched alternative therapies for wellness.
In 2009, Campbell opened St. Croix's only sleep disorder treatment center, the Acute Alternative Sleep Center. The center is a diagnostic testing facility that is equipped, staffed and organized to improve the quality of sleep for individuals who suffer from sleep disorders.
Based on a desire to impact patients' overall health by helping them stay well, Campbell started Smoothie Alternative as the cornerstone of the practice's preventive health, nutrition and weight management programs. Acute Alternative Health and Wellness weight management, nutritional consulting and alternatives to traditional medication to assist in promoting healthy life choices.
"Over the long term we want to catch problems early to mitigate the cost and pain," Campbell says.
They accept walk-in patients and provide appointments for both traditional and alternative medicine. Most insurance is accepted and they also offer payment plans. The group is open Mon. to Fri. from 7 a.m. to 7 p.m. and Sat. 8 a.m. to noon.
For more about the urgent care center contact the Acute Alternative Medical Group at 772-2883. The offices and Smoothie Alternative are located at 184 Estate Diamond Ruby across from the Island Center.
Campbell is also the medical director for student health at the University of the Virgin Islands on St. Croix and the medical director of St. Croix's substance abuse department at Charles Harwood Hospital.
Campbell lives on St. Croix with his wife, Barbara and daughter, Brianna.