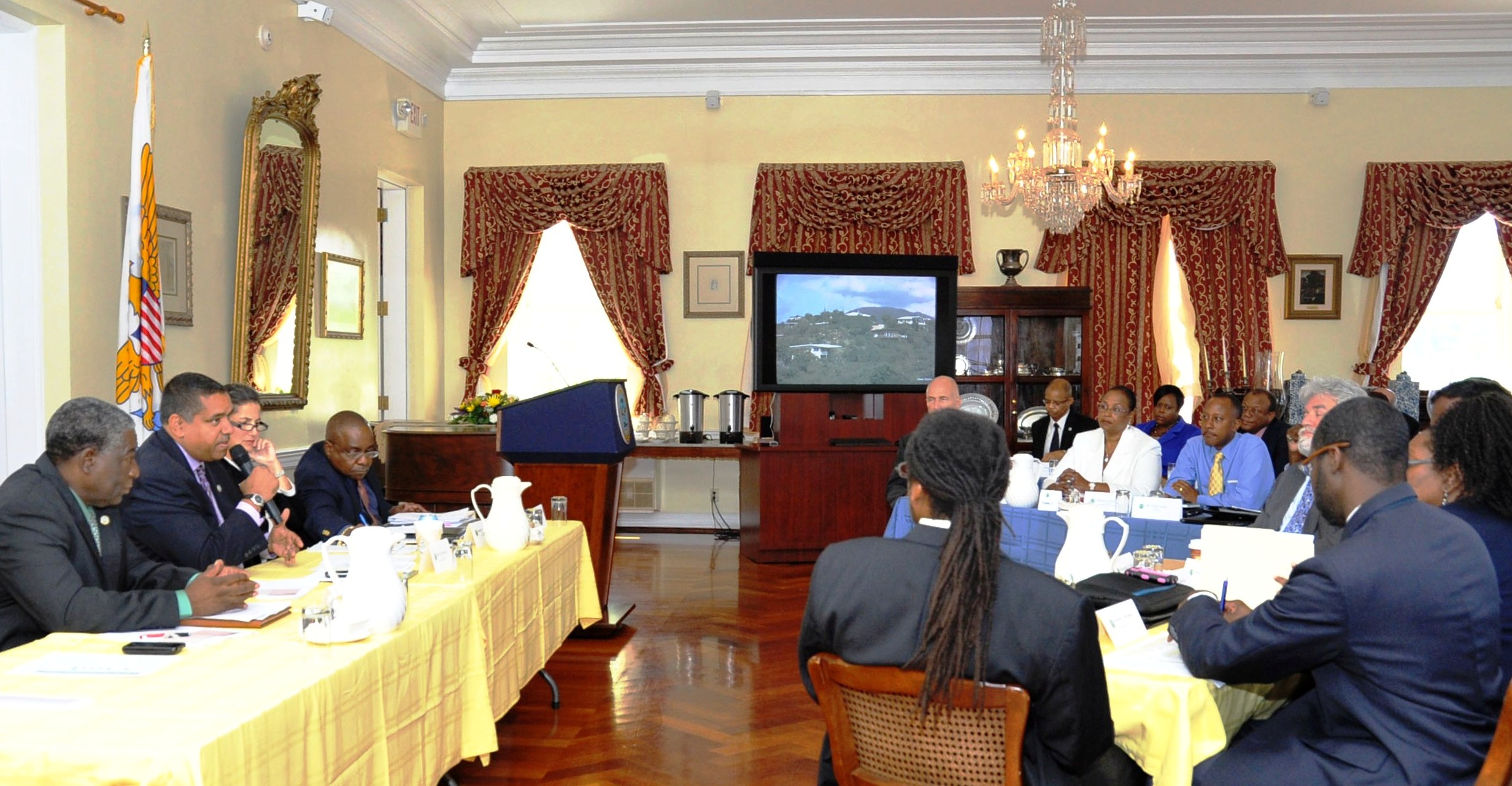 Government belts will have to continue to tighten and the administration will have to keep pushing every avenue for revenue collection, Gov. John deJongh Jr.'s cabinet reported when it convened Monday on St. Thomas. The meeting presaged the administration's 2012-13 budget proposal, which will be submitted to the Legislature June 29, according to a statement from Government House.
"Fiscal Year 2013 will require continued austerity measures, as well as organizational restructuring," said Office of Management and Budget Director Debra Gottlieb, according to Government House. "We will need to be even more creative and share resources in order to provide critical government services."
Gottlieb discussed the administration's implementation of the increased 5 percent Gross Receipts Tax and other measures to improve the collection of income and gross receipts taxes.
"The administration is vigorously exploring various financing opportunities that will allow us to secure an additional $120 million that has been authorized by the 29th Legislature." Gottlieb said in the statement.
Despite all the austerity measures, budget cuts and tax increases to date, Gottlieb reported preliminary revenue projections suggest the government will see a cash flow shortfall of roughly $40 million in 2012.
Saying some uncollected property taxes are from people who consciously decided not to pay for years, and that the government needs to generate $16 million every two weeks for payroll alone, deJongh said his administration would be pushing hard to also collect past-due taxes.
The governor said they are aggressively pursuing a policy of tax collection, through the Bureau of Internal Revenue and a task force with the attorney general's office, to "go after $100 million in gross receipts, personal income and corporate taxes past due."
"We simply have no other recourse, given the very real responsibility of making sure that we have the resources available to run government operations during these economic hard times," deJongh said.
Bureau of Economic Research Director Wharton Berger brought more grim news to the table, regarding the impact of the Hovensa closure.
"The worst-case scenario, which we have been warning about, is indeed coming true," Berger said. "The unemployment rate on St. Croix is increasing, and has increased for the entire territory."
Berger added that, based on market growth in the U.S. and globally, "there is a lot of optimism, with moderate growth predicted for the territory in the future, but 2012 and 2013 will be very difficult."
"The policies of this administration, of the U.S. government, including re-employment policies and other programs, will help stimulate growth and recovery," he said.