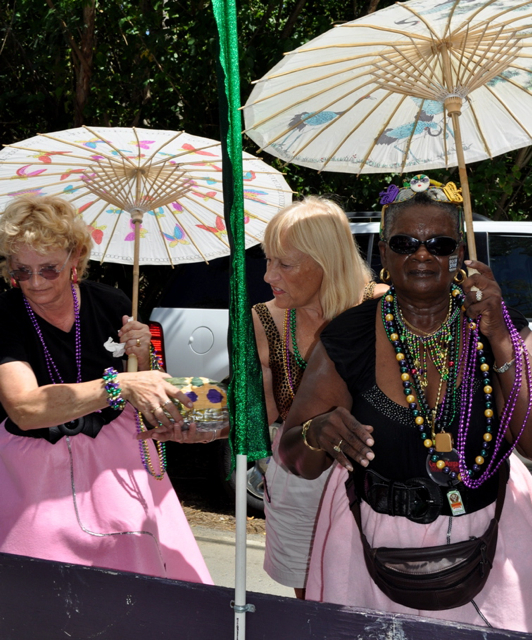 Cane Bay was bustling Saturday, as bead-throwing partiers descended on St. Croix's north shore to celebrate the 9th Annual Mardi Croix Parade.
This year's theme was "Rock and Roll is here to stay," and members of the Krewe De Croix rocked the party as their musical entourage of dressed-up floats and bikers paraded wildly down North Shore Road.
People of all ages dressed elaborately for the parade as they danced, drank, and threw beads cheerfully.
The "First Rock and Roll Party" float was decorated with Stone-Age style rockers. Steve Strahan, who normally just walks alongside the floats drinking, decided this year dress up and participate.
"It's a lot of fun – we have got to get everyone together and enjoy life," he said as he took a sip of his beer.
St. Croix resident Nancy Oliver is originally from Louisiana, and she had a box full of beads to throw at floats and hand out to crowd members.
"You have got to do a parade right when it comes to Mardi Gras – and if I can't be home, then I want to be in St. Croix for the parade," she said smiling.
Hundreds of people lined the streets, and whether seated in the hot sun or parked under a shady tree, everyone seemed to be having a good time. Laughter and jubilation could be heard everywhere as people danced to the rock 'n roll tunes.
The Grandsons, a band from Washington D.C., has been playing at the Spratnet Beach Bar & Grill for Mardi Croix for the past three years.
"We play a lot of New Orleans-style music and other older American rock tunes," musician John Young said when asked why they come to St. Croix for the event.
Several tourists who had never been to the parade were thrilled to be there. Mike and Dorinda Wilhelm from Montana had never been to Mardi Gras, so they thought the whole thing was interesting. Harry and Pat Meneghini from Chicago were also excited to see the parade.
"It's so cool and fun just to see all the locals – it's our first time in St. Croix and we just love the people here. It's absolutely beautiful," they said.
Matt Miller from Colorado just moved to St. Croix nine days ago and thought the parade was "totally awesome."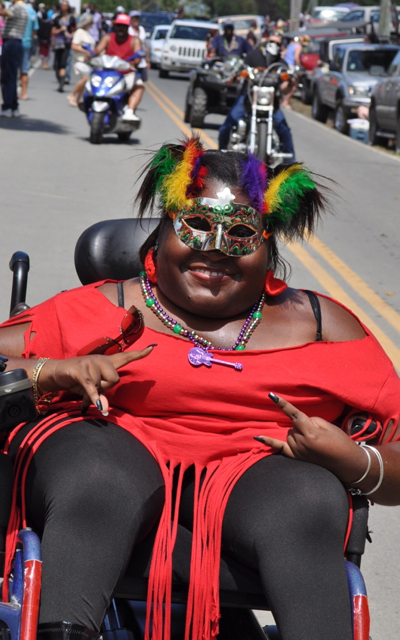 Robbie Phillips has participated in the last seven parades and this year, she was clad in red and black, and was partying with the float "LV LV Rockers."
"We are partying like rock stars," she said.
One crowd favorite was the centipede, stled after a Chinese dragon but altered to fit the locale, that students from the Sunsu Dojo wore as they marched down the street. This is the first year the karate school participated, and it was a big hit.
Another favorite was the tractor and trailer carrying coconuts painted by members of the Krewe De Croix. Dressed in poodle skirts, Phyllis Laue, Sunni Benoit, and Marion Hazelwood handed out coconuts to bystanders and excited children.
"I just love doing the parade. Especially dressing up – even though it's a lot of work, it is really rewarding too," Benoit said.
A string of vendors also lined the beach selling all the local favorites, from gumbo and kallaloo to fresh shrimp and chicken roti. The hot sun and lack of breeze was good for the drink vendors, as members of the teen talk show Graffiti Street pointed out.
"We are only selling water and it's going really fast," they said as they worked to raise funds for their upcoming cruise.
The annual parade, which always falls the Saturday before Fat Tuesday, is spearheaded by founder Tom Tiblier – his wife Dory just recently passed away in December – and he explained that the parade seems to get bigger every year.
"Since 2003, we've been doing this parade, and the Krewe De Croix just puts on a great show," he said.