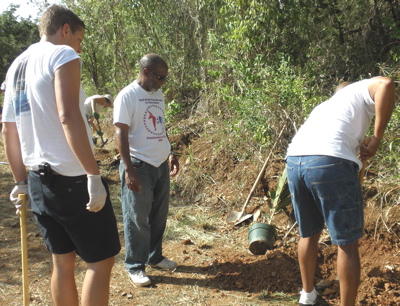 Jason Budson, president of the Environmental Association of St. Thomas, thinks that it is only fitting that his group launched the first day of its tree-planting project at the new Humane Care Campus on Nelson Mandela's birthday.
"On this day he asked the world to volunteer," Budson said Saturday. "In Pretoria right now, they are planting 67 trees in his honor."
The group will spend the weekend planting about 300 trees – 37 different kinds that are all native to the Virgin Islands. Funds for the project came from a grant from the Urban and Community Forestry Assistance program.
"We decided a year ago to lend our resources to the Humane Society," Budson said. "We saw that there was a real need."
He said that trees are important for a variety of reasons. They help prevent runoff, which is important on a working construction site like the Humane Care Campus. He also said trees help stop global warming by absorbing carbon dioxide.
"One tree will absorb 27 pounds of carbon in a year's time," he said. "That's enough for a family of four to breathe for a year."
On Saturday members of the Humane Society were on-hand getting the trees into the ground. There were also representatives from the Ritz Carlton, We Grow Food and the Virgin Islands National Democratic Party. Budson said they also expected to see representatives from First Bank.
"The party has to be about outreach," said Glen Smith of the Democratic Party. "The party shouldn't just be about politics, it should be about caring."
"We wanted to come and help because we know how important it is," said Jane Griffiths, who is a member of both the Humane Society and EAST. "And we want the new shelter to open."
Griffiths said the job wasn't easy. "It's very hard work. There's a lot of rock and clay. The guys are wielding the picks; I help with the shovel," she said.
Also donating time was Rossana Vaccarino of Vaccarino Associates – the firm responsible for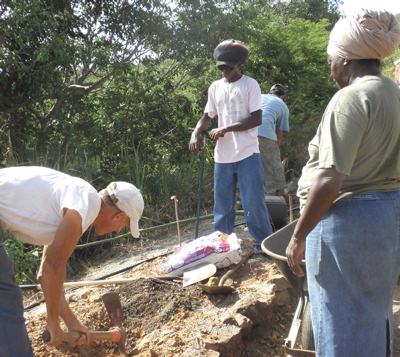 sculpting the land surrounding the campus. The group helped nurture the trees that were being planted today from seedlings. They are also helping to make sure the trees thrive.
"We grew them starting two years ago from seeds collected locally," Vaccarino said.
However, she said they soon realized that due to the volume of plants, some kind of irrigation system would be needed. The firm has come up with an automatic irrigation system themselves, but say they need help.
Anyone wishing to contribute efforts to keep the trees watered can call Vaccarino at 340-344-1188. EAST will be planting more trees on Sunday at the Humane Care Campus, starting at 8 a.m.