Local news — St. Croix
Mentoring Program Molds Young Ladies
About 30 young ladies received certificates Saturday morning in recognition of completing an eight-week mentoring program – and use of the word "ladies" was not an accident: how to behave like a lady was part of the course.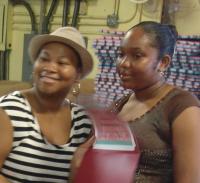 Generation Now, in conjunction with The Boys and Girls Club of St. Croix, offered the eight-week life-skills training program called MAD (Molding Adolescent Development). The volunteer group of young professional Virgin Islanders has been offering the program for five years as a mixed program with boys and girls. This year they decided to try a "Girls Edition," according to program coordinator Lynn Huntt.
"We wanted to talk to them as young ladies," Huntt said, "to give them the tools to make the right decisions later in life."
The curriculum included health and hygiene, cooking, Virgin Islands culture and pride, community service, and a retreat. By aiming the program specifically at girls, the presenters were able to fine-tune the information, particularly in terms of health and hygiene, to give the girls, ages 11 to 14, information they can use.
"After all, they're the ones who will be having the babies and raising the families," Huntt said. "We wanted to start with them when they're young."
For Nealya Armstrong, a 12-year-old seventh-grader from Elena Christian School, learning to sit and act like a lady means "not to be wild." Her mother, Rosalyn Morales, said she sees a deeper change in her daughter.
"She's been more helpful," Armstrong said. "It's been a very educational program for her, learning to take care of herself and make good decisions."
Janice Goodridge-Forde said she enrolled her daughter, Chaundrice Pedro, because the 11-year-old will be starting high school soon and she wanted her to have the chance to mingle with other girls of different backgrounds. The result has been positive, although Chaundrice is still on the shy side. Her favorite part of the program was she "learned to make Johnnycake," she said.
Saturday's ceremony was the culmination of the eight-week program. Each girl was called forward and presented with her certificate of completion by Huntt. The girls and their mentors then headed to Cheney Bay for a day of picnicking and swimming at the beach.
Huntt said Generation Now is already considering how to adapt the program for a boys-only edition. Since its inception, the MAD program has mentored about 200 Crucian youths.
Further information can be obtained by calling Generation Now President Adrienne L. Williams at 1-340-643-1710.