Local news — St. Croix
Good Hope Senior to Attend Naval Academy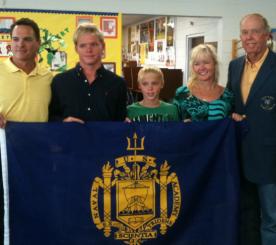 Bryson Mays, a senior at the Good Hope School on St. Croix, Friday signed a letter accepting his appointment to the U.S. Naval Academy in Annapolis, Md.
Looking on as Mays put his signature on the document were his parents, brother, grandfather, schoolmates and Delegate to Congress Donna Christensen, who had nominated him to the service academy.
Mays said he knows he will be challenged like he's never been challenged before, especially in his first year, known to the Corps of Midshipmen as the plebe year. The academy mixes the physical challenge of boot camp with the rigorous demands of one of the nation's top colleges in a brew designed to force plebes to find the limits of their endurance, then go beyond them.
"They say there are three phases of your academy career, plebe summer, plebe year, and everything else," Mays said.
He's understandably edgy about it, he said, but he's eager to get started.
"I'm a little nervous, sure, but I definitely think I can do it," he said.
Looking a little less sure was his mother, Jodie Lawaetz-Mays, who admitted she was fighting back tears as she watched her son sign up to serve his country. Asked if he knew how to make his bed every morning to military specifications, she laughed and said, "He doesn't now. He's going to learn."
Mays said both of his grandfathers served in the military, and he wanted to follow in their footsteps.
"It's the honor of serving your country and the respect they give to people in the military," he said.
The admission process began two years ago, he said Friday. His application was vetted by Christensen, who judged candidates from the territory on the basis of character, scholarship, leadership, physical aptitude and motivation, and by the academy. There is also an extensive and thorough physical examination process, which can take as long as six months.
Mays will be one of about 1,300 plebes entering the academy this summer. About 1,000 graduate each year and become officers in the U.S. Navy or the U.S. Marine Corps. From the day he enters the academy he will begin a nine-year commitment, four as a student and another five as an officer.
A champion swimmer like his mother, a former Olympian, and captain of the St. Croix Dolphins swimming team, he plans to try out for the academy's NCAA team. With a grade-point average of 3.72, he is a member of the National Honor Society and an officer in the school's chapter of NHS, recipient of the Harvard Book Club Award and the Mu Alpha Theta Math Award and president of the Good Hope class of 2012.