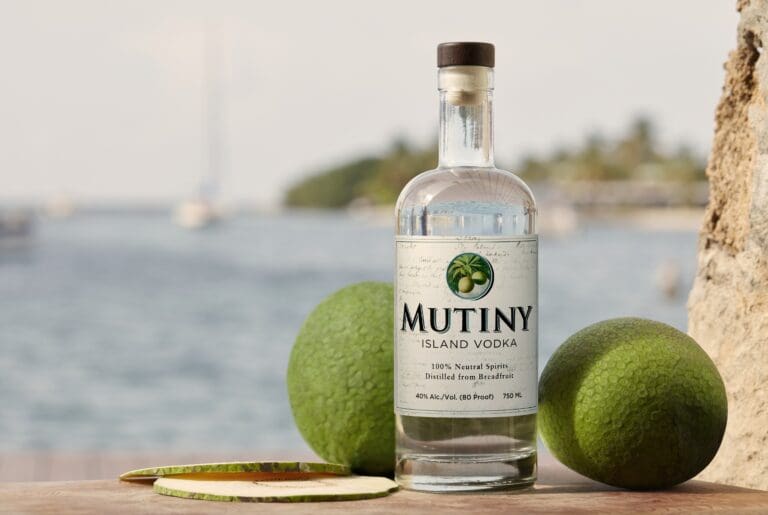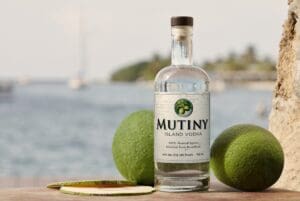 Mutiny Island Vodka, the world's first island vodka distilled from breadfruit in the USVI, is proud to announce it has been awarded a Double-Gold Medal, Best Domestic Vodka, in a "blind" tasting of American-made unflavored craft vodkas by 10 members of The Fifty Best spirits judging panel. TheFiftyBest.com rates wines and spirits in monthly blind tastings with their judging panels.
The order of service was established beforehand by lottery. Strict tasting rules were applied. The vodkas were poured into fresh glasses from new sealed bottles and served at slightly above room temperature. Only ice water, neutral unflavored crackers and chips were available to cleanse the palate.
The judges wrote down their impressions of each product on score sheets. The scoring was done on a 5-point system, with 5 as the highest. Double-Gold, Gold and Silver medals are awarded according to a set range of final point scores received from the judges.
Chef Todd Manley, co-founder, expressed his gratitude for the recognition and attributed the success to the company's dedicated team and community. "We are excited to receive this award from The Fifty Best. This is a testament to the hard work and passion of our team and the support from the community."
Sion Farm Distillery's Master Distiller Art Wollenweber said, "Our distillery team is honored to be awarded the Double Gold Medal – Best Domestic Vodka. We have fun crafting Mutiny Island Vodka. It is our passion to provide our customers with "Better Cocktails for a Better Planet," and it does not get better than being recognized for our passion."
"It is amazing to see a product of the USVI, built by community support and a commitment to sustainability, garner such recognition on such a big stage!" said Chef Todd Manley, co-founder.
"Hand-crafted Mutiny Island Vodka retains the character of the islands and the breadfruit from which it is distilled."
Mutiny Island Vodka has made a commitment to sustainability and the environment with its endorsement by Trees That Feed Foundation. The foundation's efforts focus on incentivizing the planting of breadfruit trees to feed people, create jobs and benefit the environment.
Mutiny Island Vodka is now available in 24 states in the continental U.S., 15 Caribbean islands, the United Kingdom, and it is featured in American Airline lounges, Applebee's Franchisee Groups, and Red Bull Cocktail Ideation. It is also available to order online at www.mutinyislandvodka.com.
On St. Croix, one can stop by Sion Farm Distillery where personal tours of the distillery are available with food, Mutiny Island Vodka tastings, andds cocktails. On St. Thomas, one can also stop by Bar +
Kitchen, sponsored by Mutiny Island Vodka, for free tastings, retail purchase and great Mutiny Island Vodka cocktails.