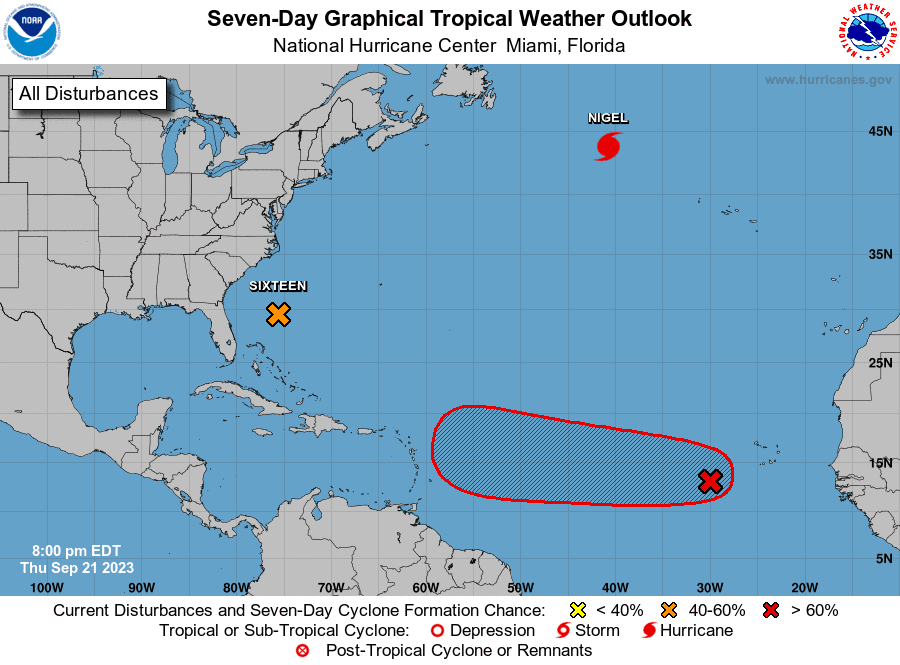 The National Hurricane Center is monitoring another tropical wave as it travels west toward the Caribbean region.
The tropical wave, currently designated as "Disturbance #1," is expected to intensify as it moves across the Atlantic, and a tropical depression (which will be called Tropical Depression 17) may form as early as this weekend. If the cyclone reaches tropical storm strength, with maximum sustained winds of at least 39 mph, it will acquire the name "Philippe."
It is too soon to tell exactly what impacts the USVI may experience, if any. However, global forecast models show the system may be passing close to the islands around the middle of next week. With such an uncertain storm track, it is essential to be prepared for the cyclone.
As of Thursday night, the National Weather Service in San Juan, Puerto Rico, mentioned that two widely used forecast models suggest that the storm may move north or northeast of the territory, cautioning that there is still much uncertainty.
"The latest 'GFS' [the Global Forecast System, which is an American global weather forecast model] guidance is correcting now a little bit more to the north than previous solutions, and the 'ECMWF' [the European Centre for Medium-Range Weather Forecasts, which is a European global weather forecast model] still forecasts the system to pass well northeast of the region," according to an update on Thursday from the NWS.
"However, it is still too early in the forecast cycle to determine any possible impacts across the local area," the update cautions.
Staying Informed 
The 2023 Atlantic Hurricane Season has been very busy, with the islands avoiding direct impacts from major Hurricane Lee a couple of weeks ago. With over two months remaining in the season, staying updated with constantly evolving weather forecasts is vital.

USVI visitors and residents can find information about severe weather, including emergency shelters and alerts, from the Virgin Islands Territorial Emergency Management Agency and the National Weather Service website.
A thorough list from the National Weather Service about hurricane preparedness is available here.