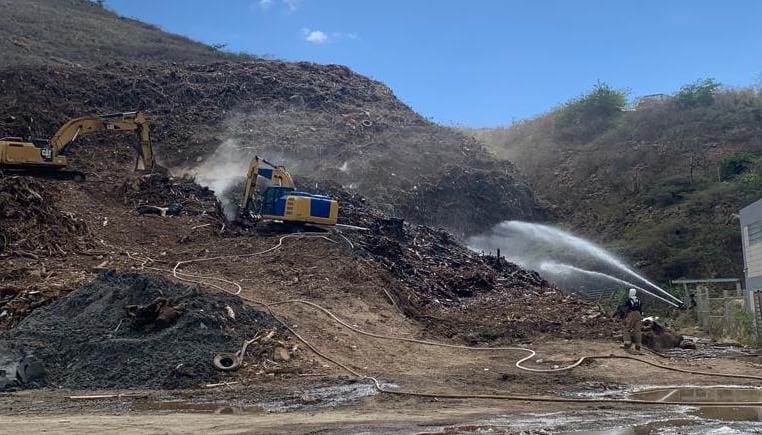 Updated at 3:45 p.m. Monday
Firefighters continue to work to suppress a fire that erupted Thursday in a green waste area near the entrance to the Bovoni landfill on St. Thomas, the V.I. Fire and Emergency Medical Services said Monday afternoon.
"The fire is contained within the vegetation debris piles. The response effort has been significantly enhanced by the valuable support of A9 Trucking, Sleepy Trucking and Water Delivery, and St. Thomas Rescue, all of whom have played critical roles in this coordinated response," the release stated.
The fire has led to the closure of Bertha C. Boschulte Middle School since Thursday. The Education Department said on Monday that it will keep the public informed regarding the resumption of regular school operations. The landfill is about a mile away from the school, creating air quality concerns.
"The health and safety of students, faculty, and staff remain a priority," the department said.
"School officials, in conjunction with Virgin Islands Fire and Emergency Services, will remain vigilant and continue to monitor the situation at the Bovoni landfill for any changes. The VIDE thanks the VIFEMS for their selfless service and response efforts regarding this matter," the press release stated.
The Waste Management Authority announced Monday morning that the landfill will remain closed until further notice.
The fire reignited Friday after it was thought to be extinguished and was 75 percent contained as of Saturday evening, VIFEMS reported over the weekend.
The community, especially those who have been affected by the smoke, is cautioned to stay indoors, and to keep windows and doors closed if possible. Heightened caution should be taken to protect and monitor those with respiratory conditions, the VIFEMS said.
"Throughout this challenging incident, our firefighting teams' cooperative spirit and dedication have been exemplary. Around the clock, they've leveraged their skills and equipment to stifle the flames," Fire Chief Clarence Stephenson said in a statement on Monday. "We recognize the community's concerns and remain dedicated to providing timely updates as the situation evolves."
Both of the territory's landfills — the other being the Anguilla landfill on St. Croix — have a long history of environmental problems, including frequent spontaneous blazes. And both are operating now under court-ordered scrutiny.
The most recent report to the court, filed in May, hails the allocation of $146 million in hurricane disaster-related federal funds for the two landfills and says that for the first time, there may actually be enough money to fix most of the problems.