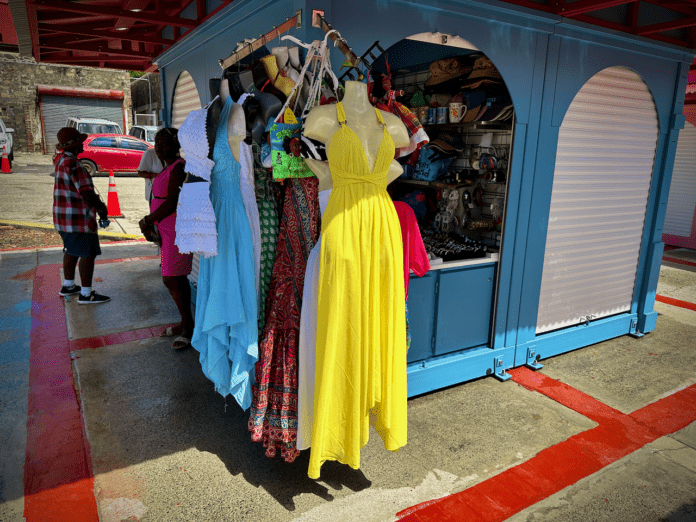 Government Operations, Veterans Affairs, and Consumer Protection Committee members questioned Lisa Maria Alejandro, commissioner designee of Property and Procurement, about changes at Vendors' Plaza on St. Thomas and about how quickly or slowly her department was processing contracts and requisitions.
Other areas of concern for the senators Wednesday were the amount the government spent leasing property and how much property the government had that was not being used.
Committee Chair Carla Joseph asked what vendors were being charged for booths at Vendors' Plaza. Deputy Commissioner of Property and Printing Vincent Richards said vendors currently were not paying, but a hefty hike was proposed to begin in the next fiscal year. Vendors had been paying $200 annually before new kiosks arrived and bathroom facilities were added at the Plaza.The proposed lease price for a kiosk is $300 a month.
When Sen. Ray Fonseca asked the reasoning behind the "drastic increase," Richards answered, "We believe it is a fair rate. Ten dollars a day."
When the new kiosks were put in place in April, comments were generally positive. However, senators said they were now receiving complaints about the metal kiosks being too hot.
Richards said if he had a time machine, he would like to go back and do something about how things developed at the plaza, but, as it was, the department had to work with what it now has. He said benches had been added at the plaza and efforts were made to produce more shade.
Sen. Kenneth Gittens asked about turnaround time on requisitions and contracts. He said he heard those things could take weeks or months and asked why, with all the new technologies, it was not happening quicker.
Sen. Marise James wanted to know what properties the government owned in the towns of Christiansted and Frederiksted and which of them were derelict. She also wanted to know if the government received market value when leasing property to private concerns.
Alejandro testified that the department has 190 Executive Branch leases costing $9.7 million annually.
She added the business and commercial rent roll is valued at $3.8 million annually.
She gave an overview of purchases for goods and services, administration of contracts, vendor relations, and general supply services for the past three fiscal years. In that period, the Division of Procurement, according to her report, conducted 532 solicitations and executed 1,540 contracts totaling $1.1 billion. She added that currently, the division has approximately 68 pending contracts valued at approximately $80 million and 50 pending solicitations.
In other reports, the senators heard that the government has a fleet of 1,982 vehicles, and a new policy concerning employees taking vehicles home was in the final draft stage.
Committee members attending Wednesday's hearing were Sens. Marvin Blyden, Angel Bolques Jr., Ray Fonseca, Alma Francis Heyliger, Kenneth Gittens, Marise James, Carla Joseph, and Milton Potter. Samuel Carrión and Javan James were absent.