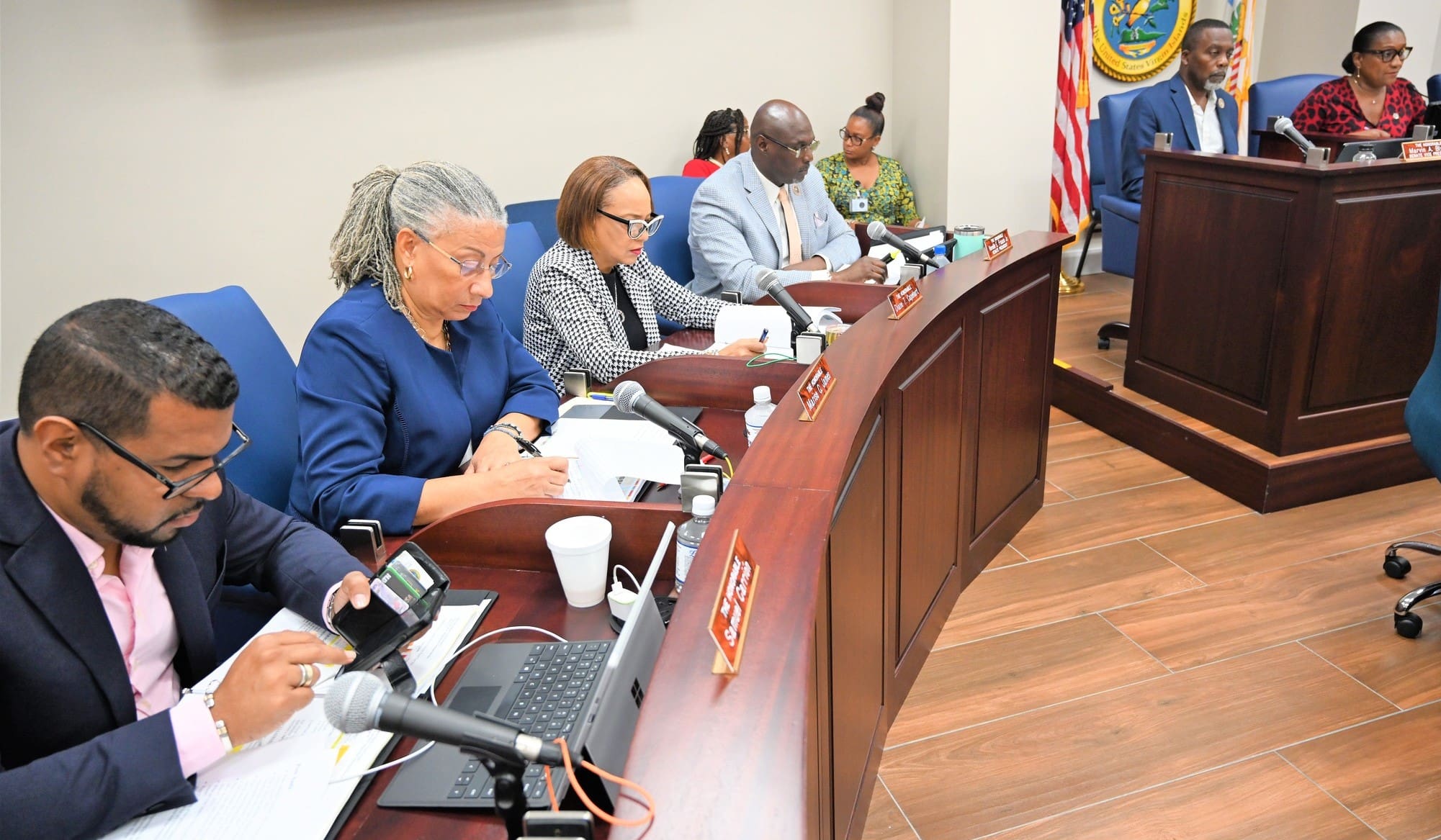 The Committee on Budget, Appropriations, and Finance Tuesday heard budget proposals from the Territorial Public Defender Office, Labor Management Committee, and Public Employees Relations Board.
PERB was the only one of the three to have a substantial increase in its budget. Nichole Samuel-Miller, the executive director, said an extra $300,000 was needed this year so PERB could hire another legal counsel and a court reporter. She said the present court reporter must be there for all hearings and is often flying between islands.
The attorney is needed to move decisions quicker to the board for approval. PERB presently has a legal counsel that has had health problems and is often off-island. She said the hirings would be part of a restructuring plan which would bring PERB up to par with its sister agencies worldwide.
The total PERB request is $1.8 million. Personnel salaries come to $805,000, with fringe benefits costing another $339,000. The request would include $28,000 for supplies and $308,000 for other services.
PERB presently has nine staff members on St. Croix and two on St. Thomas.
Samuel-Miller said PERB must make itself more visible to government employees. She said most employees don't know that PERB will mediate disputes that involve labor and management.
She testified that "PERB understands the role we play and how integral the decisions we make affect the lives of government employees who walk through our doors and seek our assistance on a daily basis."
Interim Chief Territorial Public Defender Julie Smith Todman made the budget request for the Office of the Territorial Public Defender. Its request is for $5.3 million, the same allotment provided for fiscal year 2023.
According to testimony, the public defenders had 938 open cases at the beginning of this month. Of the 555 cases on St. Croix, 367 were felonies, 22 murders, 83 misdemeanors, eight juvenile matters, and 75 DUI cases.
There are 383 total cases in the St. Thomas-St. John district as of June 30. These included 238 felonies, nine murders, 81 misdemeanors, 16 juvenile matters, 31 DUI cases, and eight appeals.
On St. Croix, the public defender employs five trial attorneys, one of which is also assigned to handle juvenile matters. A new trial attorney is slated to join the St. Croix district at the end of the month. Other staff includes the administrator; one investigator; one fiscal accountant; one bilingual paralegal, two legal secretaries, one who is bilingual; the director of information technology; one receptionist; and one custodian.
The St. Thomas-St. John district is comprised of four trial attorneys and one appellate attorney. An additional trial attorney is scheduled to join the St. Thomas-St. John district in three weeks. Additional staff in the district include the assistant administrator, one investigator, one paralegal, four legal secretaries (including the appellate secretary) and one bilingual secretary, one receptionist, one messenger, and one custodian.
The chief territorial public defender, fiscal accountant, director of information technology, and appellate attorney serve both districts.
Joseph Gumbs, a member of the Labor Management Committee, delivered testimony on behalf of Yirah Tutein, its executive director. The total FY 2024 budget request for the committee totals $200,000. Of that, $130,000 covers personnel, which includes two full-time employees and one part-time employee. Fringe benefits are estimated at $14,000 and supplies at $5,000.
Earlier in the hearing, the committee heard the Department of Human Services' budget request.
Attending Tuesday's committee hearing were Sens. Donna Frett-Gregory, Novelle Francis Jr., Angel Bolques Jr., Marvin Blyden, Diane Capehart, Samuel Carrión, Dwayne DeGraff, Ray Fonseca, Kenneth Gittens, Marise James, Javan E. James Sr., Franklin Johnson, and Carla Joseph.