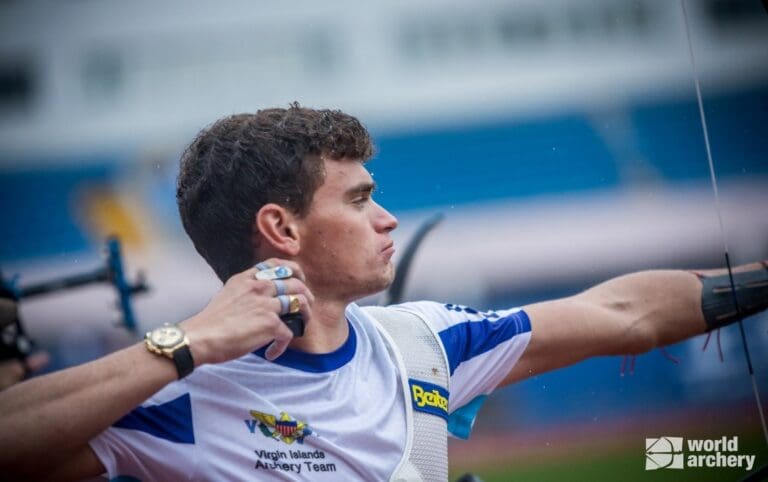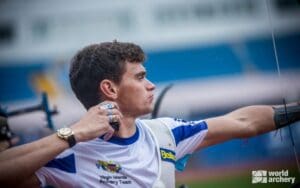 The Hyundai Archery World Cup Stage 2 in Shanghai, China, challenged a large field in all divisions, with nearly 300 competitors from more than 30 countries.  On Wednesday, the Olympic recurve archers battled constant rainfall in a three-hour qualifying session that some would rather forget.
Korea's Kang Chae Young and USA's Brady Ellison took the top individual seeds, as torrential rain blighted recurve qualifying at the second stage of the World Cup.  Top seed Ellison snatched the lead from China's Wang Dapeng in the closing stages, leading qualifying with a score of 670. Impressive, considering the circumstances.
In a field of 92 competitors in the Men's Recurve Division, Nicholas D'Amour of the Virgin Islands qualified in 28th.  Considering the conditions, D'Amour had a great first half, finishing 12th.  The downpour made it difficult for D'Amour to manage his arrow flight in the second half.  He had to settle for 28th seed, with a score of 645, going into the elimination round on Friday.
"It was a very bad day for me," said Olympic champion Mete Gazoz, who sunk to 25th with a score of 646. "I couldn't understand the conditions – rainy and windy. Today is not the best day of my life, but it wasn't the worst day either. It will be much better on Friday."
In the elimination round, the field in the Men's Division, was cut from 92 to 64 competitors. D'Amour faced Yu-Yang Su from Chinese Taipei.  D'Amour won impressively 6-0 shooting 29-27, 29-28 and 29-18.  In the second round, he lost a close 4 set match against three-time Olympian from Italy, Mauro Nespoli. D'Amour finished tied for 17th.
Brazil's Marcus D'Almeida held his nerve to secure the only non-Korean gold of the day. A strong start from the Brazilian saw him race into a two-set lead, only for Korea's Oh Jin Hyek to respond and draw level. The number two seed did enough in the decider though, shooting 28 to his opponent's 26 to take the win. With the win, D'Almeida secured a place at the World Cup final in Mexico later this year.