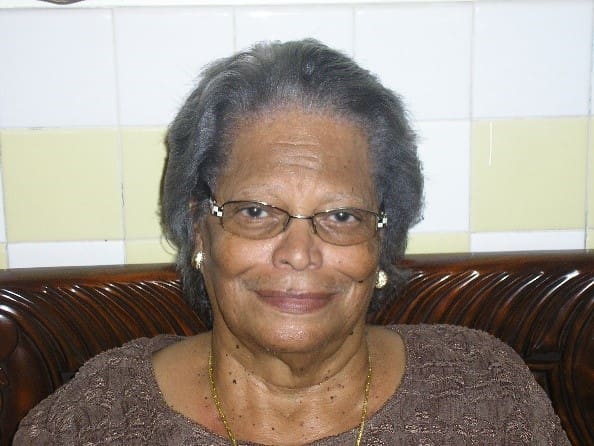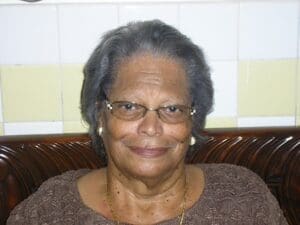 Enid Maria Ebbesen, also known as "Miss Ebbe" or "Miss Enid," of Old Hospital Ground died on Sunday April 23. She was 90 years old.
She was preceded in death by her parents: Christophina "Miss Christo" (Hendricks) and Ludvig "Spuggs" Hansen; husband, George A. Ebbesen; grandchild, Maria K. Fludd; and great-grandchild, Carter M. Ebbesen.
She is survived by her daughters: Violet L. Ebbesen and Vivian I. Ebbesen-Fludd; son, Vincent A. Ebbesen; grandchildren: Delvin A., Deondra N. and Du'Ryan A. Ebbesen; great-grandchildren: Mekai D. and Maliyah C. E. Ebbesen, Stephan and Stephen Ebbesen-Hendrickson; daughter-in-law, Deletta H. Ebbesen; son-in-law, Keith B. Fludd; granddaughter-in-law, Keisha B. Ebbesen; sister, Ena L. Fletcher; and brothers: Eric A. Hansen and Esdel E. Hansen.
She is also survived by sisters-in-law: Honorable former Senator Alicia "Chucky" Hansen, Rose and Louella Hansen; adopted daughters: Lisarose Bough, Rose Jacobs, Telsalda Josiah, Renee Schuster, Sandra Gerard Leung, Edna Duzant, Shail Bazil, Patricia Canegata, Neleta Jones, Julia Bennerson and Ajoke Akintade MD; and adopted sons: Philomore Joseph, Maxwell McIntosh, Anthony Kiture Esq., Honorable Senator Franklin D. Johnson, Cuthbert Cyril, Arthur Joseph Sr., Steve Wilson, Samuel Jacobs, Egbert Thomas III and Alex Nesbitt.
Other survivors include nieces: Emily, Ericka, Ena Hansen and Evette Hansen-Ambrose, Myrna, Melba, Michele and Maureen Hansen, Elizabeth Hansen-Wheatley and Babet Hall; nephews: Leroy Sr. and Ludwig Danielson, Honorable former Senator Emmett II, Elvis Sr., Esdel Jr., Erskin Sr., Michael Sr. and Eric Hansen, Terrance Sr. and Trevor Fletcher, Roland Jr. and Ronald Sr. Plaskett; and a host of other relatives, special cousins and close friends.
A family viewing will take place from 5:30 p.m. to 7:30 p.m. on Thursday, May 18, at James Memorial Funeral Home Chapel.
A Celebration of Life Service will be held on Friday, May 19, at Friedensthal Moravian Church in Christiansted. The viewing and tributes will begin at 9 a.m., and the funeral service will follow at 10 am. Interment will be at Christiansted Cemetery.