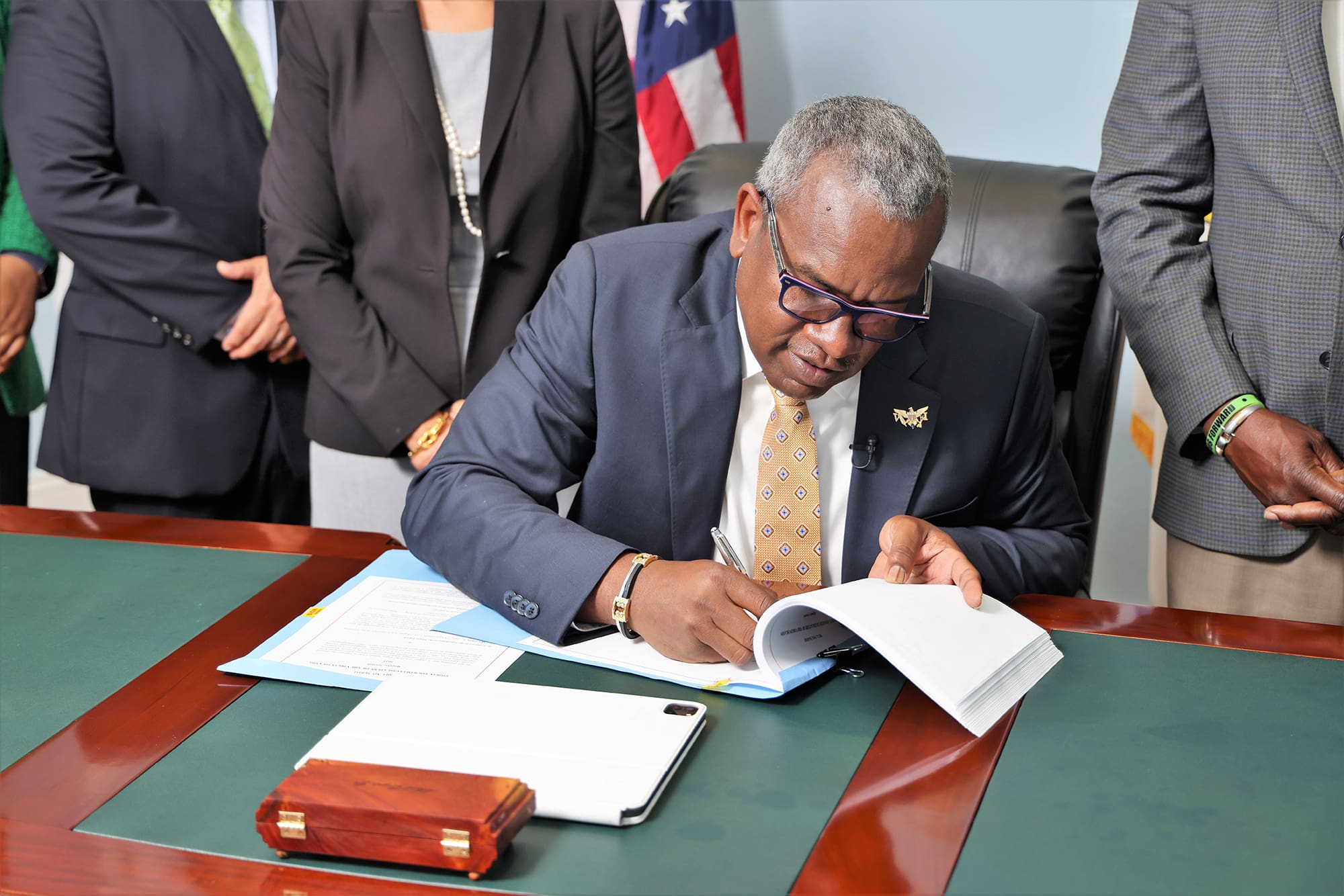 Gov. Albert Bryan Jr. reminded Virgin Islanders Friday that, despite the marijuana law he signed early this year, cannabis remains largely illegal in the territory until the fine print is worked out.
The Virgin Islands Cannabis Use Act, signed into law Jan. 18, allows for the legal use and sale of cannabis by adults but won't officially go into effect until after rules and regulations are enacted.
"Until then, the use and sale of cannabis remains prohibited under the V.I. Code," according to a press release from Government House. This includes both the plant and its derivatives.
The Office of Cannabis Regulations needs to complete the regulations and send them to the Cannabis Advisory Board, then on to the Virgin Islands Department of Justice. From there, the regulations go for public review. Then the rules, along with any public comment, go back to the Advisory Board before being sent to the governor. Then, and only then, will sales and use be fully legal.
Hannah Carty, executive director of the Office of Cannabis Regulation, didn't respond to requests for an estimated timeline Friday. In February, Carty told the Source she was a team of one with a laundry list of duties from studying potential regulations to office management — answering phones and helping build a website.
Although simple possession has been decriminalized, holding up to an ounce of cannabis results in a $100 fine. Even when the regulations go into effect and cannabis is fully legalized, some activities will remain against the law, Government House said. Public cannabis use will still be illegal, as will transporting cannabis between islands without a permit. Because marijuana remains illegal federally, possession and or consumption will be prohibited at all federal facilities.
Until the regulations are passed, the only cannabis-derived products legal in the Virgin Islands are CBD, CBN, and trace amounts of THC at less than 0.03 percent from hemp, the non-psychoactive plant used in various industries from agriculture to cosmetics. To grow or sell hemp, a farmer would need a license from the Virgin Islands Department of Agriculture and a would-be merchant would need a license from the Department of Licensing and Consumer Affairs.