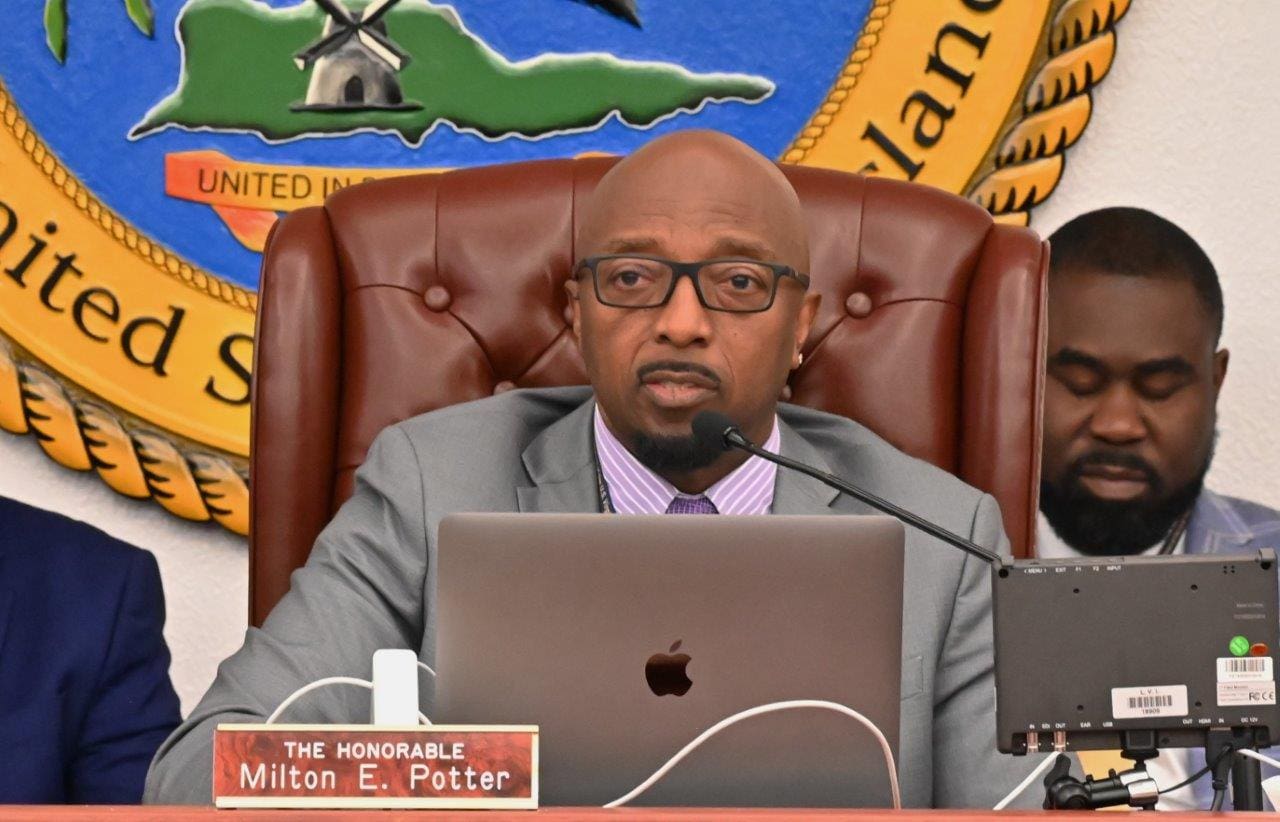 The Senate Committee on Disaster Recovery and Infrastructure, chaired by Sen. Milton Potter, heard testimony on disaster recovery projects, funding, and programs from the V.I. Housing Finance Authority and the Office of Disaster Recovery on Thursday.
"The territory has been obligated $5.8 billion of the anticipated $10 billion of federal recovery funds, with the potential to increase to $12 billion. This potential increase reflects expected obligations for the prudent replacement of wastewater and potable water lines," Adrienne L. Williams-Octalien, director of the Office of Disaster Recovery, told senators.
According to testimony, the territory has so far received $4.4 billion of a predicted $7 billion under FEMA's Public Assistance Program, and $138.4 million of an expected $845 million under the agency's Hazard Mitigation Grant Program. The Department of Transportation's Federal Highway Emergency Relief Program has obligated $65.7 million out of $80.5 million earmarked for the territory to carry out much-needed repairs to roads and bridges. Click here for a listing of the top 30 projects in progress.
The Housing and Urban Development Community Development Block Grant Program has received $1.1 billion of $1.9 billion expected to be received through five tranches including for mitigation and the electric grid. There are also other disaster-related funds, including from the Department of Health and Human Services, U.S. Department of Agriculture, Department of Education, and Department of Commerce, amounting to an estimated $212 million that has been made available to the territory and included in the Office of Disaster Recovery Funding Report. 
According to testimony from Dayna Clendinen, interim executive director and chief disaster recovery officer of the VIHFA, the Neighborhood Revitalization Program — which has two components, the Building Façade and Streetscape Enhancement Program — has $7.6 million in forgivable loans for qualifying commercial neighborhoods and business districts. A total of $5.1 million in grants is available for small businesses and micro-enterprises under the Small Business Entrepreneurship Grant and Technical Assistance Program.
Clendinen said that "on St. Thomas there were a total of 11 emergency housing units. To mitigate homelessness in the territory, ODR is assessing and reviewing the emergency housing stock in the St. Thomas-St. John District and the St. Croix District." 
Sen. Alma Francis Heyliger responded that homelessness was a major problem even before the twin Category 5 hurricanes of September 2017. "Many people were on the public and affordable housing waiting list," she said.
Regarding public and affordable housing, Clendinen stated that in the construction at Estate Tutu Hi-Rise on St. Thomas, there are 14 buildings with 84 units. Furthermore, there are 248-unit rehab projects for affordable housing at the Walter I.M. Hodge community on St. Croix.
Included in the testimony was a breakdown of the VIHFA funding for upcoming construction for the redevelopment plan, including eight priority housing developments.
Williams-Octalien testified that "the COVID funds were used, and [American Rescue Plan Act] funding has been identified for COVID. However, none of the funding was used to do damage sustained by the hurricanes."
"I am optimistic that we are going to see this disaster recovery process through. We must take advantage of this once-in-a-lifetime opportunity to rebuild the Virgin Islands for the benefit of generations to come," said Potter.
Senators present were Milton Potter, Diane Capehart, Novelle Francis Jr., Franklin Johnson, Carla Joseph, Javan James, Marvin Blyden, Alma Francis Heyliger, Marise James, Kenneth Gittens, and Ray Fonseca.