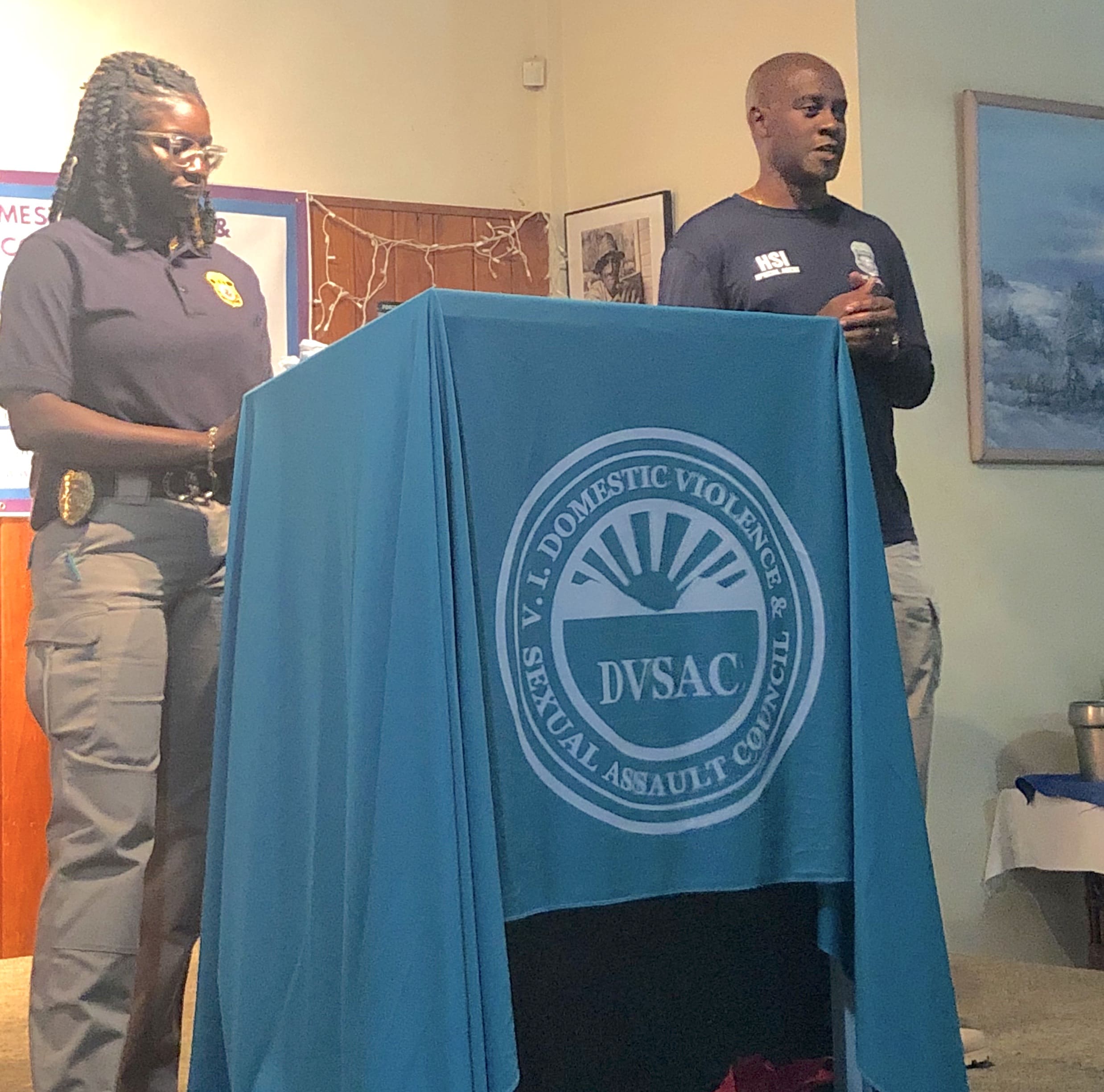 There were more human trafficking cases in the U.S. Virgin Islands than anywhere else in the United States, per capita, Jacqueline Heyliger, executive director of the Domestic Violence and Sexual Assault Council, told an audience, representing law enforcement, legal services, victim advocates, and private citizens at Gertrude's Restaurant Tuesday evening. 
In 2019, the Federal Human Trafficking Report stated there were two new and three active human trafficking cases in the territory, putting the Virgin Islands the unwelcome No. 1 spot. 
"In a community of 108,000 in these three islands, if you include Water Island, that is a lot," Eugene Thomas, assistant special agent in charge of the Homeland Security Investigation, said.
"Human trafficking is a crime using force, fraud or coercion to lure innocent individuals and vulnerable individuals into committing labor violations as well as commercial sexual acts," Thomas said. 
During the presentation Tuesday, one panel member described three convictions of human traffickers in the territory in recent years. The convictions drew prison terms up to 87 months and more than $1 million in restitution.
In those cases of "modern-day slavery," she said the women were confined in unsanitary conditions. They paid their meager earnings for rent, food and water, and forfeited $150 if they wanted a day off. 
Thomas, with members of his team, said the HSI works on a "victim-centered approach," and collaborates with other federal and local agencies as well as non-governmental organizations to capture, prosecute and convict criminals. 
Federal agents work alongside advocacy groups to help victims and their families recover from their ordeals. Recently, the local HSI office was given approval to hire a victim assistant specialist and a forensic interview specialist, a huge bonus in their work.
"I always say, we can't arrest our way out of this problem," Thomas said. 
Eighty percent of the victims are trafficked for labor purposes and 20 percent are for commercial sex, Thomas said. Humans are kidnapped to work in the fields, manufacturing plants, hotels, nail salons, bars and nightclubs.
The business of human trafficking brings in $150 billion a year — more than drug trafficking, he added. 
Some victims are non-citizens who can become witnesses and in some cases, they may be allowed to stay in the United States. Since there are 56 international locations, HSI can send agents around the world to help reunite a victim's child with its mother in the U.S. There are also 16 offices on the mainland.
Community participation is important. Thomas said there are emergency numbers for civilians to call: 866-347-2423 or 787-729-6969,  which is the 911 counterpart in Puerto Rico. The V.I. Justice Department, the V.I. Police Department also respond to right away to calls for help, or call 911 or text HELP to 233-733.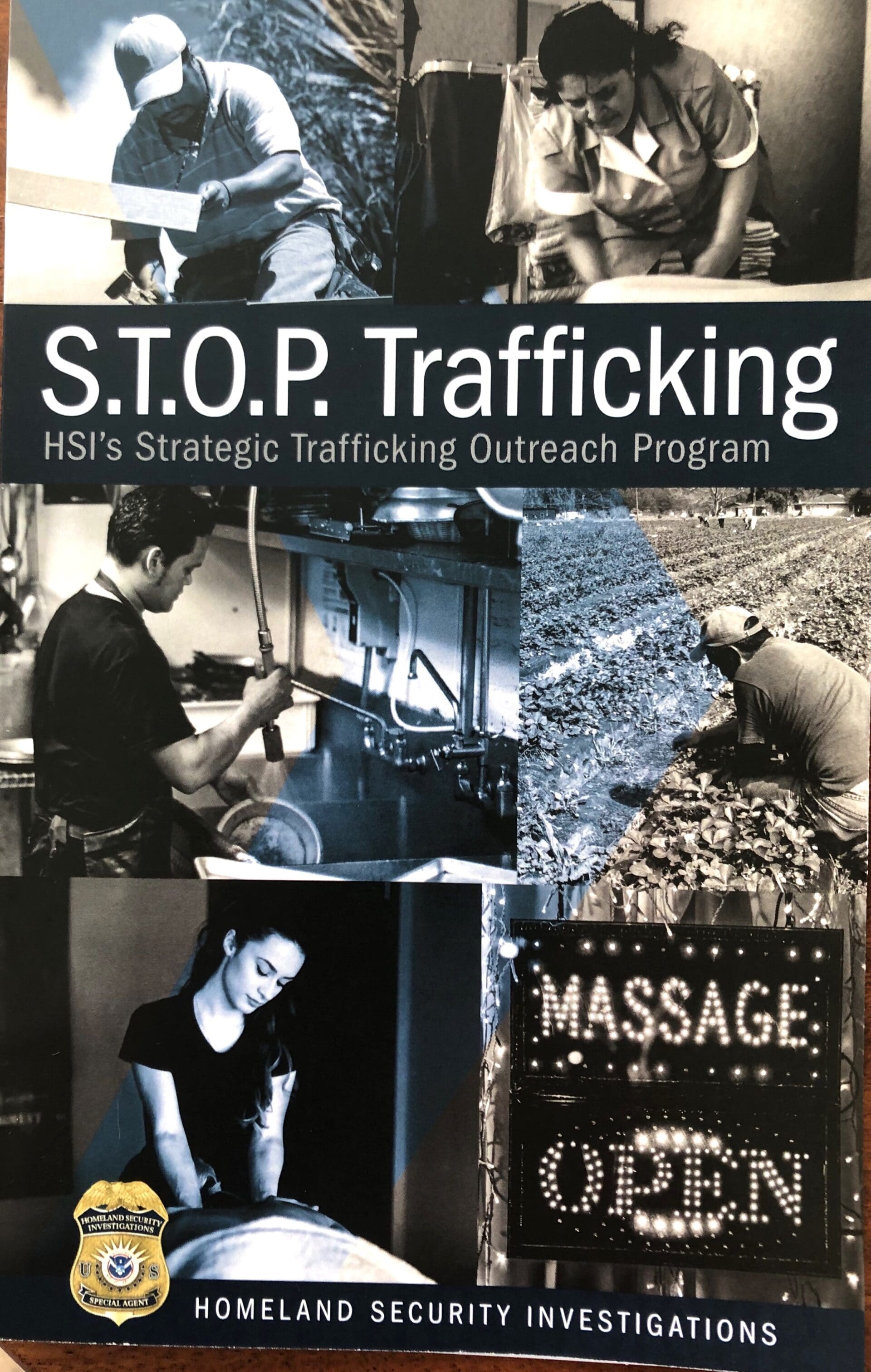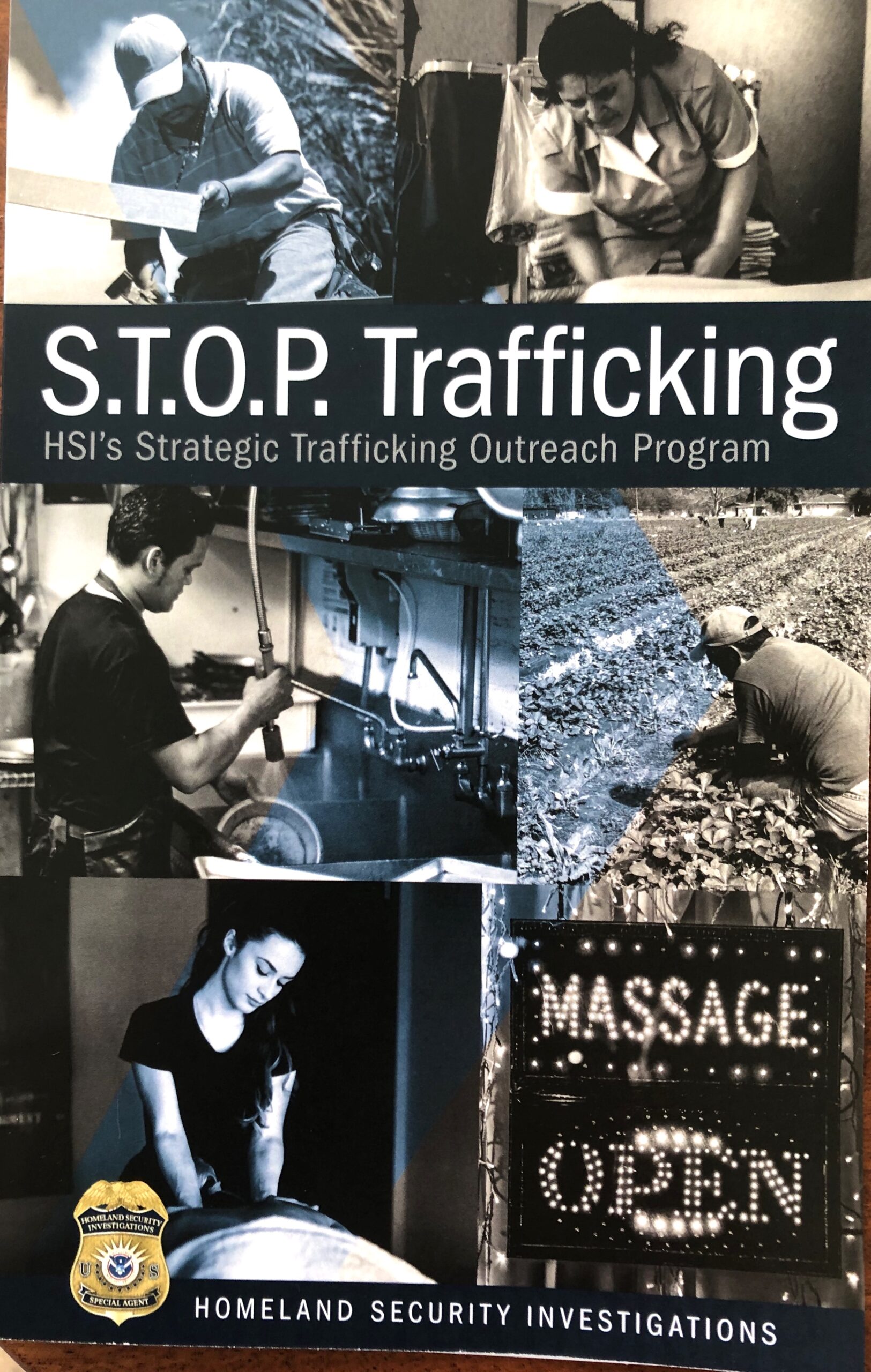 Some signs of victims of trafficking, from the HSI Strategic Trafficking Outreach Program, are:
– Fearful, anxious, depressed submissive, tense, nervous or paranoid behavior.
– Is the person disconnected from family, friends, community organizations or church?
– Is the person under 18 and providing commercial sex? Is there a pimp or manager?
– Does the person control their own money, identification documents, and possessions?
– Is the person free to come and go from work and home? Is there unreasonable security?
– Has the person been threatened with harm if they try to leave? 
– Is the person bruised, malnourished, or lacking food, water, sleep, medical care, or necessities?
– Does the person know where he/she is staying, and have a sense of time?
– Are there numerous inconsistencies in his/her story?
– Long hours, little or no pay, no breaks, or unusual restrictions could mean trafficking.
– Was the person recruited for one job but forced to do something else?
– Is a large debt owed, but he/she has only a limited way to pay it off?
– Can the person speak for themselves or is another person present or translating?
Not all indicators are present in every human trafficking situation and the presence or absence of any indicator is not necessarily proof of trafficking.
The workshop on human trafficking was hosted by the V.I. Domestic Violence and Sexual Assault Council.
Editor's note: An earlier version of this story mistakenly attributed information in the lead paragraph to Rhonda Henry-Williams, acting criminal chief with the U.S. Attorney's Office. The comment was made by Jacqueline Heyliger, executive director of the Domestic Violence and Sexual Assault Council.