Groundbreaking for the construction of the new Arthur A. Richards Grade School on St. Croix is planned for the end of February and completion is expected by the summer of 2025.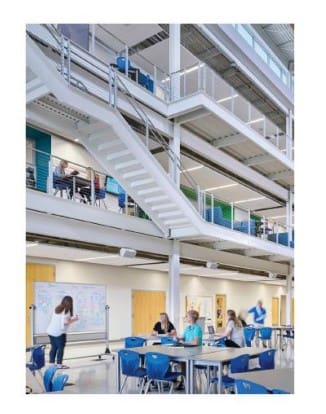 Residents and Coastal Zone Management Committee members heard the Education Department present plans for the school, which would house more than 1,000 students, making it the largest school in the territory, and include a swimming pool, making it the only public school to have a pool, at a public hearing Tuesday.
There were some concerns raised at the hearing about whether drainage from the former Evelyn M. Williams Elementary School site in Estate Mount Pleasant was going to be adequate and whether it would not be a better use of space to have elevated solar panels instead of ground-mounted arrays. CZM Director Marlon Hibbert said elevated solar arrays could go over parking lots or be used to shade walkways.
However, the response to the plans was overwhelmingly positive. Committee member Kai Nielsen called the Education Department plans "a fantastic job." Hibbert said it was a "remarkable achievement."
Committee Chair Masserae Sprauve Webster said the hearing was probably the best-attended public hearing the committee had ever had. Two senators, Samuel Carrion and Marise James, attended.
Education Commissioner Dionne Wells-Hedrington, who closed the presentation part of the meeting, said the project "will change the face of public education in the territory."
Education Department architect Chaneel Callwood, who lead the presentation team, called the hearing "a momentous occasion." She said the demolition of the Evelyn Williams school was about finished and the site would, within weeks, be turned over to the design-build firm — MCN Build, a Washington, D.C., contractor.
Webster said her only concern would be that not enough locals would be employed in the project. It is expected that between 200 to 300 employees could be working on different phases of the project.
Construction is expected to take place in three phases: Phase I — the utility building, gymnasium, Commons area, and administration building; Phase II — grades Pre-K, K5A, and K5B; and Phase III — grades 6-8, hardscape, landscape, and field.
One of the presenters described the school's design as having "a contemporary spin on historical architecture."
Webster said she had been approached by residents who were concerned about the school being named Arthur Richards and therefore ignoring the legacy of Evelyn Williams.
Wells-Hedrington said she shared that concern and was considering what to do, such as maybe dedicating a portion of the school to Williams.
Committee members present were Webster, Kai Nielsen, and Carl Simmonds.