Tuesday's Post-Inaugural Ceremony on St. John had all the elements you'd expect at a formal event — a marching band, recognition of dignitaries, anthems, prayers, and speeches.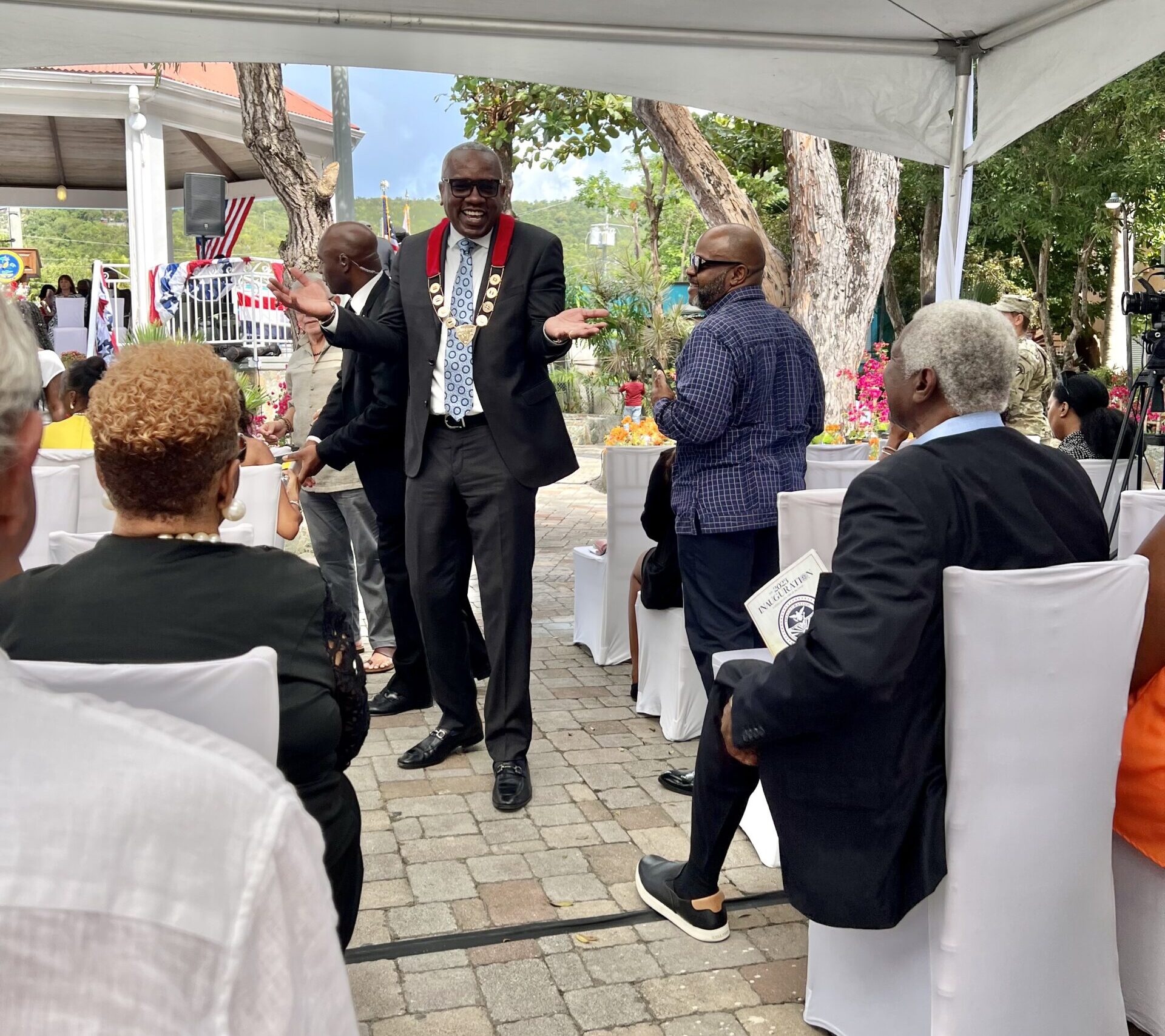 But the afternoon ceremony in Frank Powell Park had a few extra elements as well, including shout-outs to local St. Johnians, a performance by the Love City Pan Dragons steel band, a few jokes, and a short respite while Gov. Albert Bryan Jr. accepted a congratulatory phone call from President Joe Biden, who had spent several days on St. Croix last week.
The ceremony began with the Posting of the Colors by the Ivanna Eudora Kean High School's JROTC Color Guard, a selection by the Governor's Own 73rd Army Band, an invocation by Pastor Vankys Isaac of the Nisky Moravian Church, the national anthem sung by St. Johnian Gylchris Sprauve, and the Virgin Islands March sung by St. Johnian Shikima Jones-Sprauve.
Lt. Gov. Tregenza Roach began his speech by thanking Priscilla Hintz Rivera Knight, co-owner of Bajo El Sol Gallery in Cruz Bay, for her introduction, which included information about Roach's background as a poet and author in addition to his professional achievements and long career in public service.
Roach said there were many people on St. John whom he had known longer, but he selected Hintz Rivera Knight to introduce him because "she exemplifies the kind of person who comes to a place and gives her very soul." Roach said St. John was an intimate place "where manners and goodwill still matter."
He called the names of two St. Johnians — Rita Sprauve and Robert "Bob" O'Connor Jr. — who died during the pandemic when the usual rituals of mourning were not allowed, and noted, "The community can heal the broken spirit that remains after a disaster."
Roach recalled his first visits to St. John after befriending Wilbur Sprauve, Rita Sprauve's son. He soon came to value people he met, including historian Rafael "Lito" Valls, "who could tell you anything you needed to know," educator Elroy Sprauve, who is off island seeking medical care, and Oscar James, now in his 90's, who sat attentively in the audience.
Roach said that St. John is unique among the islands in that "three-fifths is controlled by an external force, the National Park Service, and it isn't always a blessing." He raised the issue of disputes over access to property owned by St. John families within the park's boundaries and said the descendants of those who fought in the 1733 uprising on St. John "must be heard."
After his introduction by Coral Bay community leader Alvis Christian, Bryan began his speech by telling the audience of his impatience when he first contemplated the inauguration ceremonies on all three islands.
"I always try to get through the salutations," Bryan said. "I'm like a whiny child, 'You mean I got to do three of these?' but then when I get here, I think, 'This is really great!'"
Bryan continued to tell some jokes "because people always remember how you make them feel." He recalled his days as a boy running barefoot through the streets of Savan and noted how far he'd come — even taking a congratulatory call from the president a few moments earlier.
He thanked his family and then his opponents and detractors, who he said made him a better candidate.
"I like winning, and I like teasing people when I win, too," Bryan said and then quickly switched gears to encourage members of the audience to do what they've always wanted to do. "You've got to look for the silver lining in your cloud at all times. You've got to put away your cynicism and look for the good stuff," he said.
Like Roach, Bryan referred to St. John's unique situation regarding the Virgin Islands National Park. "There's no other place with a higher percentage of federally owned lands, and we receive only $30,000 in lieu of taxes from the federal government."
Bryan said he was a pro-development governor who would work to make the remaining areas outside the park to be more productive. "We'll bulldoze a road. I'm going to make it happen," he said.
At one point, Bryan likened St. John to Disneyland, which he loves, and then said, "St. John is a magical place, but not always for the people who live here. Go to a grocery store. I think they charge admission there."
He said that St. John "has needs" like any other island," but "St. Johnians have learned to work together in an amazing way." He spoke about people from "other places" buying up property and added, "We have to make sure the people who live and work here must get a piece as well."
Prior to the ceremony, Andrew Rutnik, who serves as an advisor to the governor from St. John, said he always presses for more government services on the island whenever he sends in a report.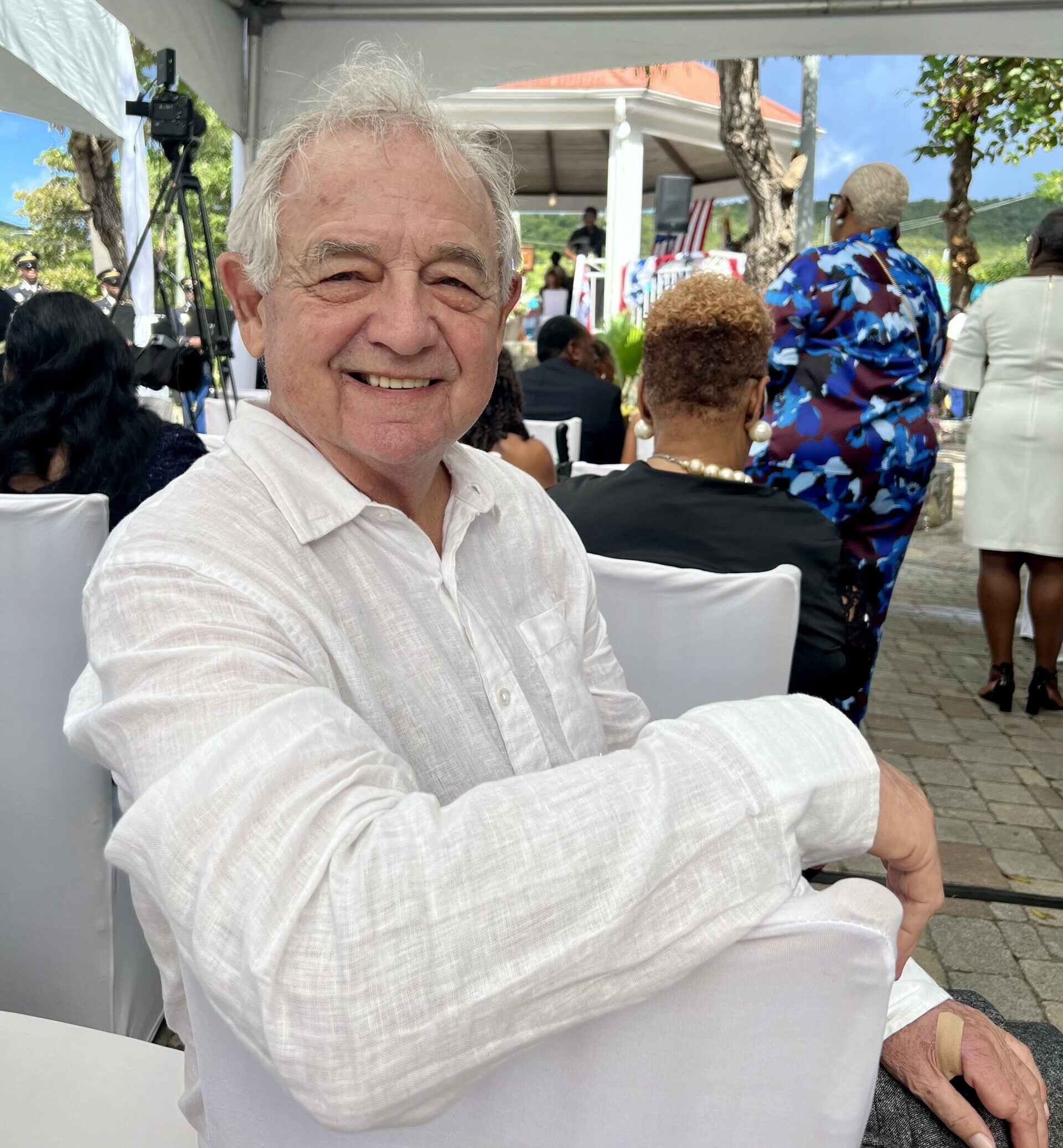 Asked to list an achievement that resonates with St. John residents during the first Bryan/Roach term, Rutnik pointed to the governor's selection of three cabinet members from St. John: Bosede Bruce, commissioner of Finance; Dionne Wells-Hedrington, commissioner of Education; and Delia Thomas, the territory's Inspector General.
In addition, St. Johnian Delia Smith now serves as the U.S. District Attorney for the Virgin Islands.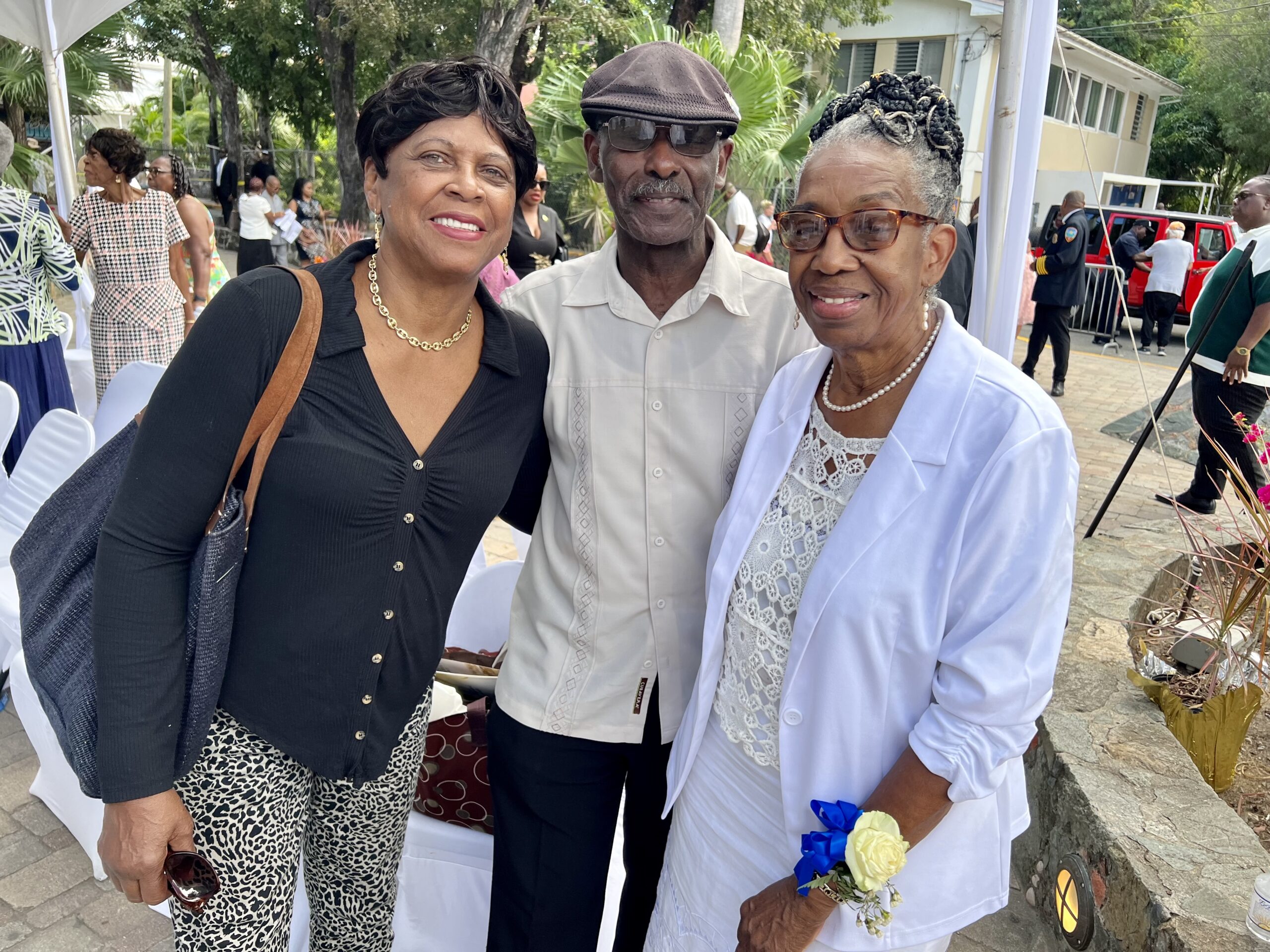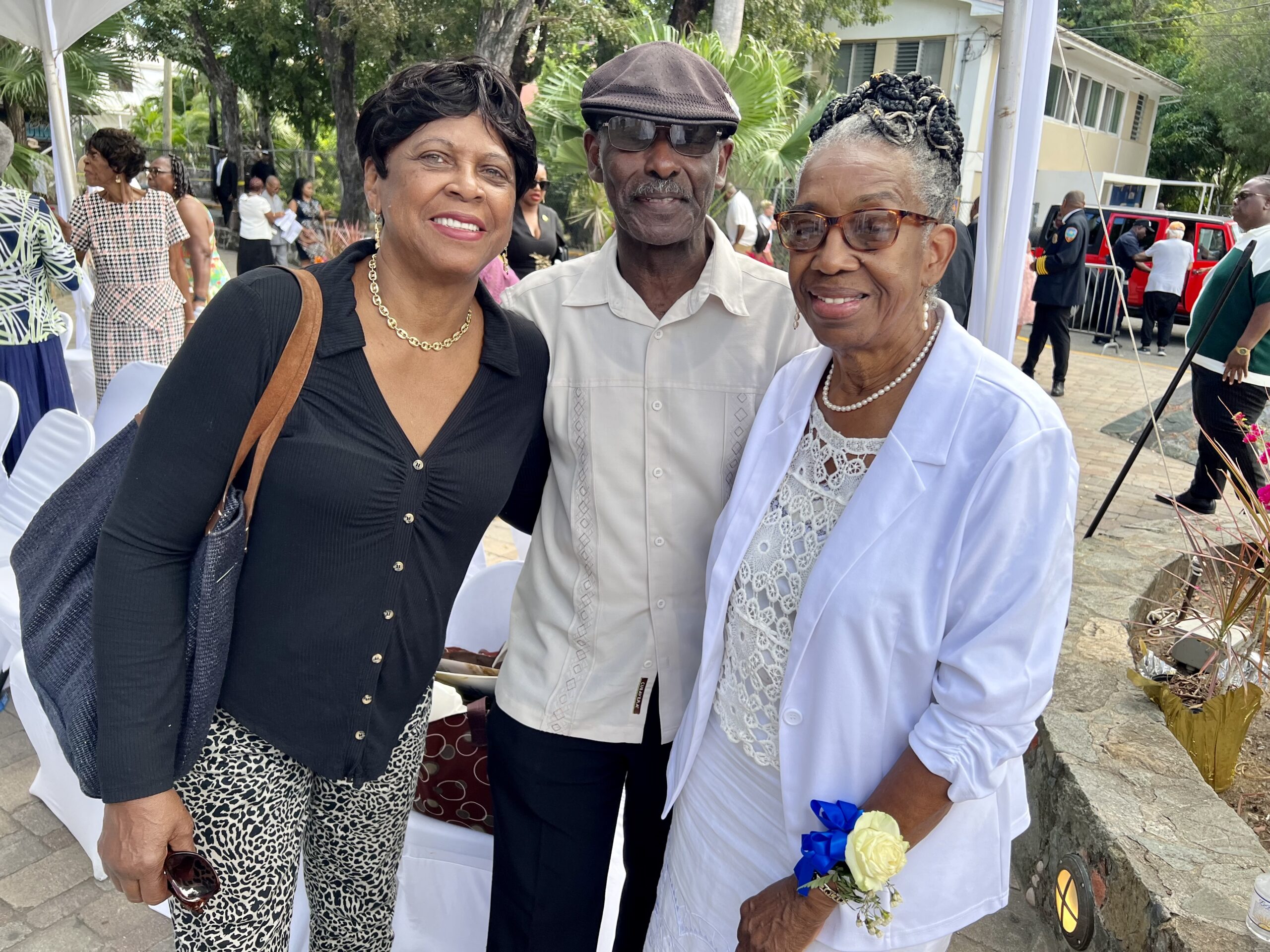 Following the ceremony, the crowd moved to Miss Meada's Plaza for refreshments prepared by Extra Virgin, a St. John fine-dining restaurant. Before everyone was served, however, the heavens opened and rain poured down, soaking some in spite of the well-placed tents. At that moment, some of the celebrants recalled that Tregenza Roach is the author of the book "The Blessing of Rain and other Poems."