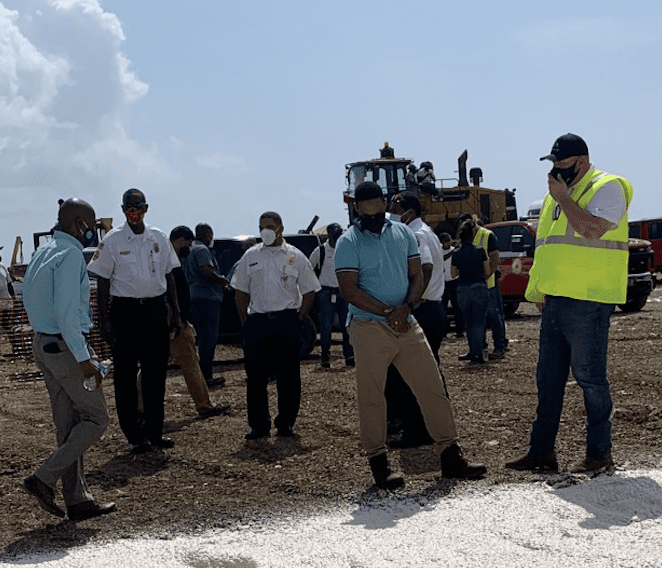 Promoters of a landfill management system won approval from the Waste Management Authority board on Tuesday. Based on reports given by agency staffers to board members at the meeting, the system has shown promise in a trial run on St. Croix.
Deciding whether to adopt the use of the Rusmar Foam Alternative Daily Cover was one of six action items presented to the board as they met in Waste Management's Kingshill office on St. Croix. The system uses a truck-mounted foam applicator to cover daily trash deposits at the landfill.
The system was first deployed on a temporary basis in November. Waste Management Executive Director Roger Merritt said the alternative cover serves the same purpose as covering trash with dirt, but at a lower cost. He added that because the foam covering is biodegradable, it does not contribute to the waste stream.
Merritt said continued use of the foam alternative could save the authority $150,000 a month, or $1.8 million per year, that it would otherwise spend to cover the daily trash haul with dirt.
Board member Laurence Richards expressed skepticism, saying he wanted to see more facts and figures to support comments about the cover's performance. Solid Waste Director Floy Sackey told the board that since the system was put in place at the Anguilla Landfill on St. Croix, instances of landfill fires have decreased by roughly half, and problems with scavenging birds have decreased dramatically.
"The foam covers have performed well on St. Croix," said board Vice Chair Diana Collingwood. Collingwood also serves as an assistant commissioner at the Department of Agriculture, where animal control is one of the duties.
The Federal Aviation Administration has long been at odds with Waste Management about scavenging birds because of Anguilla's proximity to the Henry Rohlsen Airport. A persistent threat of birds being sucked into passing jet engines was a violation of a longstanding federal consent decree and led to an order from District Court to close St. Croix's landfill.
Board members voted to accept Merritt's recommendations for a one-year contract to Rusmar with options for two one-year extensions at a cost of $600,000 a year. Once the contract is finalized, the alternative cover system will also be deployed at St. Thomas' Bovoni Landfill.
Present at the Tuesday meeting were board Chairman Keith Richards, Laurence Richards, Collingwood, and Derek Gabriel. Board member Daphne Harley was absent.
Editor's Note: A previous version of this story said that use of the foam alternative could save the Waste Management Authority $150,000 per year. The correct figure is $150,000 per month.