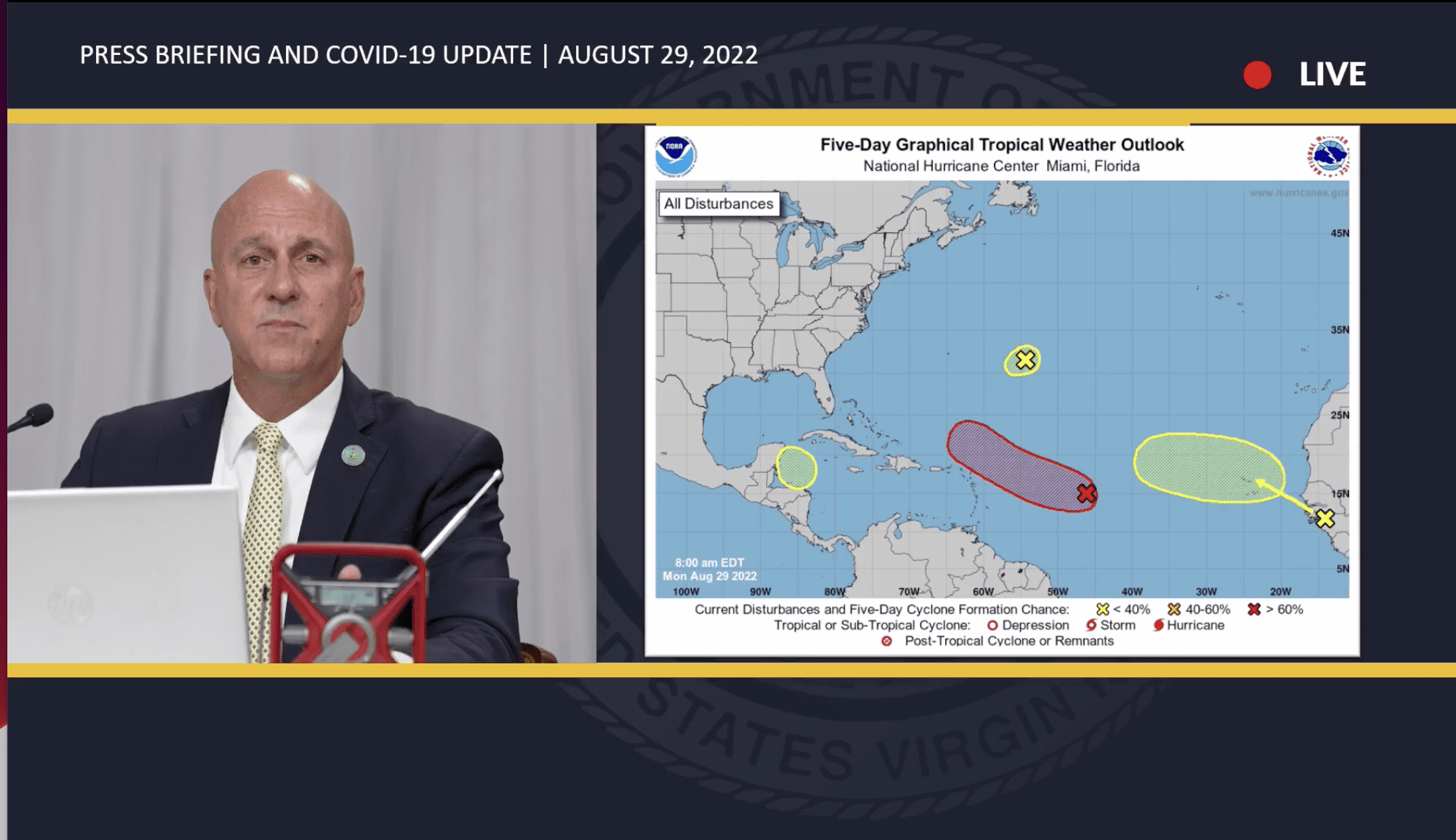 Residents should prepare now as a tropical system is forecast to pass about 350 miles northeast of St. John on Friday or Saturday, V.I. Territorial Emergency Management Agency Director Daryl Jaschen said Monday.
Speaking at the weekly Government House press briefing, Jaschen said the system, currently named Invest 91L, is likely to become a tropical depression and bring rain and ocean swells to the territory, though it is too early to predict wind impacts, he said.
"A tropical depression is likely to form later this week" as the disturbance moves slowly westward and then west-northwest at 5 to 10 mph toward the adjacent waters of the northern Leeward Islands, said Jaschen.
"VITEMA is watching Invest 91L closely, and according to our discussion with the National Weather Service in Puerto Rico this morning, the current track will pass on Friday or Saturday approximately 350 miles northeast of St. John and may produce some impact from ocean swells," said Jaschen.
"It is still too early to provide any details on anticipated winds or rainfall accumulations, but some rainfall is anticipated," he said. Formation chance through the next five days is high, at 80 percent, according to the National Hurricane Center.
Another tropical wave is forecast to move off the west coast of Africa on Monday night, or early Tuesday, said Jaschen. "Some gradual development of this system is possible at this time while it moves generally westward and westward-northwestward across the far eastern tropical Atlantic," he said.
"This is a normal occurrence this time of year, and VITEMA and the National Weather Service in Puerto Rico will continue to monitor," said Jaschen.
The VITEMA director urged Virgin Islanders to remain vigilant and to prepare now for what forecasters have predicted will be a busy hurricane season. Typically, August through October is the period of greatest activity in the season that runs from June 1 through Nov. 30.
In the event of a storm, VITEMA will issue watches 48 hours prior to the onset of sustained winds of 74 mph and warnings 36 hours prior to the onset of hurricane storm-force winds, said Jaschen. However, in the event of rapid intensification of a storm, the National Weather Service may only issue a warning, he said.
Visit www.vitema.vi.gov to sign up for the Alert VI service, to receive alerts by text, email, or phone, in English or Spanish. "Do not wait. Act now," said Jaschen.
"Hurricanes can change direction, intensity, and speed suddenly," so it is important to monitor official messages and have a plan, said Jaschen. For those who shelter at home, stay on the lowest floor that will provide the best safety from wind and flooding, preferably in an interior room, and stay away from windows and doors, even if they are covered, said Jaschen. Prepare a hurricane kit, including for your pets, and be sure to store water in clean bathtubs, sinks, bottles, and cooking utensils, he said.
"Public water supplies, cisterns, and wells may become contaminated, or electric pumps may become inoperable if battery power is lost. Survivors of community-wide disasters have said the individual's greatest need following a disaster is water," said Jaschen
Close all interior doors and brace exterior doors, he said. Have a supply of flashlights and batteries, and avoid using open flames or kerosene lamps as a light source. "Historically, candle-related deaths from home fires following hurricanes are three times greater than the number of deaths related to the impact of a hurricane," said Jaschen.
If you're unable to stay at home and take shelter with family, a friend, a faith-based organization, or at a government-run facility, be sure to bring your disaster supply kit, he said. Pets must have a carrier, a leash, and sufficient food and water.
Those who live on a boat or in a mobile home should check their tie-downs and evacuate, said Jaschen. "Historically, boats and manufactured homes suffer the greatest amount of damage during hurricanes," he said.
During a storm, be aware of the calm or the eye – the worst will come after it passes and the wind changes direction, said Jaschen. "The opposing winds begin suddenly and have surprised and injured many people who ventured out during the eye," he said. Likewise, watch out for flooding, even from weak tropical storms, which are just as likely to produce heavy rain and flooding as a major hurricane, he said.
Finally, be alert for tornados, which can form during or even after a hurricane passes, said Jaschen. Remain indoors, on a lower level, in an interior room, he said.
Sandbag distribution continues through Saturday, Sept. 17, under the Operation Blue Skies initiative of VITEMA, Public Works, and the V.I. Fire Service said Jaschen. Residents may drive up to any of the locations to receive six pre-packaged sandbags per household, he said.
Distribution will take place at the following locations:
St. Thomas
9 a.m. to noon Tuesdays and 1 to 4 p.m. Thursdays at the Public Works Department in Sub Base
10 a.m. to 4 p.m. on Saturday at the Fortuna Fire Station, the Omar Brown Sr. Fire Station at Barbel Plaza, and the Curriculum Center in Estate Tutu
St. John
10 a.m. to 4 p.m. on Saturday at the Coral Bay Fire Station
9 a.m. to noon Tuesdays and 1 to 4 p.m. Thursdays at the Public Works Department in Susannaberg
St. Croix
9 a.m. to noon Tuesdays and 1 to 4 p.m. Thursdays at the Public Works Department in Anna's Hope
Jaschen also provided an update on the influx of sargassum seaweed that has impacted the water desalinization plant on St. Croix, saying output has remained steady at 93 percent each of the last five days, or 3.4 million gallons per day, though water consumption also remains high at 3.1 to 3.5 million gallons a day.
The impact has been reduced with the removal of about 1,000 cubic yards of sargassum from the shore for about 400 meters east of the plant, and the Federal Emergency Management Agency is demobilizing staff it sent to assist the territory after a state of emergency was declared on July 24, said Jaschen. The FEMA coordinating officer will remain in the territory as officials continue to monitor Invest 91L, he said.
Speaking for the V.I. Health Department, Deputy Commissioner Reuben Molloy said there are currently no confirmed cases of monkeypox in the territory. Eleven suspected cases have all tested negative for the virus, and there are no samples pending results, he said.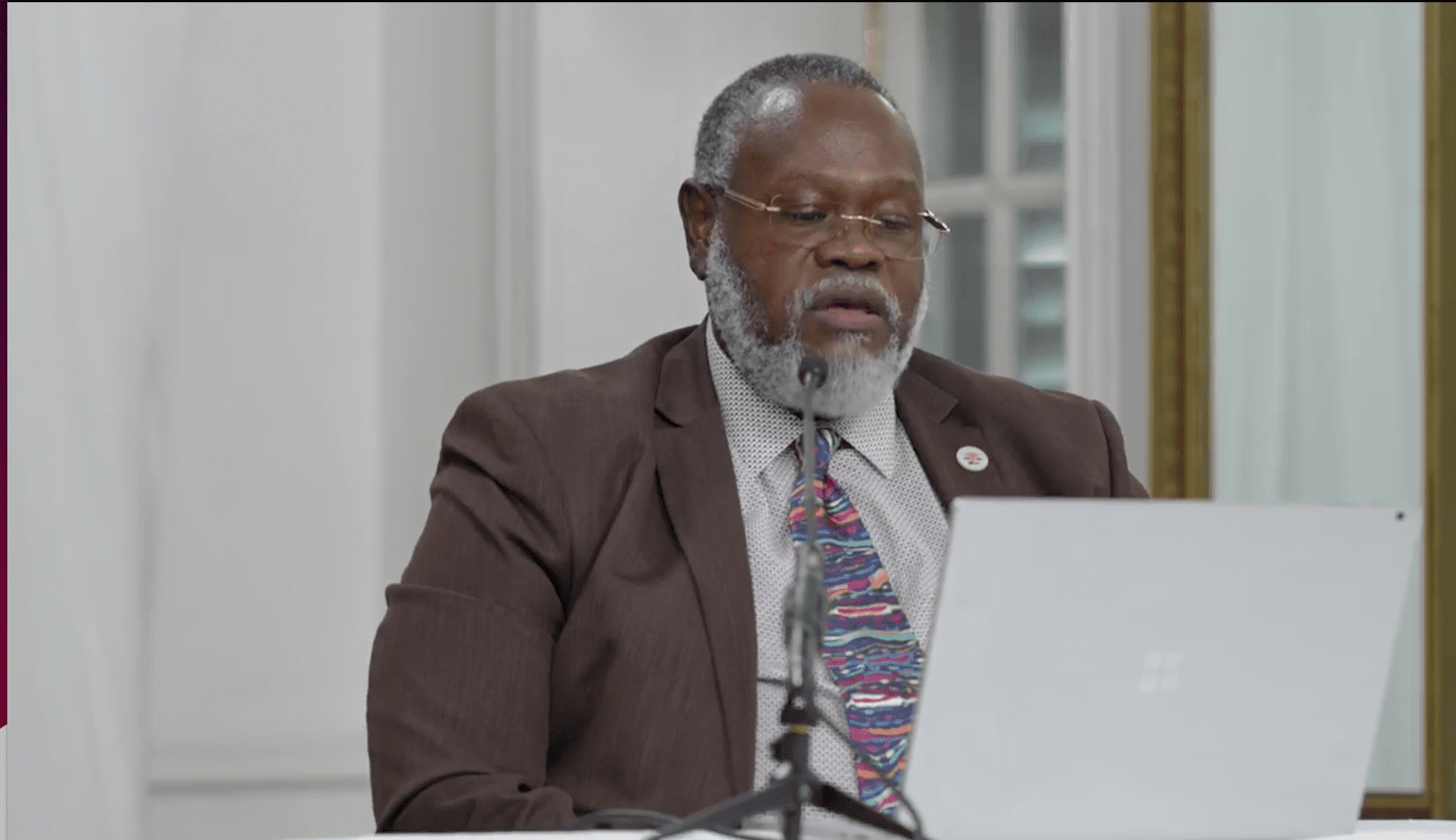 The Health Department has secured 895 doses of the JYNNEOS vaccine used for pre- and post-exposure to monkeypox, said Molloy. To learn more about getting vaccinated, call 340-774-9000, ext. 4663.
Meanwhile, there are currently 239 active COVID-19 cases in the territory, with 130 on St. Croix, 107 on St. Thomas, and two on St. John said, Molloy. Six people are hospitalized at Juan Luis Hospital and five at Schneider Regional Medical Center, he said.
Keeping current on COVID-19 vaccines — available for everyone age 6 months and older — and boosters are the best protection against becoming seriously ill with the virus, said Molloy. For information on where to receive a vaccine or testing for the virus, visit the Health Department website.
In other news, Government House Communications Director Richard Motta said the Office of Management and Budget and the Finance Department have reviewed and processed more than 3,974 payments to eligible essential workers under the federal Premium Pay program, for a total of $6.9 million paid to date. The program is intended to compensate essential employees who faced a heightened risk during the COVID-19 pandemic.
"The Premium Pay payments are going out, and we will provide you an update as those payments continue to go out to those eligible workers," said Motta.
Residents also may still apply for aid under the Emergency Rental Assistance program, which compensates both landlords and tenants for unpaid rent, utilities, or cooking gas during the COVID-19 pandemic, dating back as early as March 2020, said Motta.
The V.I. Housing Finance Authority will host pop-up centers to offer information and take applications from noon to 2 p.m. Wednesday at Home Depot on St. Croix, and on St. Thomas from 3 to 5 p.m. Tuesday at Cost U Less and noon to 2 p.m. Wednesday at Tutu Park Mall. To learn more or to apply online, visit the VIHFA website or call 340-200-0007.
Lastly, the V.I. government, St. Croix Chamber of Commerce, and Royal Caribbean Cruise Line will hold a community business forum, "Reshaping the Guest Experience," from 9 to 11 a.m. Sept. 8 at the Great Hall of the University of the Virgin Islands on St. Croix, said, Motta. To learn more and to register, visit the Government House website.