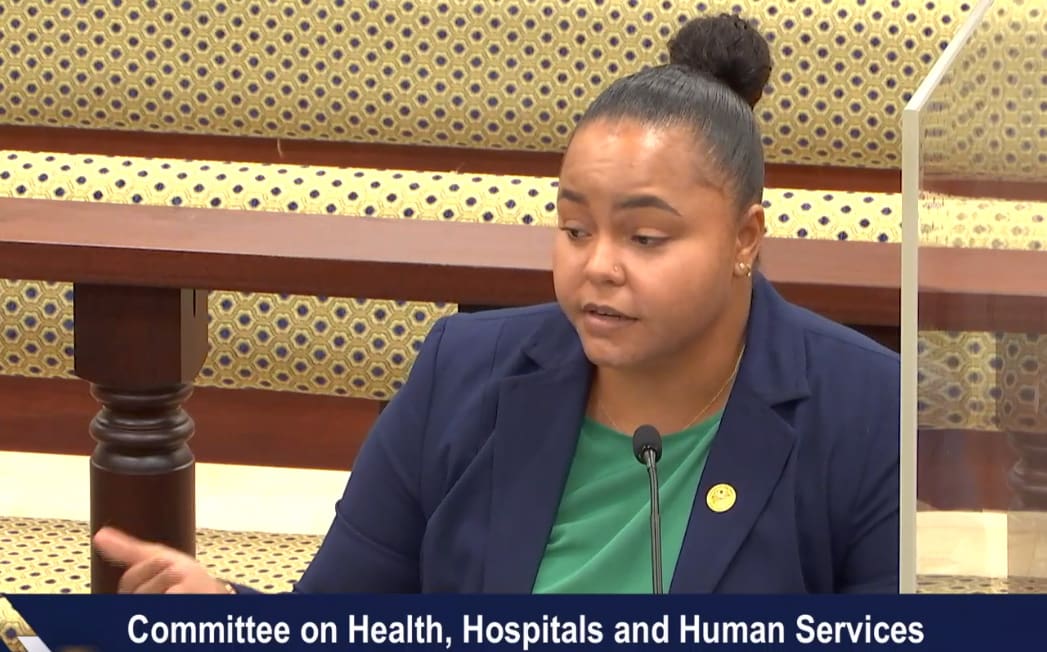 Several nurses and their representatives presented reasons why their work environment and salaries needed change to the Committee on Health, Hospitals, and Human Services Friday.
Senators appeared unanimous in their support for the nurses.
Marvin Blyden said, "It is not right, it is unfair" how local nurses were being treated. He asked, "How can we expect our nurses to perform after what we heard today." He continued, "We need to do something expeditiously, do everything possible."
Jacqueline Canton testified, "Everyday day as the nurse in charge I receive complaints from nurses regarding upper respiratory symptoms such runny eyes nose, and intense skin issues. Others experience the worst symptoms such as asthma, chest discomfort, and headaches. It is challenging to care for others while we experience these issues at our health facilities which should provide a safe and healthy environment that promotes wellness and healing."
Canton, who is Registered Nurses Leadership Union Executive Chair, went on to say, "Nurses at the Department of Health gather vaccines, medications, equipment, and supplies daily from the moldy modulars to transport them to the tent and mobile vans which are located in the parking area of the now condemned Charles Harwood complex. Every day nurses enter the Gov. Juan F Luis Hospital to challenges with air conditioning, mold, challenges with oxygen supply, equipment, and staffing. Nurses in the emergency department must assist patients to the outside restroom facility. These issues are not new, some are long-standing and burn staff out." She said that when she and others take their concerns to hospital officials the only answer they get is that they will be moving into new facilities.
Sen. Alma Francis Heyliger said, "We are moving is not an answer." She added, "We have been moving since I have been a member of this legislature."
Sens. Novelle Francis and Genevieve Whitaker seemed focused on possible solutions. Francis asked for recommendations from the nurses. Whitaker asked what the next steps were.
Dr. Brittany Dawson, another representative of a nursing union, testified, that before the pandemic the territory was experiencing a nursing shortage and current salaries and benefits have not been competitive for some time, and are getting less so. She said, "Our nurses have been working with limited to little support staff in a condemned facility. This is without any additional hazard compensation, without adequate supplies, often under hostile leadership, and at unfortunate times without hot water or air conditioning, and many more limited resources. On any given shift there are times with only one nurse present, who is expected time and time again to solely show up and make miracles out of a mess."
She also voiced concerns about the testing nurses had to go through and how some lost their jobs because they were not vaccinated.
She also gave some numbers to the committee. She said the current nurse staffing at Schneider Regional Medical Center is an estimated eight-six and at Gov. Juan Luis Hospital it is fifty-nine, and the Department of Health has six on St. Croix, and five on St. Thomas. That is an estimated one hundred and forty-five nurses to care for over one hundred thousand people in the hospitals, and eleven for outpatient community care. She continued, "We are in a state of emergency, if you do not see this as a crisis, then I do not know how else to convey the importance. We would need to recruit over one hundred nurses to meet basic hospital staffing needs."
A nurse who was not on the agenda who did not submit written testimony before the hearing kept stating misinformation about the effectiveness of COVID-19 vaccinations. She said people who were vaccinated were more susceptible than those vaccinated. This misinformation has been spread over social media, possibly based on the misinterpretation of information posted by a drug store. The Centers for Disease Control and Prevention stands by its recommendations for vaccines and most studies validate that stand.
Senators attending the hearing were Blyden, Genevieve Whitaker, Kenneth Gittens, Francis, Janelle Sarauw, and Alma Francis Heyliger.