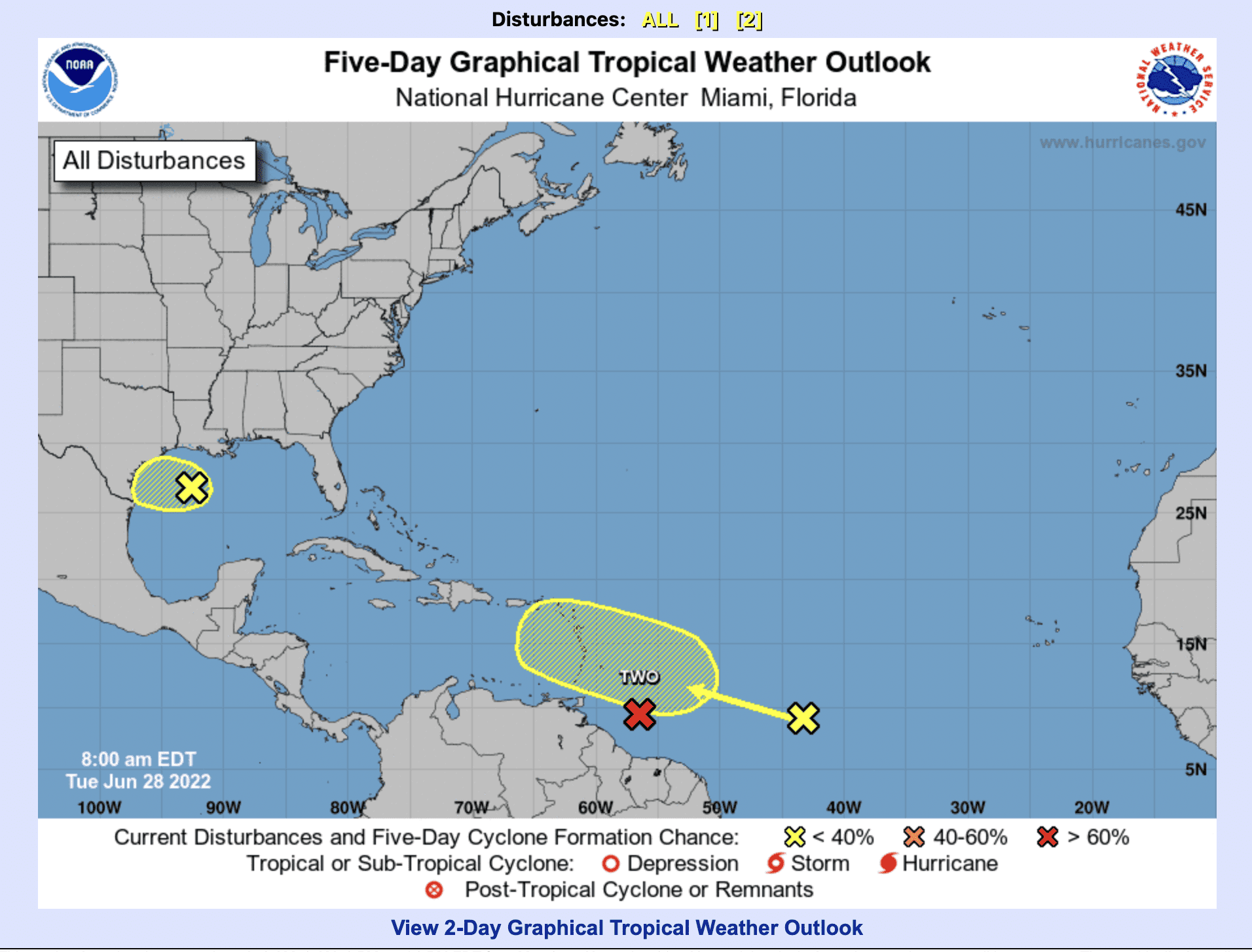 While the National Hurricane Center is monitoring three systems – two in the tropical Atlantic and one in the Gulf of Mexico – only one is expected to track near the U.S. Virgin Islands, and there is a low probability it will develop over the next five days, according to the latest forecast.
The tropical wave, named Disturbance 2, was located more than 1,000 miles east of the Windward Islands Tuesday morning and is producing disorganized showers and thunderstorms, the NHC said in its 8 a.m. forecast.
Disturbance 2 is forecast to interact with another tropical wave to its east over the next several days, and some gradual development is possible later this week while the overall system moves west-northwestward at around 15 mph across the central tropical Atlantic.
Formation chance through 48 hours is near zero percent, and 20 percent through the next 5 days, according to the NHC.
In a statement Monday night, the V.I. Territorial Emergency Management Agency said rain from Disturbance 2 is expected to impact the territory late Saturday into Sunday.
"No watches or warnings are being issued at this time. VITEMA will continue with daily updates and briefings from the National Weather Service in San Juan, Puerto Rico, as necessary," the agency said.
The NHC also is issuing advisories on a potential tropical cyclone several hundred miles east of the southern Windward Islands with a 90 percent formation chance through the next 5 days. That system is expected to bring heavy rainfall across the southern Windward Islands and Venezuela Tuesday night through Wednesday.
In the north-central Gulf of Mexico, a surface trough of low pressure may develop further as it moves generally westward at 5 to 10 mph and approaches the coast of Texas during the next few days.
Colorado State University is calling for a "well above-average Atlantic basin hurricane season" in its latest forecast, released June 2.
The probability of at least one major hurricane – meaning Category 3 or higher – tracking into the Caribbean is 65 percent, compared to an average of 42 percent for the last century, according to the new forecast.
That probability is 76 percent for the entire continental U.S. coastline (average is 52 percent), 51 percent for the U.S. East Coast, including the Florida peninsula (average is 31 percent), and 50 percent for the Gulf Coast from the Florida Panhandle westward to Brownsville, Texas (average is 30 percent), according to the forecast.
"We have increased our forecast from early April and now estimate that 2022 will have 10 hurricanes (average is 7.2), 20 named storms (average is 14.4), 95 named storm days (average is 69.4), 40 hurricane days (average is 27.0), five major (Category 3-4-5) hurricanes (average is 3.2), and 11 major hurricane days (average is 7.4). The probability of U.S. major hurricane landfall is estimated to be about 145 percent of the long-period average," the report stated.
Colorado State's forecast is in line with that of the National Oceanic and Atmospheric Administration, which is calling for 14 to 21 named storms, with six to 10 of them becoming hurricanes with sustained winds at or above 74 mph, and three to six of them turning into major hurricanes. A major hurricane has sustained winds of 111 mph or above; that is, it is a Category 3, 4 or 5.
"As is the case with all hurricane seasons, coastal residents are reminded that it only takes one hurricane making landfall to make it an active season for them. They should prepare the same for every season, regardless of how much activity is predicted," the report cautioned.
For additional emergency preparedness information, visit www.vitema.vi.gov or email contact@vitema.vi.gov.