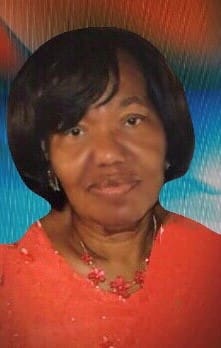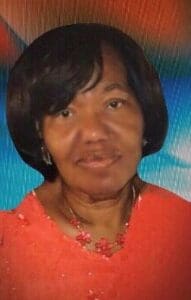 Jennifer Blake died on June 15 at the age of 72.
Jennifer Blake is survived by her:
Sons:  Kevin Callwood, Jason Callwood, Jermaine Callwood, Karim Callwood and Shawn Blake
Siblings: Aurelia Donovan, Joyce Charles, Thelma McDowell, Alford Richards and Oswin Richards
Daughters-in-law: June Ritter, Erica Callwood and Karrelyn Blake
Grandchildren: Kenisha Callwood, Kishma Ottley, Kyrah Ottley, Kyannah Ottley, Kareem Ottley, Kenique Lewis, Elijah Callwood, Jordan Callwood, Josiah Callwood, Jaden Callwood, Ahjende' Callwood, K'vante Ruan, K'moy Callwood, Kerianna Callwood, Shanicia Blake, Floristine Blake, Laurent Lake III and Laurence Lake
Family: Carolyn Brewley, Deborah Charles, Lawrence Charles II, Earl Charles, Denise Charles Clarke, Melissa Cummins, Earl Brewley Jr., Caleeb Breweley, Janelle Callwood, Darnelle Hazelwood, Winnaye Clarke, Lawrence Charles III, LaTiffany Charles, La'Nae Charles, La'Quoia Charles, La'Nique Charles, Earl Charles Jr., Kareem Charles, Kadeen Charles, Akime Charles, Robert McDowell, Oswin Richards, Keith Richards, Kim Richards Bonelli, Kenya Richards, Robert Richards, Donna Richards, Joel Richards, Juel Richards, Jamal Richards, Sharon Richards, Alford Richards Jr., Thea Richards, Teri Richards, Tavia Richards, Thalia Richards, Tayhira Richards, Myron Richards, Tyrell Richards, Tevon Richards, Peggy Smith, Pamela Smith, Kim Smith, Jasmine Smith, Ingrid Smith, Alberto Smith Jr., Henry Powell, Faye Robinson, Leayle Robinson, Winifred Powell-Bell, Alda Powell-Santos, Edith Powell, Ruth Powell Chinnery, Edris Powell, Clarice Powell, Patricia Powell-Mitchell, Morvel January, Morvel Vanterpool, Jewel Powell, Jewell Powell-Charles, Warren Powell, Samuel Powell, Patrice Donovan, Henito Donovan, Kenneth Donovan, Tiffany Chesterfield, Arkeel Chesterfield, Sian Donovan, Stephanie Miller, Jasmine Grey, Barbara James, Alphonse James, Marilyn Chambers Valencia Danet, Catherine James, Allison Spencer, Jeremy Ronan, Jonelle Ronan, J'nique Ronan, Jacqueline Arnold, Beulah A. Pinney, and so many more…
Special Friends: Charles Cypre, Charlene Cypre and the Cypre family, Rosetta Fleming, Rosetta Milliner, Mavis Queenie Davis, Stephony Cindy Francis, Melony Francis, Mona Mingo, June Warner, Vernell Percival-Stevens, Whitfield (Pickett) Joseph, Gloria Davis, Monet Davis, Members of the Friendly Circle Society, Landlord-Charles Ulysses and Caretaker Gracia Yuleisi and family.
Relatives and friends are respectfully invited to attend the funeral service on Friday, July 1, at the Fredrick Lutheran Church. Viewing will be held from 9 – 10 a.m. with a service immediately following at 10 a.m. Interment will be at Western Cemetery No. 1.
Funeral arrangements are under the care of Dan Hurley Home for Funerals and Cremation Center of St. Thomas, St. John and St. Croix.
For online directions or to share a special memory, please visit the website at www.hurleydavisfuneralhome.com