Many public servants in St. Thomas and St. Croix have been asked to stay home as post-Carnival COVID cases soar.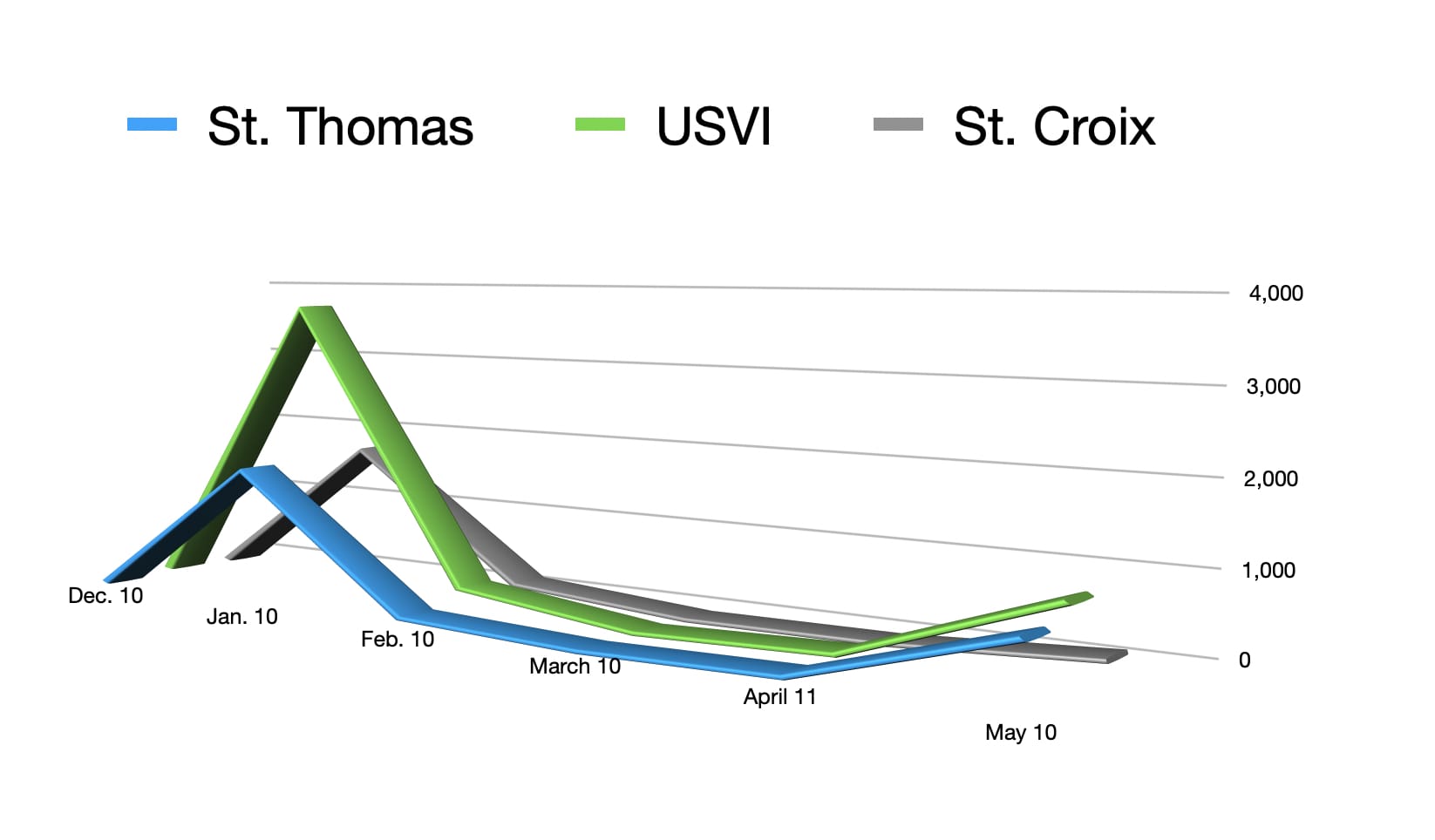 More Virgin Islanders tested positive this week than at any time in the last four months, according to Department of Health statistics. The 962 active cases in the territory are the most since Jan. 19, when 1,424 people tested positive.
The outbreak is most pronounced in St. Thomas, where thousands gathered for the first traditional Carnival celebrations since 2019. On May 2, the day after Carnival ended, 101 people tested positive for COVID on St. Thomas. On Monday, seven days later, 775 people tested positive on the island.
The Virgin Islands Legislature postponed almost all its hearings for the remainder of the week because of COVID concerns. Senate President Donna Frett-Gregory announced she tested positive Thursday.
Gov. Albert Bryan tested positive on April 20 and quarantined for a week. Lt. Gov. Tregenza Roach tested positive at the beginning of Carnival and went into self-quarantine until May 2.
On Tuesday, Roach closed his Nisky Center offices because of confirmed cases. The Division of Real Property Tax, Recorder of Deeds, Geospatial Information System, V.I. Medicare, and Virgin Islands State Health Insurance Assistance Program, and all associated cashiers were closed for disinfecting. Roach's office said the services will be reopened following sanitation and testing of all employees. People needing assistance can call 340-773-6449.
On St. Croix, Roach closed the Division of Banking, Insurance, and Financial Regulation, as well as the Division of Corporation and Trademarks, because of positive cases on Friday. COVID mitigation protocols were underway, Roach said, but it was not yet clear when the offices might reopen. People needing assistance can call 340-774-2991. The divisions' St. Thomas offices have reopened after an earlier COVID-related closure.
Also, on St. Croix, the SNAP/Medicaid Eligibility Office and the Medicaid Special Services at Mars Hill were temporarily closed Tuesday because of COVID exposures. They are scheduled to reopen Thursday. While the offices are down, those in need of assistance can email SNAP at certoffice.stx@dhs.vi.gov and Medicaid at stxmap@dhs.vi.gov.
The timeline for the Virgin Islands Economic Development Authority's St. Thomas-St. John offices to reopen remains unclear. The program closed its doors Friday due to a reported positive COVID case. EDA staff are working remotely.
Public schools reopened Monday for students testing negative. V.I. Montessori School has gone to remote learning with the exception of 12th graders who are allowed on campus for final exams, provided they are healthy.
The post-Carnival spike in cases is similar to that seen after Christmas. On Dec. 20, the V.I. had just 72 active COVID cases, according to Health Department statistics. Just eight days later, more than 780 people were sick with COVID, and eight days after that, more than 3,300 people in the territory tested positive.