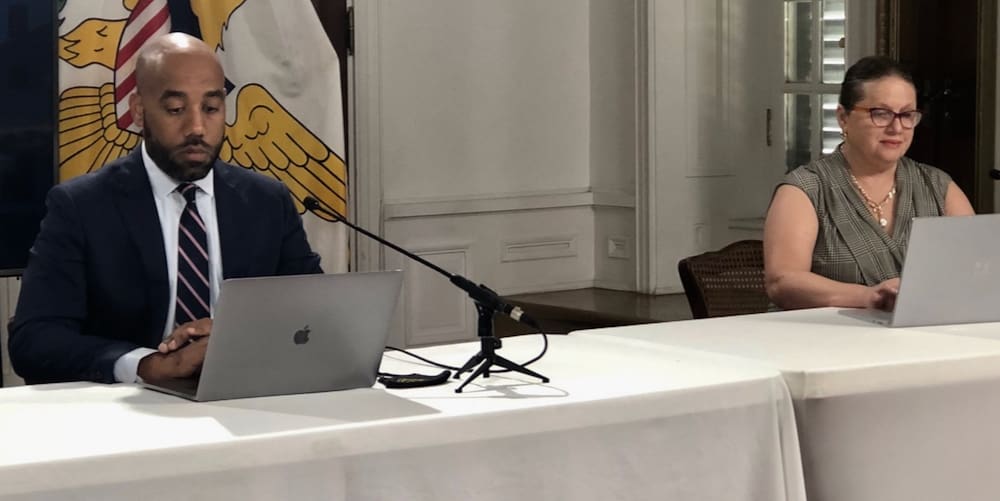 V.I. Health Commissioner Justa Encarnacion said Monday that Pfizer's COVID vaccine will be administered as a booster to anyone 65 years of age and older, healthcare or long-term care facility workers and those vulnerable to severe COVID-19.
The vaccine, assistance for renters facing foreclosure and a lawmaker's behavior after testing positive for COVID-19 were topics during Monday's weekly Government House news conference.
The federal Food and Drug Administration approved the use of Pfizer vaccine boosters on Friday, and the V.I. Department of Health didn't waste any time in getting the word out.
"Starting immediately, booster shots will be available to those who are immunocompromised, 65 and older, health care and long-term facility workers and who have taken the first two shots at least eight months ago," said Encarnacion.
A Moderna booster has not been approved by the FDA but should be soon, Encarnacion said.
Encarnacion announced that as of Saturday, the territory's COVID statistics show "a dramatic increase in the St. Croix district." There are 206 active cases of coronavirus in the territory, with 144 on St. Croix, 59 on St. Thomas and three on St. John. There were five people hospitalized on St. Croix and none on St. Thomas or St. John.
The commissioner encouraged everyone to get vaccinated. Those who have had the virus should get the vaccine right away because even though they have antibodies, they could contract "another variety" of the disease.
She also pointed out that adults with COVID-19 should take the monoclonal treatment when it is offered. Patients wait until they are very sick and hospitalized and then want the treatment, but it won't do any good then, she said.
Children older than 12 should be vaccinated because it could save their lives, Encarnacion said. Younger children are getting sicker from the virus.
Also, Dr. Esther Ellis, the territory's epidemiologist, told the Source last week that less than 50 percent of the V.I. Education staff is vaccinated.
Encarnacion and the governor's communications director, Richard Motta, stressed several times the importance of getting immunized against the virus. The government is giving financial rewards to those who get shots, including $250 gift cards to those to get both shots in September and October.
There also will be a $25,000 drawing for health care workers who are vaccinated.
V.I. Lottery Assistant Director Dwayne Benjamin announced Salvador Gonzalez de la Cruz on St. Croix and Sharleen Fahie on St. Thomas were the last winners of the $100,000 weekly drawing.
Rental Assistance
Motta addressed the government's handling of the federal rental assistance program, saying there are plans to deal with the slow processing of rental assistance funds and a Sept. 30 deadline.
"Gov. Bryan is working on extending the local rent moratorium," Motta said.
People behind on their rent have been offered assistance to catch up on their payments and the V.I. Housing Finance Authority has $39 million to disperse.
According to Source reporting last weekend, fewer than 25 checks, totaling around $140,000 have been sent out so far and the deadline to dispense the funds is Sept. 30.
Motta said there are 517 applicants for rent assistance and "100 percent are eligible."
"Those individuals have already started receiving benefits," he said.
Motta said he believes the federal deadline has been extended due to states' and territories' issues with rolling out the program. All the funds needed by Virgin Islanders will be used and any leftover money will probably have to be returned to the U.S. government, he said.
Motta also answered questions from several reporters wanting to know about possible penalties and fines for Sen. Marvin Blyden who allegedly attended a social function after being told he was COVID positive and needed to quarantine 10 days. Motta said the law is not clear regarding punishment for breaking pandemic executive orders and that Bryan requested "more teeth" from the Legislature.
Monday evening, Senate President Donna Frett-Gregory announced the formation of a committee on ethical conduct to review Blyden's case. After meeting with Senate Vice President Novelle Francis and Senate Secretary Genevieve Whitaker, Frett-Gregory said in a news release the committee will meet at the end of the week to deal with a formal complaint regarding Blyden's actions.
"This matter is extremely serious in nature, and we have to ensure the public that we take the coronavirus pandemic seriously. We cannot hold senators to different standards. If anything, senators must be held to a higher standard, as we represent the people of the territory," Frett-Gregory wrote.