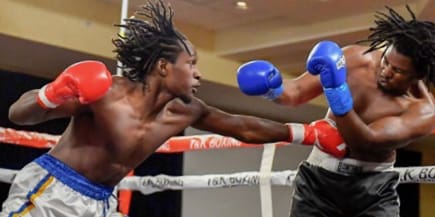 On Saturday night in Florida, Virgin Islands boxer Deion Pruitt knocked out James Hornes of Mississippi to record his third straight win as a professional fighter.
In his first two professional fights, Pruitt won by second-round technical knockouts. After those fights, he said he wanted to continue improving from fight to fight.
So Saturday he knocked his opponent out about one minute into the first round.
Both Pruitt and Horne, a 33-year-old fighter from Mississippi, were making their third professional boxing appearances. But while Pruitt was coming in after two straight knockout wins, Horne had been beaten twice. However, Horne also had taken part in 10 professional mixed martial arts bouts, where he had carved a record of four wins and six losses.
Still, Pruitt entered the match the overwhelming favorite of several online oddsmakers. Video of the brief bout showed why.
In the first minute, Horne stalked Pruitt around the ring, but every time he tried to get inside and connect, he found himself walking face-first into Pruitt's well-timed jabs.
In the attached video, at about the one-minute mark Horne lunges at Pruitt, wild and off-balance, throwing a sweeping right and leaving himself wide open. Pruitt seems to hammer him with a hard right to the head, then step away. Horne follows him and Pruitt tags him with an uppercut. Horne backs up, then suddenly drops to one knee. He remained kneeling as the referee counted him out.
The fight was part of a card in Clearwater, Florida, for T&K Boxing Promotion's "All or Nothing 4" event.
Afterward, Pruitt sounded a little surprised that the fight went so quickly.
"This fight went a lot quicker than I expected, especially with my opponent being 18 pounds overweight," Pruitt said.
"I did a lot better than my last fight," he said. "My goal is to look better and become a better fighter for each fight I have. The fight played out how it did, and you've got to be really tough to take the power that comes from the punches. I am training to go all the rounds. But if I can get them [opponents] out quicker than that, then I'm not upset. But I do know the time will come when I have a real game fighter, and I just have to be ready for that no matter what."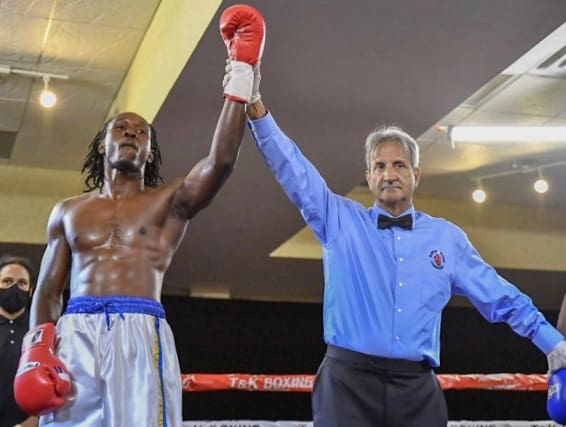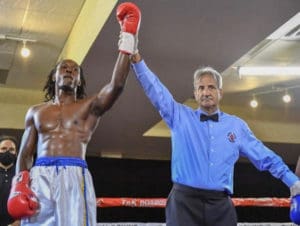 Pruitt said that he is looking forward to more knockouts.
"I see a lot more knockouts in the future. I want to be world champion, and I told my coach [Julian Jackson] I want to beat his knockout record as well. I want to be an explosive fighter. A knockout artist!"
Jackson, who was a three-time world champion in two weight classes, has a record of 49 knockouts.
Professional boxer Julius Jackson Jr., son of Julian Jackson, is one of Pruitt's sparring partners and helps to manage the young boxer. He was present for Saturday's bout.
"Deion fought very well," he said. "He stayed in control while the other guy was being pretty wild. He really kept good form and used a good jab."
When asked if he thinks the young boxer needs to do anything differently for his next fight, Jackson said, "No. He just needs to keep working on all the things we are already doing in the gym and keep growing. Each fight he shows growth. We just want to keep that going."
Pruitt thanked his coaches, family, friends, well-wishers, sponsors and his opponents. He is sponsored by Southland Gaming, Wilson Healthcare Consultants, Comprehensive Orthopedic Global, and Kobaz Enterprises.
"I give thanks to God, and I appreciate all the love and support I'm receiving from the Virgin Islands," Pruitt said.
Pruitt is slated to fight again on Sept. 18 at the Georgia International Convention Center for Signature Punch's Battle Ground Atlanta event.
Tickets can be purchased online at the event's website.
Pruitt is on Instagram.