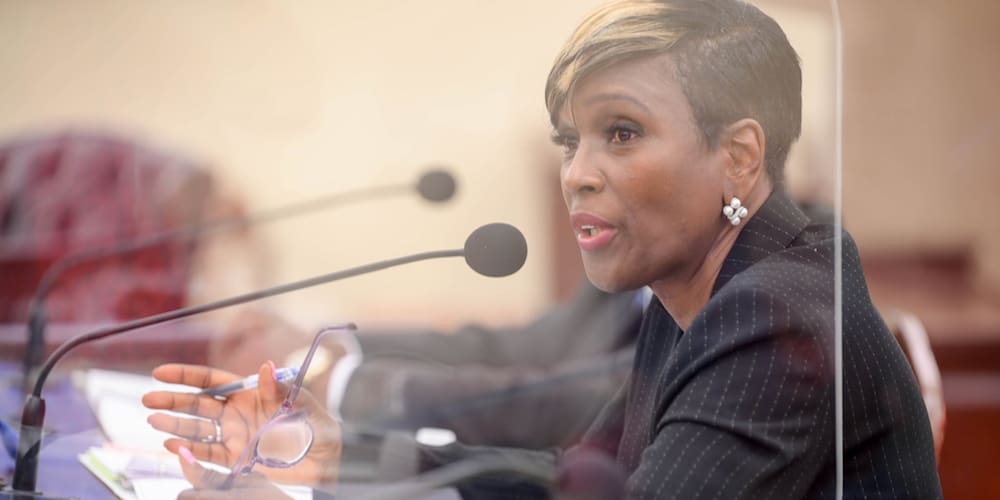 Voices began to rise during Monday's budget hearing as V.I. Attorney General Denise George vehemently defended the Justice Department's fiscal year budget request of more than $27.5 million, largely to hire 99 new employees.
Members of the Senate Finance Committee opposed the large increase in personnel services, which currently is less than $10 million for this fiscal year but is proposed to jump to almost $16.5 million for the next two consecutive fiscal years.
Sen. Kurt Vialet called the 60 percent increase in staffing "very ambitious" and said he didn't understand why the employees were needed or how the department would be able to hire all the proposed budgeted positions by the end of fiscal year 2022.
Vialet said the last fiscal year, $13.2 million was appropriated to fringe benefit and personnel costs, but only $8 million was expended.
"For the last three years you have not hit that $8 million mark, how are you going to hit $16 million in personnel?" Vialet said. "But we're not going to expend what we allocated this year, some $9 million. How did you get such an ambitious number? … This is a doubling of your budget in a period of three years."
But George countered that the positions the department need are critical. The new hires would aid in the recovery of "many years of constant depletion of the manpower at the Department of Justice. It didn't happen just yesterday. It didn't just happen three years ago. When I came on board, I made it clear we were so critically understaffed, but it happened over time."
Just as the depletion of critical staff positions occurred over time, Sen. Donna Frett-Gregory said so should the process of rehiring.
"I think we need to have an incremental discussion around how to support the needs of the Department of Justice from a more realistic perspective," Frett-Gregory said. "Even if we were in a position to accommodate the request that's in front of us … we will not be able to fill all of these positions come Oct. 1. So, some sort of incremental percentage is needed to be applied to the positions … A lot of time you find yourself filling these positions long after half of the fiscal year has passed."
George did not agree with the committee, having said in the early '90s there was a time when the Justice Department flourished with investigators and assistant attorneys general.
"When I was at the Department of Justice many years ago, in the criminal division, there were 16 assistant attorneys general, only in St. Thomas … They were able to actually have an assigned attorney specifically assigned to various commissions and boards, to be able to provide the help that they need," George said.
She added that in the department's heyday there were over a dozen investigators and specific investigators for the department's White Collar Crime Division.
"It just appears that things have been constantly depleting … I know what it takes to be able to effectively prosecute cases, and to effectively represent the people of the Virgin Islands. The amount of time and effort it takes for each case, when I say we need these additional assistant AG's, it's because it is absolutely necessary," George said.
But Vialet said many government departments bustled with hundreds of employees during their prime, citing the Department of Public Works as having as many as 800 employees in the early '90s – now down to 200.
"We have to incrementally fund these positions based on the fiscal position of the Government of the Virgin Islands," Vialet said. "We still have some unknowns. The big unknowns are the tourism industry on St. Thomas, the return of cruise ships. A big unknown is the status of Limetree. So, we have to be very careful as we proceed with the numbers."
George maintained her stance and supported the recommended budget as it was presented, along with the earmarked funds for the 99 new positions.
The Legislature is tasked with balancing the government's budget, and not every entity is going to get what it asks for, Vialet said.
"Every entity comes before us and says we need X amount more employees, and we have to be able to balance and make sure all the departments and divisions have an adequate number of employees. The increase, you are going from 168 positions, and literally increasing it almost 100 positions," Vialet said. "That's over a 60 percent increase. It's just very, very, very ambitious in terms of the numbers I am seeing here in front of us today."
Sens. Marvin Blyden, Dwayne DeGraff, Kurt Vialet, Donna Frett-Gregory, Javan James Sr., and Janelle Sarauw were present for the hearing. Sen. Samuel Carrion was absent. Additional non-committee members also attended the hearing.