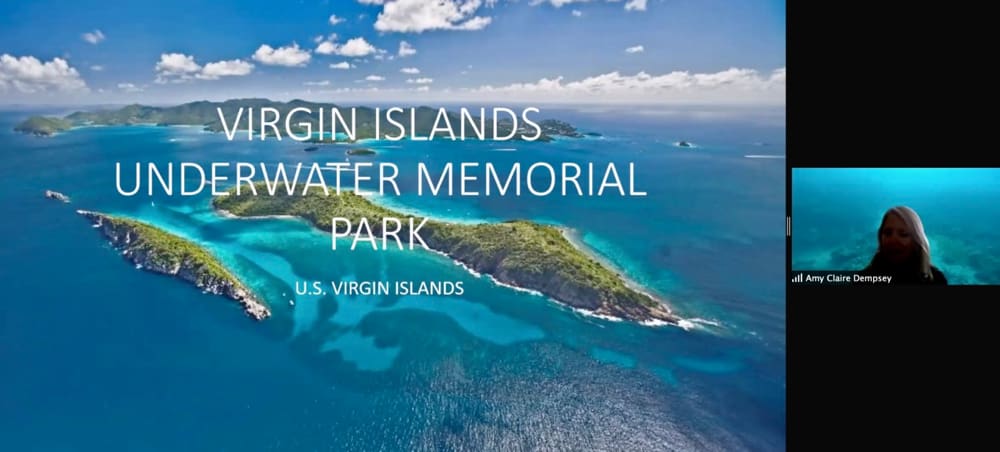 Proponents of an underwater memorial park at a site near two cays located between St. Thomas and St. John made their case Thursday before the St. John Committee of Coastal Zone Management.
St. Thomas businessman Enrique Rodriguez, who heads up Underwater Memorial LLC, wants to establish an underwater site where monuments incorporating the cremated remains of individuals can be placed to serve as a base for coral reef growth.
"There is a movement now for more environmentally friendly options for burial," Rodriguez said. "This is an alternative to burial or scattering the ashes at sea."
The proposed site includes 40 acres of submerged land near a popular dive site about 250 feet from the southwest tip of Congo Cay (a bird sanctuary); it is also about 250 feet from the north side of Lovango Cay where a new resort is under development.
"The idea is to create a beautiful underwater memorial park where people can have their ashes incorporated into small structures which will serve as hard substrate for coral colonization and as attachment points for coral propagation," the developer stated in the Environmental Assessment Report submitted to CZM.
Rodriguez said the entire site would include 40 acres, but only 20 acres where the bottom is flat and sandy would be used to place the monuments. The remaining 20 acres, which includes soft corals and hard substrate, would remain untouched.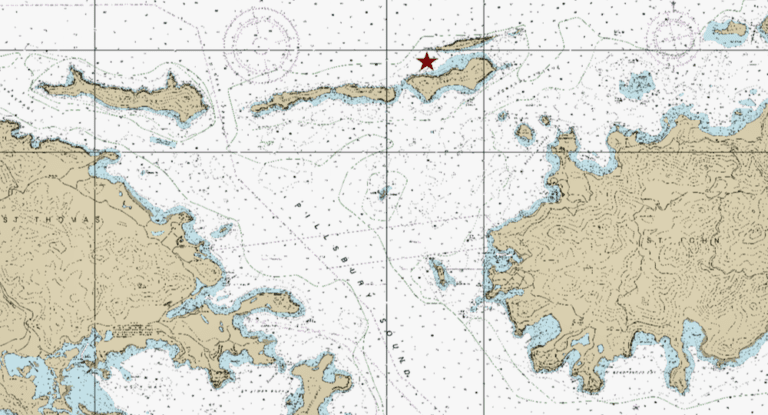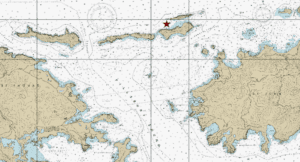 The memorial park's boundaries would be marked with buoys. Boat traffic would be allowed to flow through the area, although anchoring would not be permitted in the memorial park, according to the proposal. Two moorings would be installed, so visitors arriving by boat could stop at the site and even snorkel and dive it if they wished.
Amy Dempsey of Bioimpact, Inc., the company that prepared the environmental report, said the site was carefully chosen for its flat, sandy bottom. She said studies had shown that the area was relatively undisturbed by wave action, and the monuments would provide additional area for corals to grow.
Rodriguez said some staff of Fish and Wildlife, members of the fishing community, and coral scientists from the University of the Virgin Islands had helped find the location.
"We scouted many sites," he said when asked by CZM committee members why such a remote and pristine area had been chosen. "The problem with more commercial spaces was the turbidity of the water. There was a lot of silt growth."
Sites near Buck Island, the Cow and the Calf, French Cap, and Magens Bay were either too deep, too silty, or had too much current.
Underwater Memorial LLC is also proposing to create a similar site off Sprat Hall on St. Croix, but no discussion of that site was held during Thursday's meeting.
Members of the public who called in to testify expressed reservations about the proposal.
"While I like the idea, I do not like the location," said Dan Boyd, a resident of Lovango Cay for 25 years. "Why does this have to be located near an uninhabited cay? Please don't tell me that introducing manmade objects will enhance marine life."
Boyd said the nearby cays are under "direct attack from development," referring to a plan by Cowgirl Bebop to establish a floating lounge off nearby Mingo Cay. (The permit for the lounge was turned down by the St. John Committee of CZM but was overridden in March by a judge because of a legal technicality.)
"I think it is a great idea, but it's a zoning issue," said Pam Gaffin. "Why would any operation be permitted in this pristine area?"
Lorelei Monsanto testified that she was against the proposal as a Virgin Islander who was seeing submerged lands being leased to commercial operations at a fraction of their value.
Gaffin, who has done considerable research on St. John property values, said the nearest lot on land was valued at $300,000 for a half-acre. If the submerged land was valued at the same rate, the 40 acres within the bounds of the memorial park would be valued at $240 million, she said.
Both Monsanto and Gaffin pressed CZM officials to declare whether a rate had been established for leasing the property to Underwater Memorial.
STJ-CZM member Brion Morrisette, who chaired the meeting, said that the lease terms are determined by the V.I. Legislature and not by CZM or the Department of Planning and Natural Resources although they can make recommendations.
Gaffin also asked what would happen with the site once the lease had expired.
What happens if the company goes bankrupt and stops paying for the lease?" she asked.
Rodriguez responded that some portion of the fees would be held in escrow to cover future uncertainties. He could not say at this time what the cost of interment at the site would be, nor could he provide details about the memorial structures.
He said the first memorial structure would be placed to honor the Africans who were captured during the time of slavery and died while being transported to the Caribbean.
In response to a question from board member Elissa Runyon, Rodriguez said that mourners would not be able to view a memorial being placed for an individual loved one, as they could at a graveside ceremony. Instead, multiple memorial structures would be put in place every few months by professional divers.
CZM board member Rafe Boulon expressed support for the concept but had concerns about environmental factors.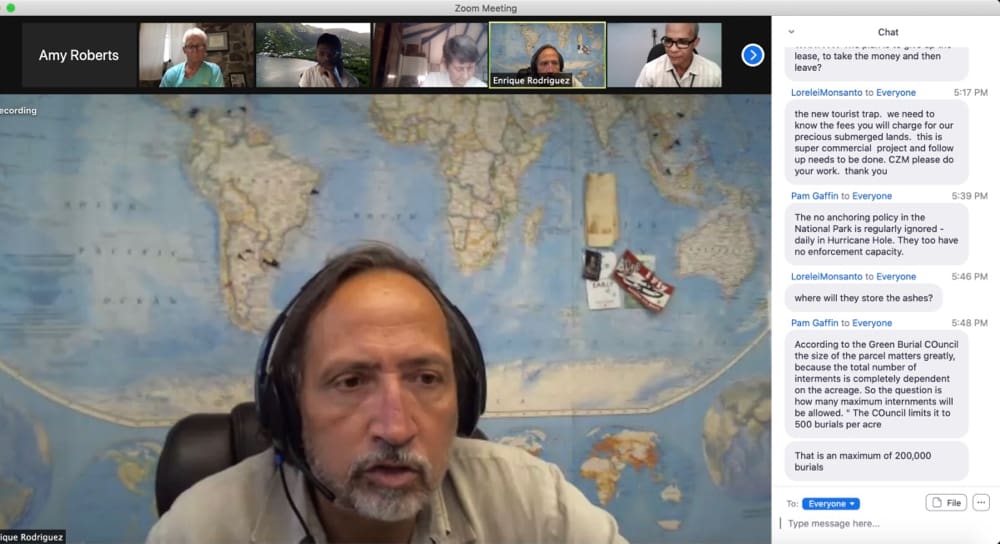 "The idea has lots of merit," Boulon said. "There's no doubt that we're running out of land for burials. There are places in the Florida Keys that are doing this. As a marine scientist, I wouldn't mind being buried at sea. [But] I would like to know what materials the memorial structures will be made of."
Boulon said that the structures could attract some type of marine growth, but the idea of transplanting corals to them "has no merit." He said invasive seagrass was more likely to colonize this patch of sand.
CZM board member Kurt Marsh also said he supports the idea of alternative burial sites, but he questioned whether Virgin Islanders had expressed support for the idea.
Rodriguez said he had surveyed people "in a very unscientific way. Every time I presented the idea, the vast majority said, 'This is where I'd like to go.'"
He said he intended to follow guidelines set by the Green Burial Council and expected that locals, as well as people from off-island, might choose to be interred in a beautiful site.
"Is it a commercial enterprise? Absolutely. Will I lose money on it? I don't know."
"We're looking to protect the 40 acres, not exploit it," Rodriguez added. "This is a place where I'd like to be interred; when you're there, you become part of Mother Nature."
The public has seven days to submit comments at the DPNR website regarding the proposal. CZM officials will hold a second decision-making hearing tentatively scheduled for Aug. 19.
The application documents are available for public review on the DPNR-CZM website. Documents for the proposed project are on file for review by appointment only at the Department of Planning and Natural Resources, Division of CZM, Charles Wesley Turnbull Regional Public Library, 4607 Tutu Park Mall, St. Thomas, 340-774-3320, between 9 a.m. and 4 p.m., except holidays.
Editor's note: This story has been undated since it was first posted to add the chart showing the location of the proposed memorial park, and further detail on the operation's plans.