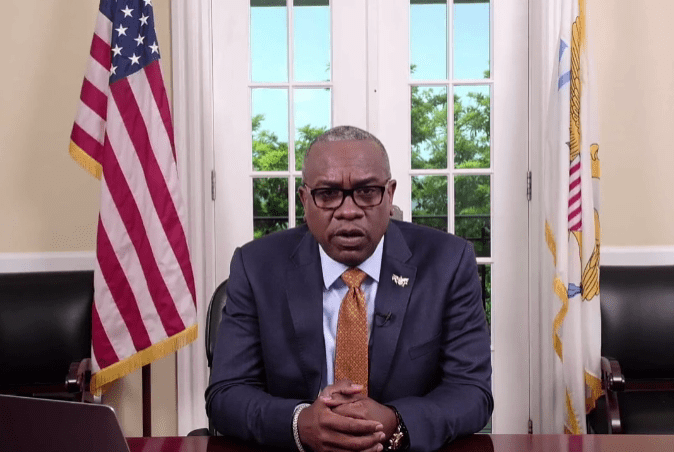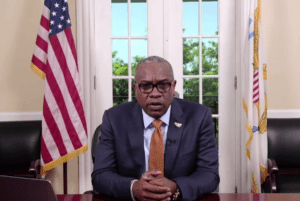 Gov. Albert Bryan Jr. has tightened entry requirements for anyone traveling to the U.S. Virgin Islands from the British Virgin Islands as that territory battles a devastating COVID-19 outbreak that has seen five deaths in less than a week and an explosion of active cases that now number more than 1,550.
Starting Monday, July 19, all entries from the BVI – whether by ferry, plane or private charter – must provide a negative COVID-19 test taken within 48 hours of their departure, Bryan said Thursday during a somber new conference on St. Thomas.
Current rules allow tests taken within five days of travel, so the time frame has been tightened. Bryan said he has not limited ferry passenger numbers, given the new testing requirements, and positive antibody tests will still be accepted for vaccinated travelers.
All test results must be uploaded to the V.I. Health Department's travel portal, and anyone who tries to skirt the law by arriving on a private vessel without clearing customs will be prosecuted, said Bryan. "If you don't have a negative COVID test, don't enter our waters. We are not playing," he said, while also urging people not to travel to the BVI under the current conditions.
"I come to you with grave concern and a heavy heart," said Bryan, who said he has been in regular contact with BVI officials as they battle the outbreak that is believed to be the result of the highly transmissible delta variant of the virus.
"Right now we are under full watch for what is going on in the British Virgin Islands. The current situation, ladies and gentlemen, is not good. And that's putting it lightly," said Bryan.
As of Wednesday night, the BVI reported 1,559 active cases, including more than 100 hospital workers who either have COVID or are quarantined because they have been exposed to the virus, said Bryan.
Until this recent outbreak, the BVI had seen one COVID-19 death throughout the pandemic. On Wednesday, the territory reported its fifth and sixth deaths from the disease – a 48-year-old male and 75-year-old female who died at the Dr. D. Orlando Smith Hospital in Tortola.
"I want you to pay close attention to that number because the most active cases we have ever had here in the (U.S.) Virgin Islands is around 200, and we are three times the size of the British Virgin Islands," said Bryan.
"Preliminary reports say that they expect their active cases to get to as high as 5,000, so it's going to get a lot worse before it gets better. So, we have to make sure that we are taking care of not only them but ourselves. As they often say, when you are going to save somebody on the plane, put on your life vest first," the governor said.
While the BVI's positivity rate has soared to 17 percent of its population of about 20,000, the rate in the U.S. Virgin Islands has been hovering around 3 percent, "which is not that good either," said Bryan.
"Right now our situation in the Virgin Islands is not optimal. I know that a lot of you have gotten used to having the virus and going about your regular business not wearing your masks, not paying attention, hanging out in places with people, but we're against a new enemy now, with this Delta variant," said Bryan. "Although I cannot confirm that it is in the territory, I cannot imagine that it is not, with all that we're seeing going on in the British Virgin Islands as well as what is going on in the United States as non-vaccinated people continue to contract this variant."
The USVI recorded two deaths from COVID last week, and has 124 active cases, with five people currently hospitalized at Juan Luis Hospital on St. Croix, and seven at Schneider Regional Medical Center on St. Thomas, including two on ventilators, said Bryan.
"We are not exempt from what is going on in the British Virgin Islands to happen here," Bryan warned, even as the USVI has been blessed with federal support that has provided everything from stimulus funding and free vaccines to monoclonal antibodies, and contracted emergency medical technicians and respiratory therapists to treat the sick.
The governor has been in regular contact with BVI Premier Andrew Fahie, describing him as "concerned but positive" during their most recent conversation Thursday morning. For his part, Bryan said he and Delegate to Congress Stacey Plaskett have been exploring every avenue to provide aid to the British Virgin Islands, including helping them secure life-saving monoclonal antibodies, which they do not have.
"They are a foreign port, and it makes it extremely difficult for us to send over any resources that we have, but we're constantly talking to FEMA, the CDC, Health and Human Services, to see what assistance we can give to our brothers and sisters over in the British Virgin Islands. We will continue to do everything we can to give as much support as we can to the BVI," said Bryan.
To prevent a similar outbreak in the USVI, Bryan urged residents to take every precaution and to get vaccinated. Currently, 82,000 vaccine doses have been administered across the territory, with 57 percent of the eligible population vaccinated with one dose, and 47 percent with two doses, he said.
"We have learned how to manage this thing through a lot of hard, hard lessons. What we want to make sure is that you are taking advantage of every opportunity to get vaccinated. Of all these people that are sick and people who have passed away, none of them have been vaccinated people," said Bryan.
"As good old people say, when your neighbor's house is on fire, throw water on yours. We are pleading with you to make sure you are doing the right things to secure you and your family and your community from this virus – wearing your mask, remembering to social distance, washing your hands continuously and, most importantly, getting your vaccine," said Bryan.
"From the beginning of this pandemic, March 20 of last year when we declared the emergency, we have always said, our goal is not to eliminate COVID – it's impossible. You cannot stop COVID from spreading. Our goal is to manage it, and to make sure that our hospitals and our health resources are available to people who get sick," said Bryan.
"Please, I am asking you, I am begging you, for your cooperation, so that we can continue to enjoy the prosperity that we have because we have managed the crisis well. Not just me, not just Health, not just VITEMA, but us, as a community, managing to get through," said Bryan.
"Let us all take some time today, whatever religion you are, to pray for our brothers and sisters in the British Virgin Islands. It is not an easy thing to deal with. Let us pray for their leadership that they will have the wisdom and the discernment to guide their people through this most difficult time," said Bryan. "And let us pray that we as Virgin Islanders, who have the benefit of these resources, can learn to appreciate that. Get vaccinated. Stay away from mass gatherings. Wear your mask and wash your hands profusely."