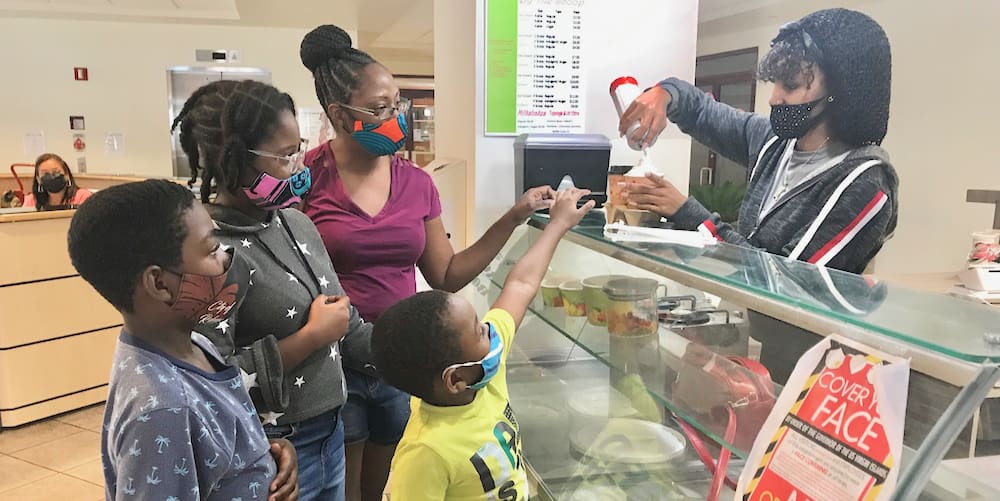 Grounded Cafe on St. Croix offers a fine coffee experience in three locations – growing in just a few years from one to three outlets – and owner Reginald Perry has his sights set higher.
"We would love to be the Starbucks of the Caribbean," Perry said, referring to the famous chain's ubiquity – in the states, it seems as if there's a Starbucks on every other corner.
Grounded Cafe opened in the Viya building on Jan. 27, 2017. The second and third spots opened in the Sunny Isle Food Court and on Strand Street in downtown Christiansted in 2018 and 2019, respectively.
The three locations are open early in the morning, serving their Rwandan blend of coffee, smoothies, other beverages and freshly baked pastries. At midday they offer locally made lunch items of soups, sandwiches and salads; and in the afternoon serve up whatever pleases your palate.
Grounded Cafe uses fair-trade beans that Roots Java sourced from the country of Rwanda, located east-central on the continent of Africa.
"When we purchase Roots Java coffee from Rwanda, a portion of the proceeds from each purchased bag goes right back to Rwanda," Perry added. That money helps the youth and young adults in Rwanda.
Several months after the opening of Grounded Cafe at Viya, St. Croix was blasted by Hurricane Maria, and Grounded Cafe became the place to go for coffee and Wi-Fi.
Linda Morland frequented the Viya location during the aftermath of Maria.
"I ordered black coffee while waiting to charge my laptop and use the Wi-Fi. I was grateful for both, since I had no generator at home," she said. "I remember that they were usually slammed with the National Guard folks … It was definitely the place to go to fulfill those coffee needs."
Although Grounded is fairly new to the St. Croix community, Perry is not a newbie.
"I'm originally from Chicago, and I've been here 25 years," he said.
He moved to the island to manage the Hibiscus Beach Hotel in La Grande Princesse and later worked at the University of the Virgin Islands getting its dormitories established. He also began a ministry with a Bible study for one year at Teddy's Party Rental location in Orange Grove in 2005.
The entrepreneur, also known as Pastor Perry, moved his Victorious Believers Ministries from Orange Grove to the building at Peter's Rest in 2006. The church building boasts a kitchen and coffee shop where culinary workers cook, bake and make the meals and snacks offered at the Grounded Cafe's three locations. The coffee shop was the beginnings of Grounded Cafe.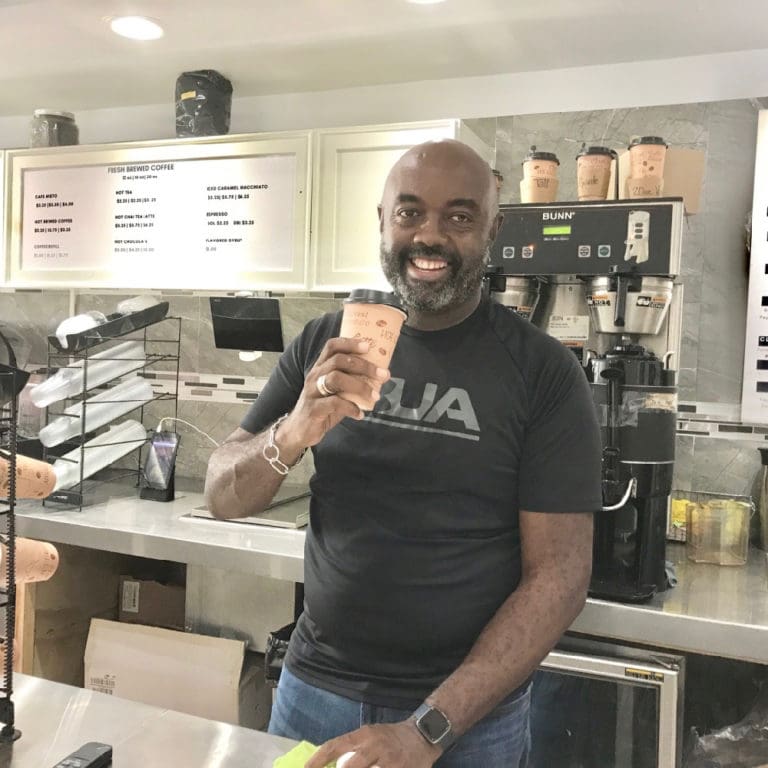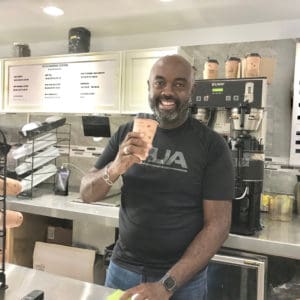 Perry's Grounded Cafe employees have grown to 22 since his initial opening in 2017.
Brianna Henry and Nyana Francois serve customers take-outs at the Strand Street location and eat-ins that patrons can enjoy in the ambiance of mellow jazz piped in, comfortable and socially-distanced tables and chairs and a back room with a table for meetings. The cafe offers Wi-Fi for anyone who chooses to use it.
"I've been at the Grounded Cafe since February and I enjoy working here. I get to see so many new faces each day," Francois said. "It's an easy job, and the customers are very friendly."
Henry worked in the kitchen at Grounded for seven months. It was a job that she really liked, she said.
"I made salads and sandwiches every day. It was a routine I got used to because the recipes were always in my head, so it was very easy. The chicken salad was my favorite. There was a little extra work involved, but I liked it. I put my all into it. I made it with love," she said.
Perry prides himself on serving Roots Java, the only "certified Black-owned coffee in the country." Grounded sells by the cup with variations of lattes and other specialties, but they also sell medium-dark roast and bold roast by the bag in ground or whole bean.
His pride is multiplied through his partnership with Fitzgerald Hill, the visionary founder of African Bean Company, who traveled from Arkansas by invitation and visited several coffee farms in Rwanda. Hill envisioned "a new commodity making its way across the historic Transatlantic Slave Routes – this time African coffee – grown and harvested by Africans, shipped to America and brought to American consumers under an African-American brand."
Hill returned to Arkansas and established the African Bean Company. He approached Clifton Taulbert of Tulsa, Oklahoma, a "Time Magazine" entrepreneur, to serve as president and CEO of the company.
According to the Roots Java website, "As the company grows and African Bean's company's footprint is established, to ensure a socially responsible company, a Roots Java Future Fund Foundation will be put in place as a partnership vehicle to add to our hearts and hands to the mix of helping to meet the needs of underserved, challenged youth and young adults through specifically designed programs to foster entrepreneurial thinking, to introduce building community and personal leadership strategies."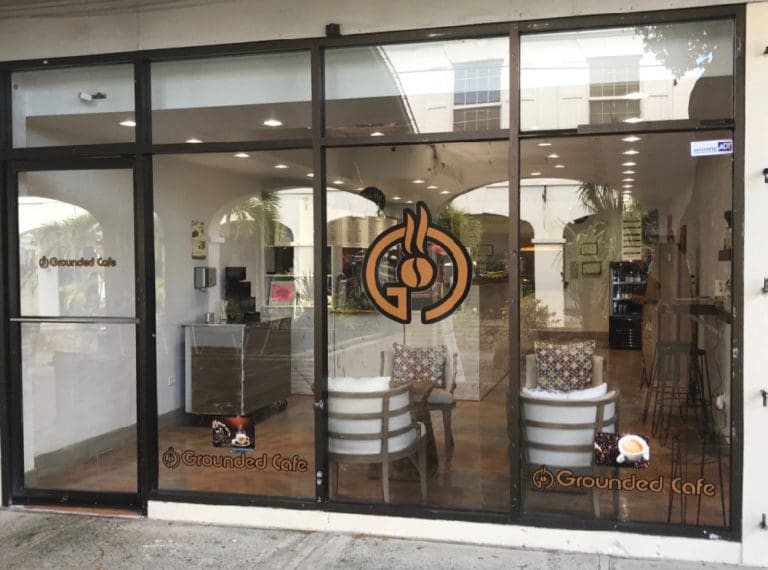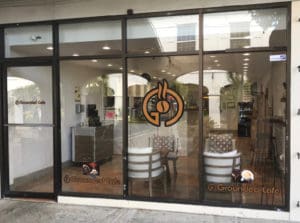 Perry is also proud of his offerings of beverages that are rooted in areas around the country.
"I don't serve Coca-Cola or the other national brands," he said.
"If my customers come from New Jersey, Maine, Texas, Michigan or other states on the mainland, they will find a beverage of their choice that will give them the taste of 'home,''' he said.
Perry orders 100 cases at a time of beverages that are popular in those states so he doesn't run out.
St. Croix's LaToya Ault and her three children – Jayla, 11, Josiah, 9 and Solomon, 5 – were captured ordering strawberry smoothies with extra whipped cream at the Viya spot. Ault comes alone sometimes for coffee with whipped cream and cinnamon or a vanilla latte. She brings her children every couple of weeks for their smoothie treat.
Grounded employee Keandra Charles served the Ault family and chatted with the Source when her customers left. Charles has been employed at the Viya location for three weeks. She says it's an easy job and she feels comfortable working there. After her graduation from high school, Charles graduated in Tallahassee, Florida, with a certificate in cosmetology.
"On weekends, I braid hair, do hair coloring and just about everything in that line," she said.
She also graduated from the Barbizon School of Modeling and does photoshoots and music videos, Charles added.
"It's great that I can combine my weekday job here with my own business on weekends."
Although Grounded Cafe serves a wide variety of its own signature sandwiches and fresh-baked pastries, the cafe purchases locally made beef, turkey, chicken and saltfish pates that sell out quickly, according to Tijiera Matthew and Ayomide Drew, who both enjoy working at the Food Court in Sunny Isle. Patrons come for coffee and pates early in the morning, they said.
The walls of the Grounded Cafe on Strand Street are adorned with tasteful art and uplifting messages that warm the heart and stimulate the mind. On the website, one quote stood out as both relevant and reflective: "So whether you eat or drink, whatever you do, do all to the glory of God." -1 Corinthians 10:31.
Grounded Cafe is online on its own website and on Facebook.
It can be reached by calling 340-626-6799 or sending email to info@groundedcafevi.com.